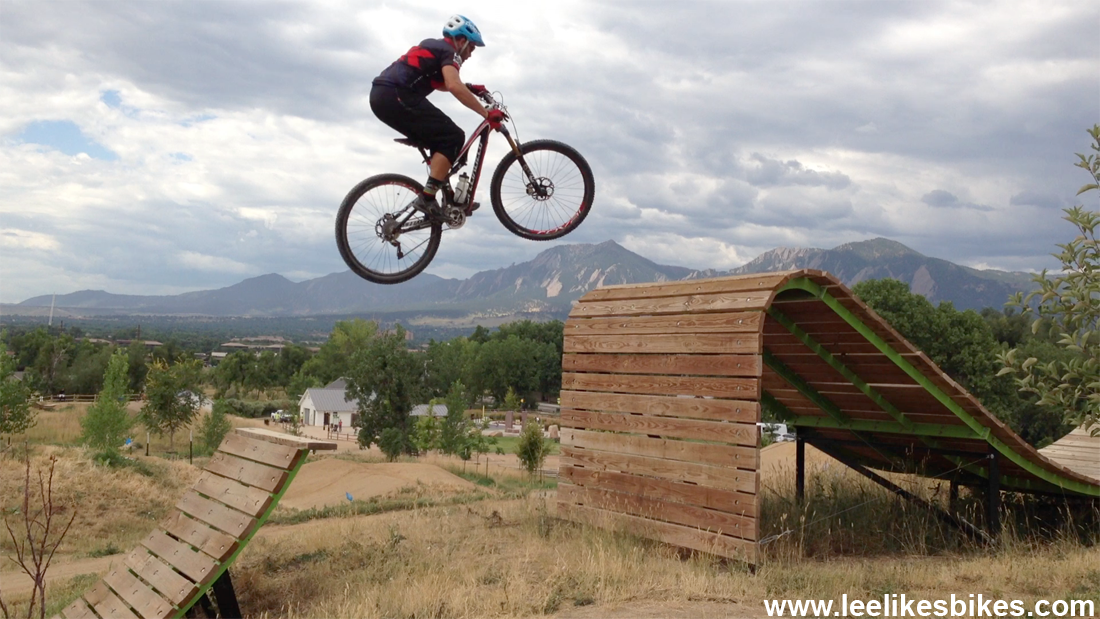 As you might know, fun happens at the intersection of challenge and skill. Today I found the sweet spot on the Whale Tail at Valmont Bike Park.
---
Valmont Bike Park has been open for three summers, and for three summers I've been avoiding the Whale Tail. The Whale Tail is the third jump on the XL slopestyle line, and it's the marquee feature at the park: a big wooden lip, a gap of doom, then a tall wooden landing that transitions into a lip that sends you into a sweet dirt backside.
The Whale Tail is big and scary, but it's built right. Dialed riders turn it into a sine wave of love. Less dialed riders hit it all kinds of wrong and still survive. But I'm not looking to merely survive: I want it to be perfect. Getting hurt sucks, and it's bad for business.
So I've been working my way through Valmont's jumps at my own pace — no hucking myself into the void, no guessing, no getting hurt — and I've been in no hurry to go all Captain Ahab. I've dialed in the XL dirt jumps and the XL slopestyle, but I've been riding around the Whale. Everyone's been telling me to go for it, I'll be fine. I know the math, and I know how to ride a bike, but I haven't felt the drive.
Until this summer. Something in me started saying it's time. I started telling people I want to hit it. Not today necessarily, but some day — when it feels right. I've done bigger and more technical jumps. I've pumped tens of thousands of rollers. My Shimano/Fox Stumpjumper 29 is a fantastic bike. I know what I'm doing. When it feels right, I'll do it perfectly. Until then, no thanks.
Last night I decided today would be the day. I texted Judd Zimmerman, who is in Boulder for Lee Likes Bikes coach training and who is pushing his own boundaries, and told him I plan to ride the Whale Tail, and he should hold me to it. (Judd, thanks for the videos!)
On the first few tries I nailed the first two jumps, felt my stomach tighten and … rolled around the Whale Tail like always.
Grr.
Here is my rule: If something feels clean and good, I go for it it and generally do it pretty well. If I feel a stress response — a tight stomach, tense muscles, a question mark, my mind going blank — I know a bad habit might come out of the vault, and I abort.
I started looking through the wood to where I want to land, and I imagined what the landing will feel like. Finally, I approached the takeoff and there was no stress response — but I aborted anyway.
"@#&%!"
I'm totally OK with not doing something because I'm not ready or don't want it, but if I'm ready and want this thing, and I still wimp out, that's not OK. I know what to do. As I pedaled up the hill I made the decision: this is the one.
Right after I flipped that switch, I started crying. It wasn't pain or fear or even joy. This big ball of chi, love power, kung fu power, whatever, has been building up, and the catharsis was already happening. OK dude, after you nail this thing, you can cry all you want.
I topped out on the hill, dropped my Command Post and went click click click click with the XTR shifter. Local shredder and LLB assistant coach Dustin Zeis was watching: "Are you gonna hit it?" He was excited for me. I held up my hand. Wait a sec.
Pedal pedal, pump the entrance berm, first jump perfect, second jump perfect. Look through the wood to the landing and … nailed it. Heavy on the lip — enough to bottom the fork — huge weightlessness, pumped the wooden transition and flew to dirt. Rolled into the grass, laid my bike down, got on my hands and knees and let it out. A full, deep cry with tears and sobbing and the whole thing, a complete release of the love that inspires me and the demons that drive me. I gathered it up, rolled back up the hill and nailed it nine more times.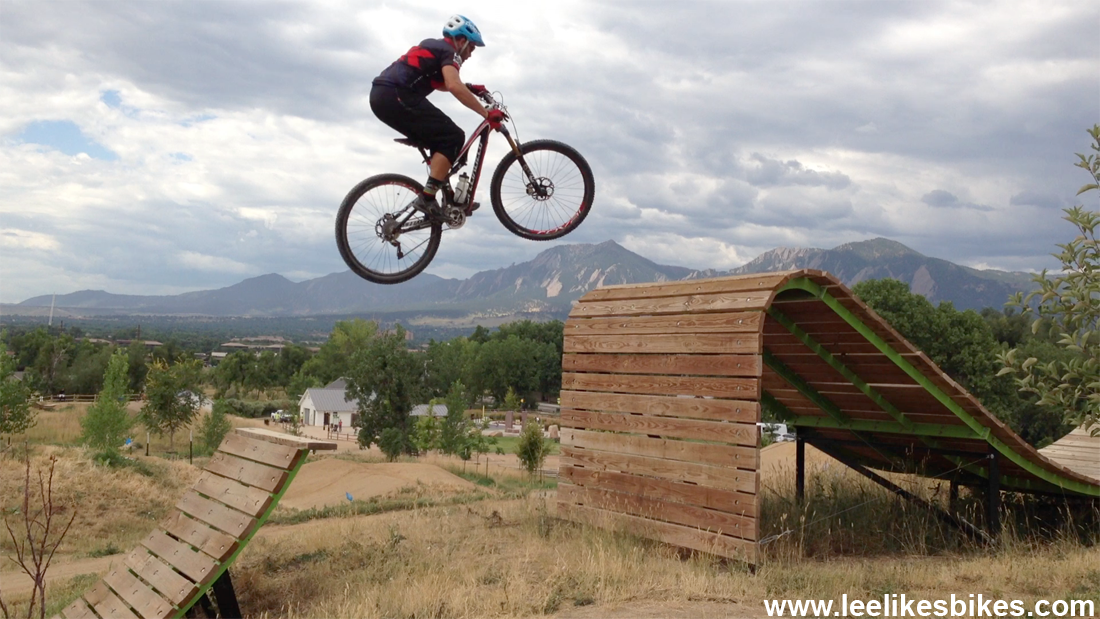 That feeling of clarity, oh man. So pure, so right. I recently helped a skills client experience the same inner victory. She was embarrassed, but I told her:
At the intersection of what you can do and what you need to do, at the sweet spot of your physical, mental and emotional capabilities, that's the most real and the most important place you can be. Everything else is practice.
Bikes are rad. I am so thankful that they found me, and I appreciate the support from my friends, who know I can do more than I think I can.
Let's shred!
Lee
---
Know more. Have more fun!
Join the leelikesbikes mailing list:
---
https://www.leelikesbikes.com/wp-content/uploads/2018/08/leelikesbikeslogoheader.jpg
0
0
leelikesbikes
https://www.leelikesbikes.com/wp-content/uploads/2018/08/leelikesbikeslogoheader.jpg
leelikesbikes
2013-07-25 17:10:11
2022-02-25 07:51:16
Living in the sweet spot