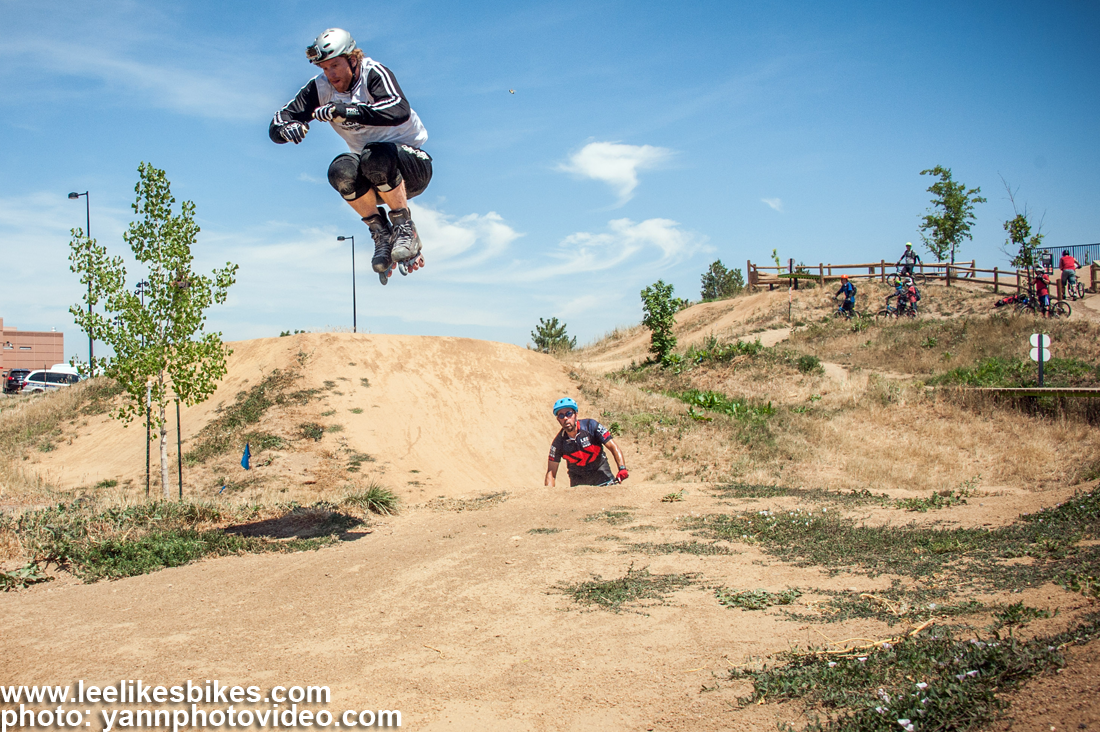 As some of you know, I'm working on the grand unified theory of shred.
This week I got the opportunity to work with Reed Whiting, a racer on the Red Bull Crashed Ice Series. I taught him kung fu at Valmont Bike Park on his inline skates, and — well — all of the same principles apply no matter what size wheels you ride.
Check out the radness:
---
What is Red Bull Crashed Ice?
It's rad, that's what.
Imagine a really good 4X race. On ice. On ice skates.
Who is Reed Whiting?
32-year-old turtle farmer and catastrophe adjuster from Rochester, MN. Division 1 hockey player, kite surfer, speed flyer and general adventure guy. Read articles about Reed in the Baltimore Sun and Rochester Post Bulletin.
Download this info sheet about Reed and Crashed Ice.
Reed says he has the power and skating skills to compete in Crashed Ice, but the guys who understand pump have a huge advantage.
That's where I come in.
Kung Fu Rollerblading goals
I watched some Crashed Ice to understand the terrain, and I talked with Reed about what he's feeling out there. I've actually spent a lot of time commuting, training and racing on skates, so I know a bit about skate fu.
Reed's skate mission is much like my clients' bike missions:
• Balance on the feet.
• Create angles.
• Pump everything. Heavy, light. Big sine waves of love.
• Make turns as big and round as possible. Heavy in, light out. Sine waves of love.
• Don't run into anything! Use all shapes for power and control.
• Develop balance and control, then apply full aggression and power.
Reed and I worked together for two hours, and — being an elite athlete with an open mind — he made massive, fast progress. "This is awesome," he said. "Now I understand what I need to do and how to practice. I guess it's all about the pump track, eh?"
Yes!

Some Lee Likes Bikes kung fu theory.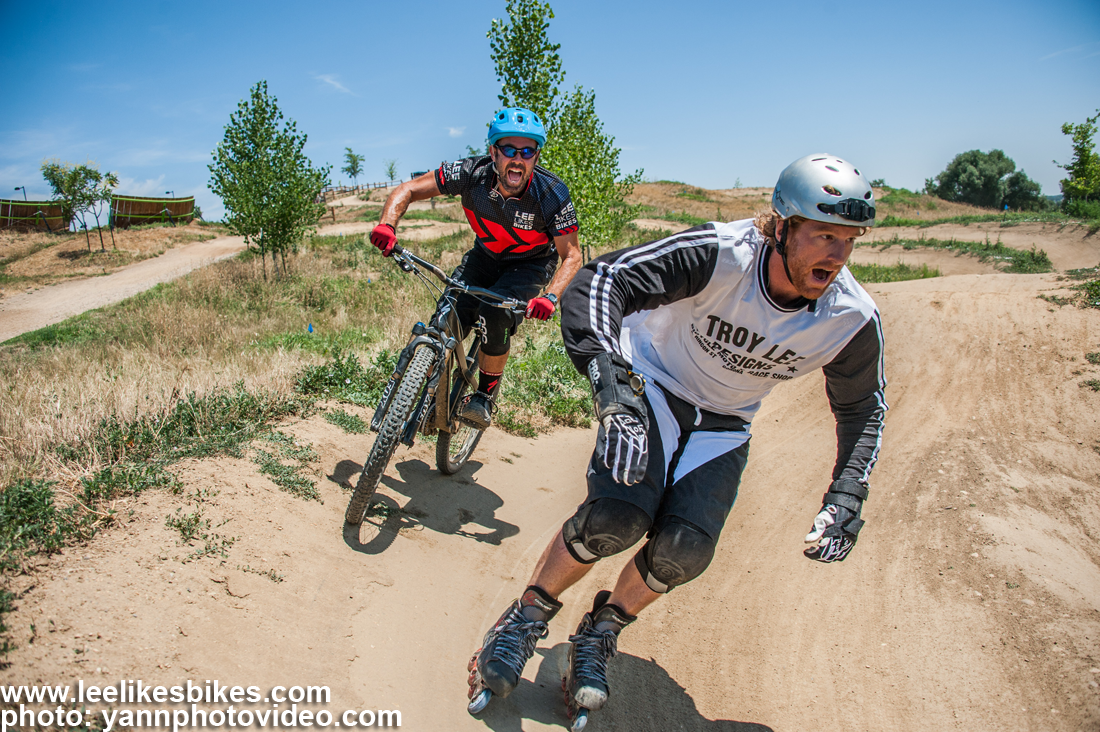 When a hockey player wants your line, you give it to him.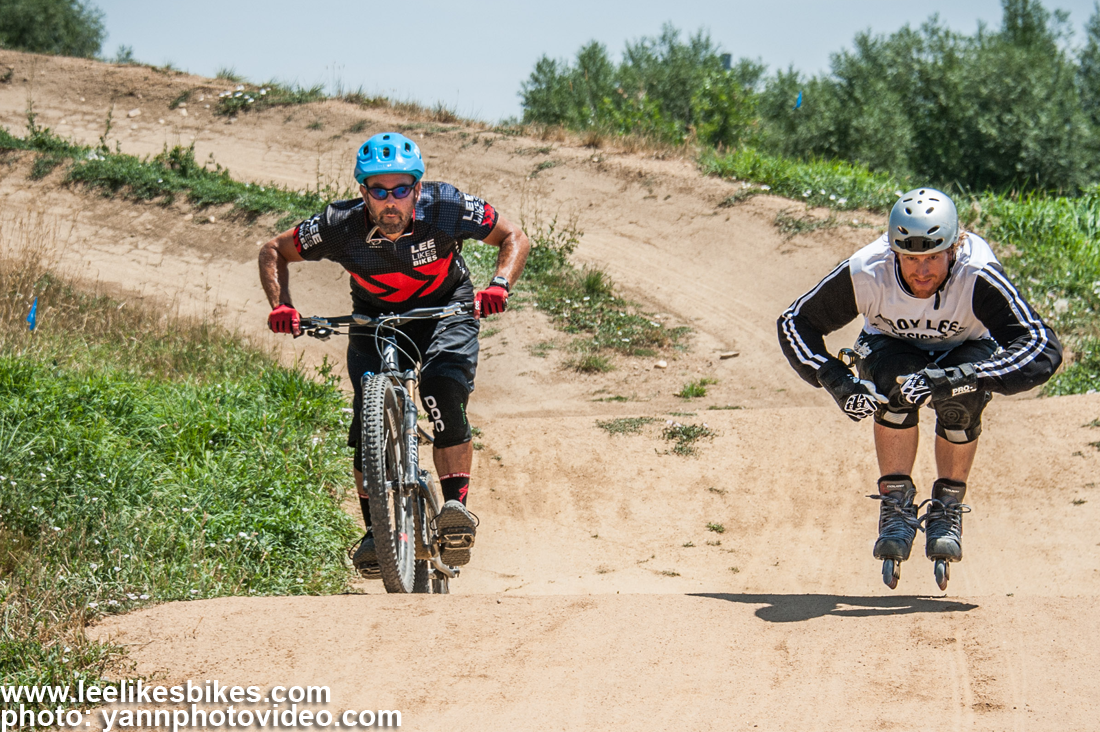 When Reed puts the power down, he gets a ton of speed. Imagine the pumping differences between 29-, 26-, 24- and 20-inch wheels, then consider 80mm wheels!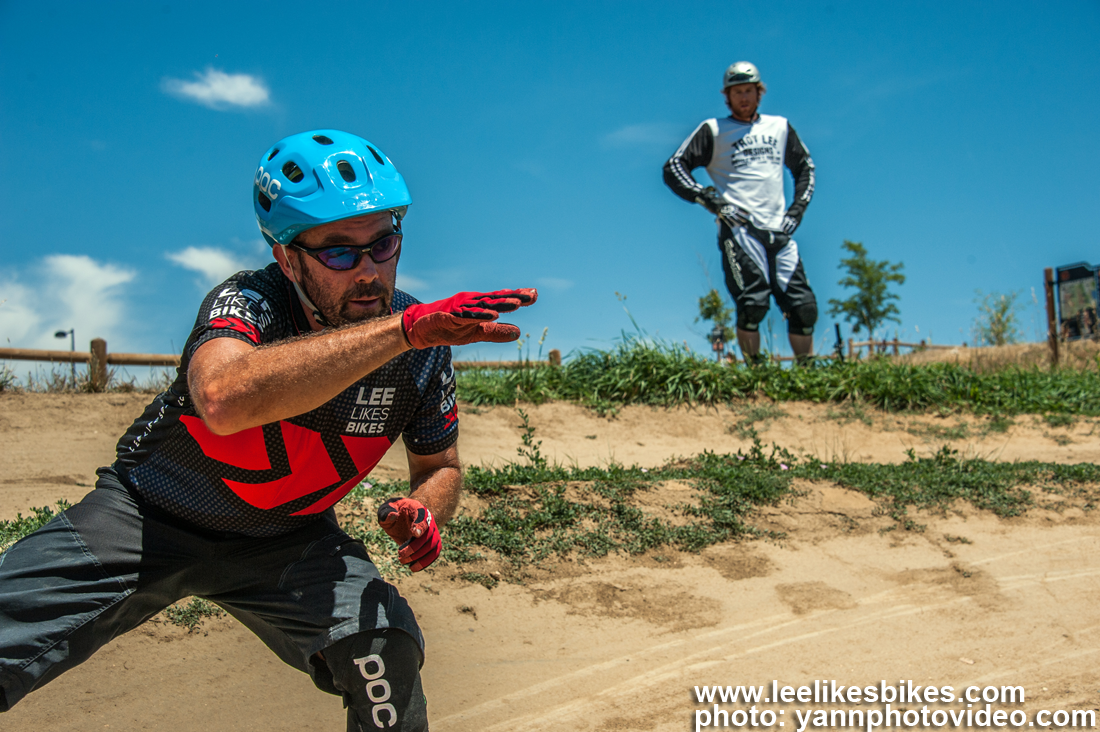 If you wanna go this way, you gotta push Earth that way.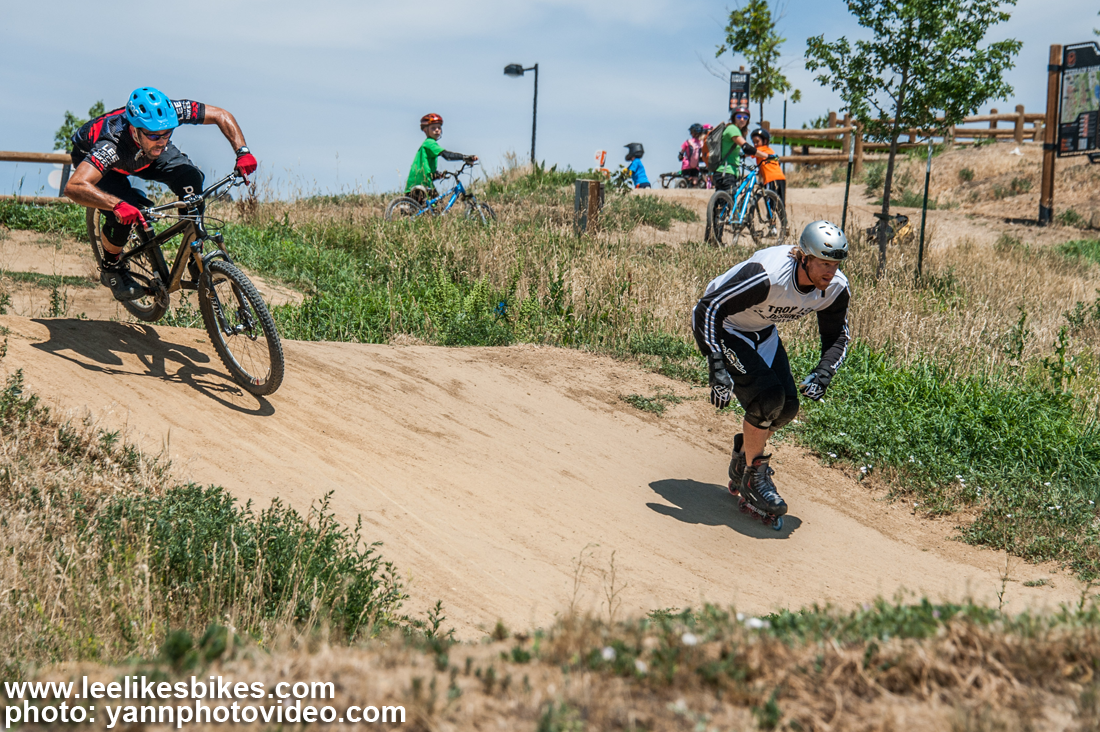 Some things are rad simply because they are rad.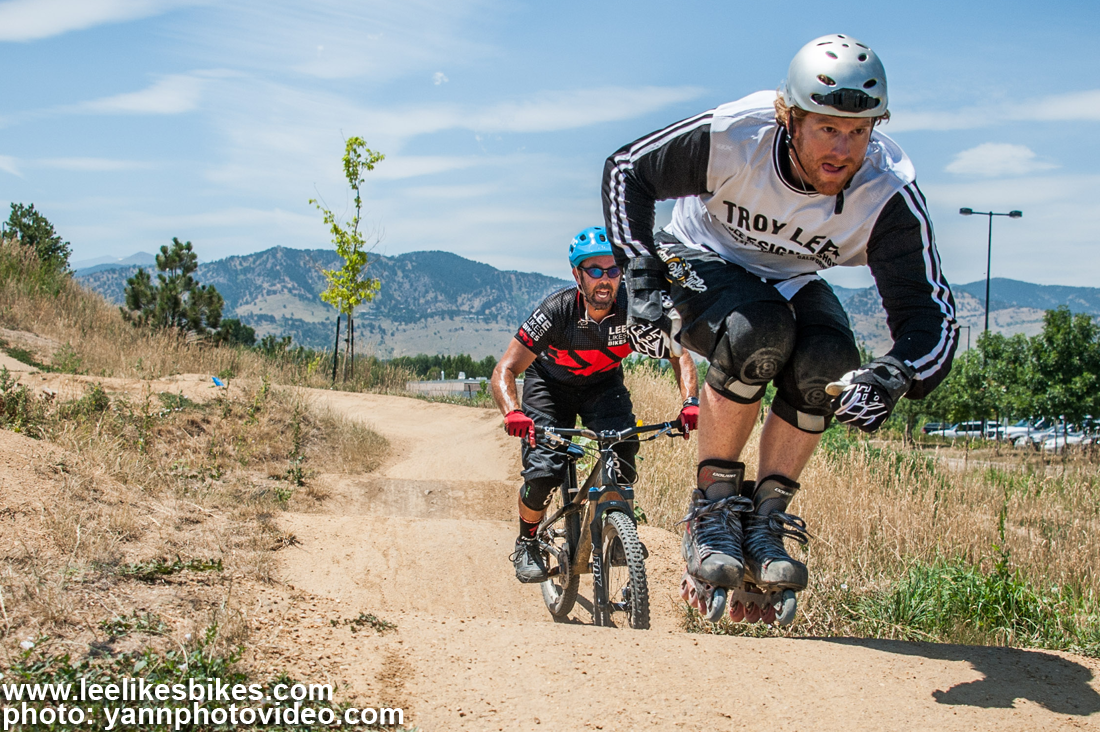 The lighter you are on the front, the heavier you can be on the back. Reed's pumping power was impressive.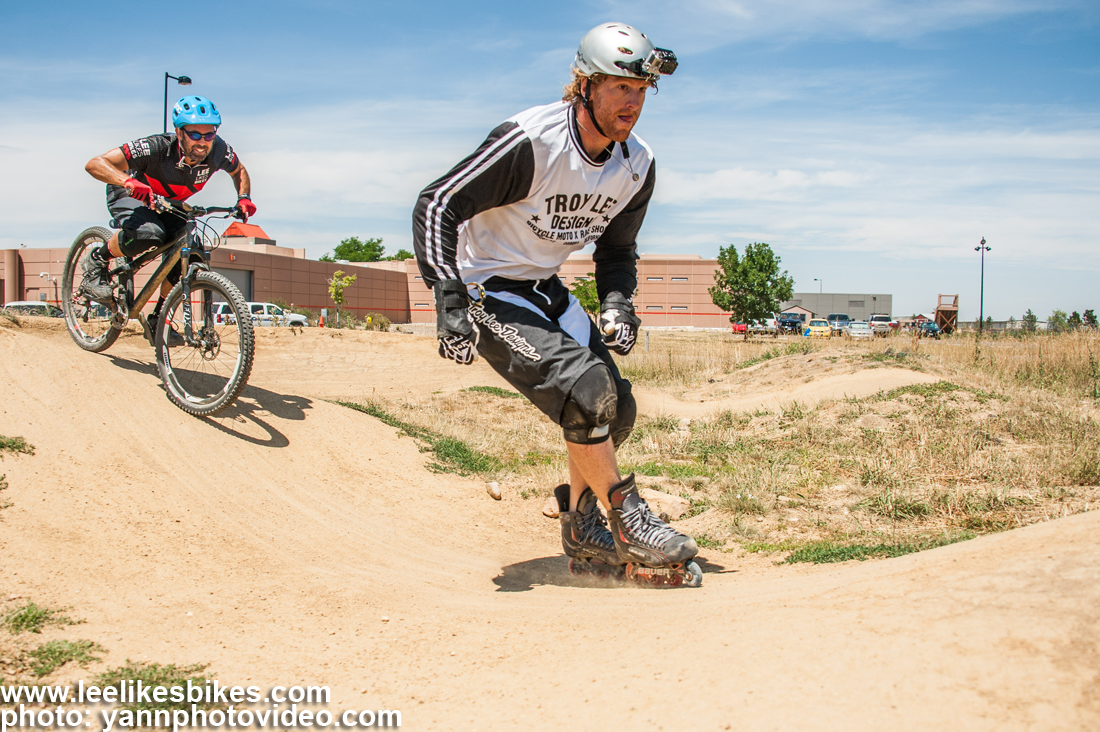 Too fun. The staggered stance helps with balance.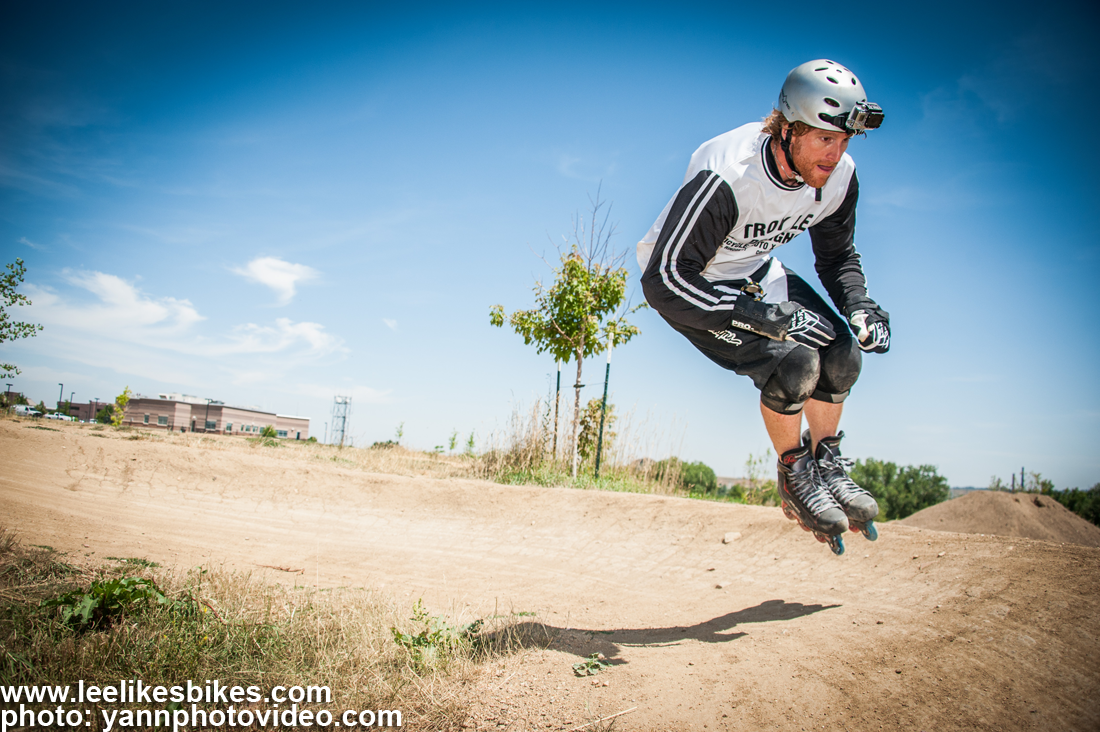 … just like this. After an hour, Reed was shredding the upper pump track at a fast bike pace.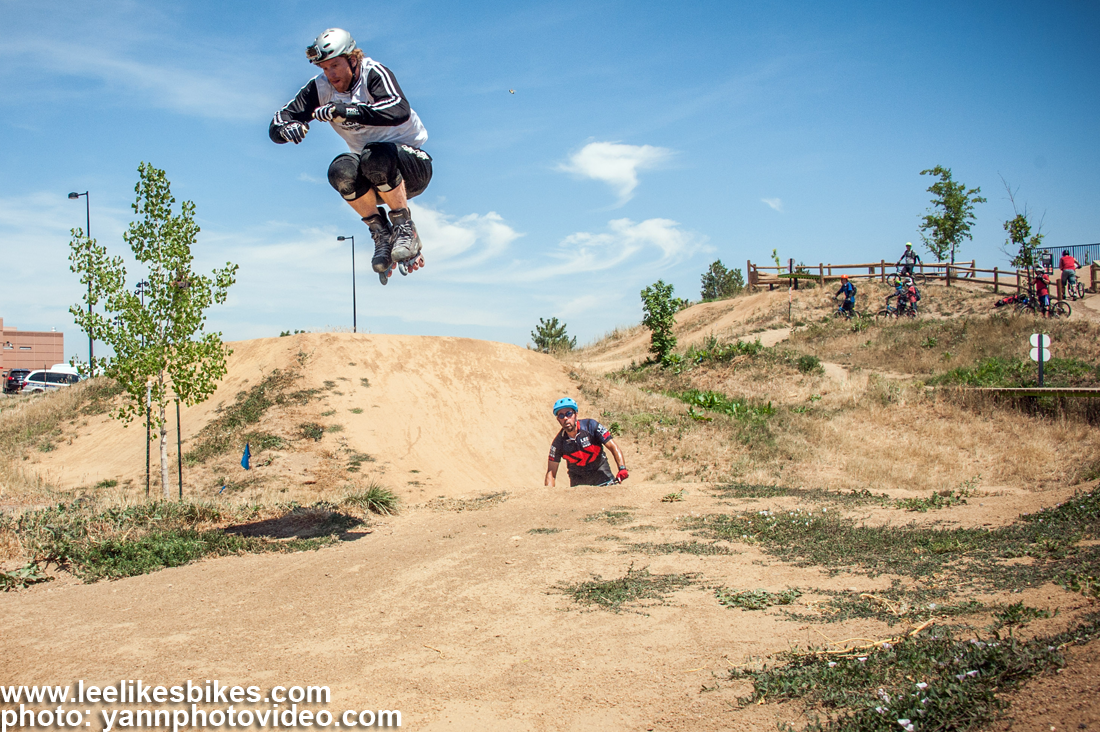 Reed Whiting: Making inline skating cool again.
Reed says …
Valmont Bike Park is one of the best training facilities in the U.S. for my career in Red Bull Crashed ice, but I felt a little off while I was hitting all of the bumps and jumps throughout the park. Lee was able to apply his MTB Kung Fu secrets and easily adapt them to my training on roller blades. After a two-hour session I felt the flow come into my game and felt faster and in more control throughout the park.
The training at the park with Lee will give me the needed edge against other competitors this year. There are so many small tricks to riding these tracks that I never knew existed. Specifically I learned how to harness the energy of the track to build speed and keep in control. The differences between my first few runs and my last were incredible.
I plan on being back to train with Lee in the future as I think this training could be the difference between me sitting on the podium or watching from the stands
Reed
---
Rip it up Reed!
Lee
If you want to shred on your bike (or, I guess, your skates), check out my skills clinics.
---
Know more. Have more fun!
Join the leelikesbikes mailing list:
---
https://www.leelikesbikes.com/wp-content/uploads/2018/08/leelikesbikeslogoheader.jpg
0
0
leelikesbikes
https://www.leelikesbikes.com/wp-content/uploads/2018/08/leelikesbikeslogoheader.jpg
leelikesbikes
2013-07-26 14:22:43
2013-07-26 14:29:11
Kung fu is kung fu