Mountain bikers: are you dead below the waist?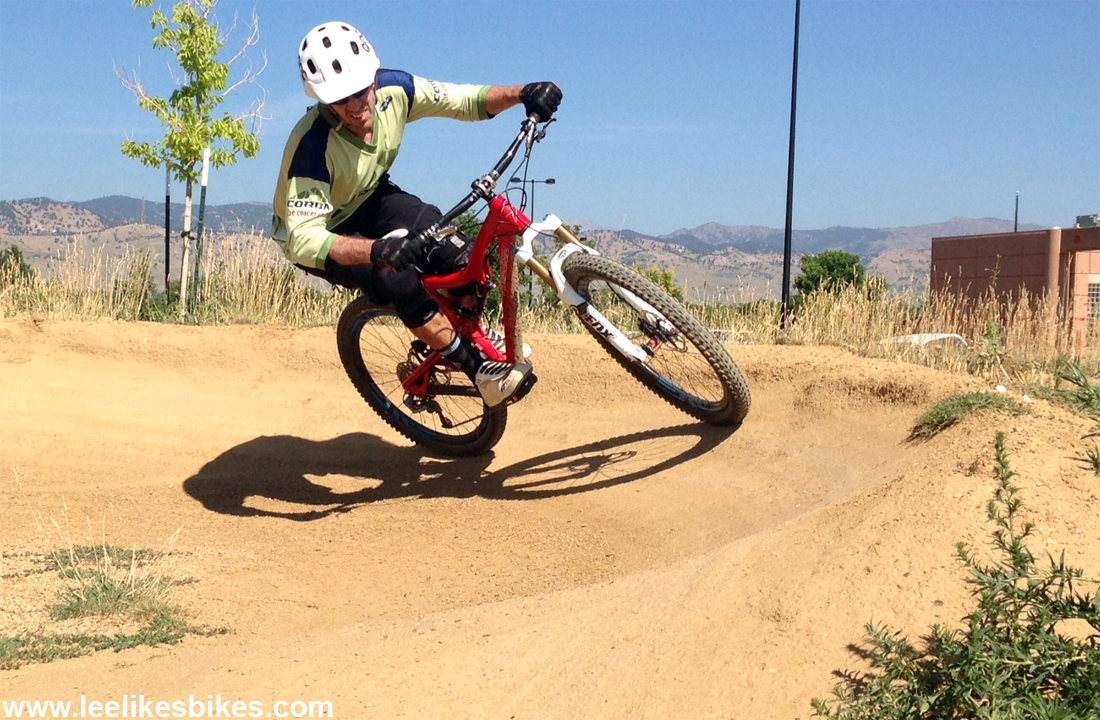 By Andy Somerville
Like any mountain biker with a 50 hour/week desk job, 10 hour/week commute and limited free time on the weekends, my idea of "play" always includes a mountain bike. My free time focus is so narrow that I've had the same pair of running shoes for 5 years now. They still look clean and smell pretty fresh. I've worn out three pairs of mountain bike shoes in that span. I know I'm not alone among cyclists when I admit that a pick-up game of tennis or frisbee pretty much cripples me for a day or two after.
---
After 23 years of this routine week-in and week-out, I should be a damn good mountain biker. Right? Wrong. It turns out that decades of sitting at a desk, in a car and on a couch punctuated by periodic rides on familiar trails killed me below the waist. The brain bone ain't connected to the hip bone, and the hip bone ain't connected to the thigh bone, shin bone, ankle bone or even the toe bones.
All those disconnected pathways might sound wobbly, but wobbly things possess mobility. Sadly, this jumbled mess is stiff and unwieldy. Diagnosis: Routine Rigor Mortis, Commute Creakiness and Desk Dystrophy. In this state of stasis, most mountain bikers with average genes and coordination will attain a level of riding skill mediocrity that is impossible to rise above without intentional intervention.
Upper body and core strength, coordination, fitness, flexibility, balance and vision are all key components of skillful mountain bike riding. But who knew so much that happens below the waist (besides pedaling) is tied to riding pleasure and competence? I didn't, but I'm learning. I'm learning it takes a deliberate change in training, in riding and in bodily awareness. With commitment, attitude and if at all possible, some outside guidance from a coach like Lee McCormack of www.leelikesbikes.com, it's not only attainable, it can launch a whole new phase of mountain bike love. And, bonus, it'll reconnect you with the southern hemisphere of the mortal coil you've put on life support all these years.
Here's a simple and cheap test to determine your current level of lower body health, especially if you ride clipless pedals routinely: mount a pair of flat pedals on your mountain bike, lace up some running or skate shoes, hop on the bike and ride a familiar stretch of downhill-oriented trail. If your feet bounce around and off the pedals as you coast through a rough section, I'm afraid you're DOA (Dead Ole Arse). It's a sure sign your hips, legs, ankles and knees are stiff and disconnected with your brain and the terrain. Now ride the same section a few more times, but now, think "soft" — soft hips, knees, ankles. Not floppy, just…soft. I'll bet your feet and pedals spent a lot more quality time together.
This simple change in awareness combined with the mental cue hints at the power of reconnection to elevate your level of control, confidence and what Lee calls Kung Fu. There's much more to it than that, of course. The best way to get your brain and booty reacquainted is to check out Lee's website (www.leelikesbikes.com) for information about clinics and links to his skills and fitness publications.
And who knows, you might not need those little blue pills anymore either!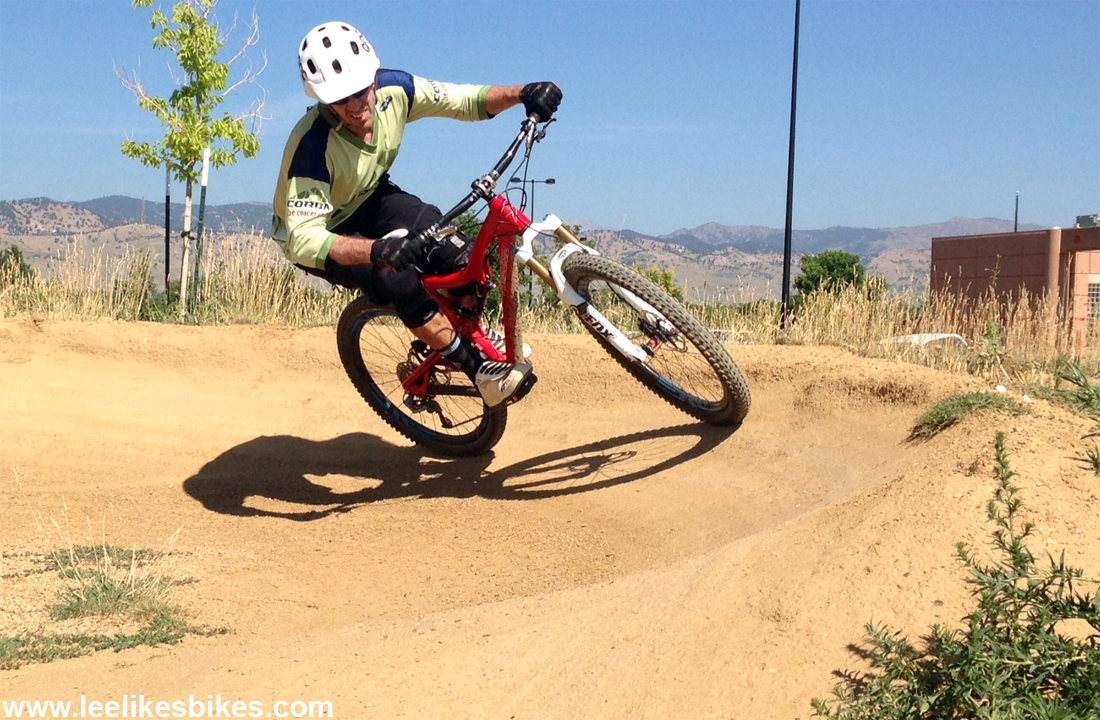 From the waist down: Andy rails the upper pump track at Valmont Bike Park.
About Andy Somerville
Andy is a longtime mountain biker, a board member of the SoCal High School Cycling League and a coach for the Newport Beach Composite high school mountain bike team. Andy is a NICA/Lee Likes Bikes instructor certified to teach basic skills to high school mountain bike coaches, and he is studying to teach the Lee Likes Bikes Training Method in his area.
---
Know more. Have more fun!
Join the leelikesbikes mailing list:
---
https://www.leelikesbikes.com/wp-content/uploads/2018/08/leelikesbikeslogoheader.jpg
0
0
leelikesbikes
https://www.leelikesbikes.com/wp-content/uploads/2018/08/leelikesbikeslogoheader.jpg
leelikesbikes
2013-07-28 09:36:15
2013-07-29 17:09:44
Mountain bikers: are you dead below the waist?