First rides: Guerrilla Gravity MegaTrail and PedalHead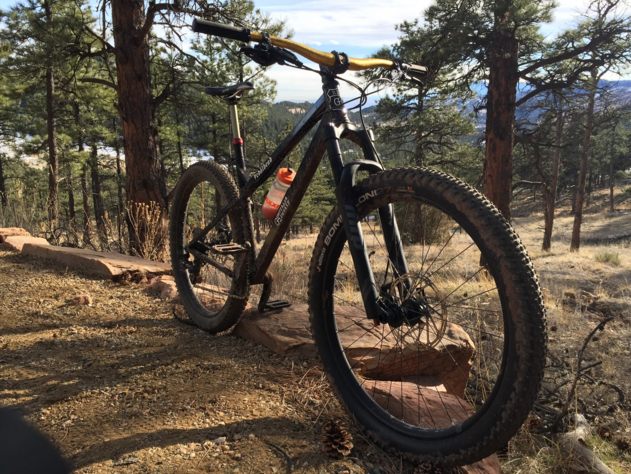 By Kevin Stiffler
First thought after some tomfoolery aboard the Guerrilla Gravity MegaTrail and PedalHead: AWESOME!
Want to know more? Keep reading.
---
The MegaTrail
There's several great reviews of the MegaTrail on the interwebs including Dave Trumpore's writeup on VitalMTB. I won't try to rewrite that wheel here, but I'll add my own $.02 to those thoughts: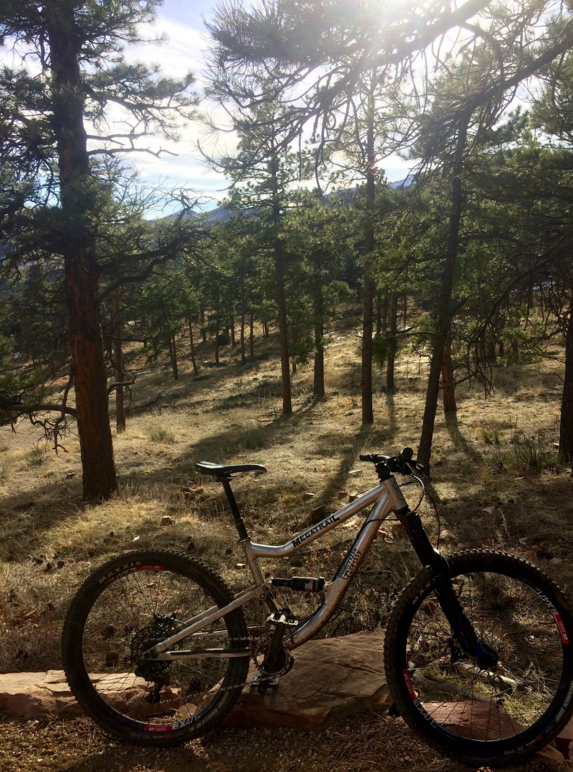 The Guerrilla Gravity MegaTrail ready to shred some classic Boulder, CO singletrack.
The MegaTrail looks beast and shreds down even better than expected. Think: a rally car Lamborghini – low, planted in the corners, and HOLY acceleration. What was unexpected was how well it climbed back up: think a spry young mountain goat. Looks can be deceiving.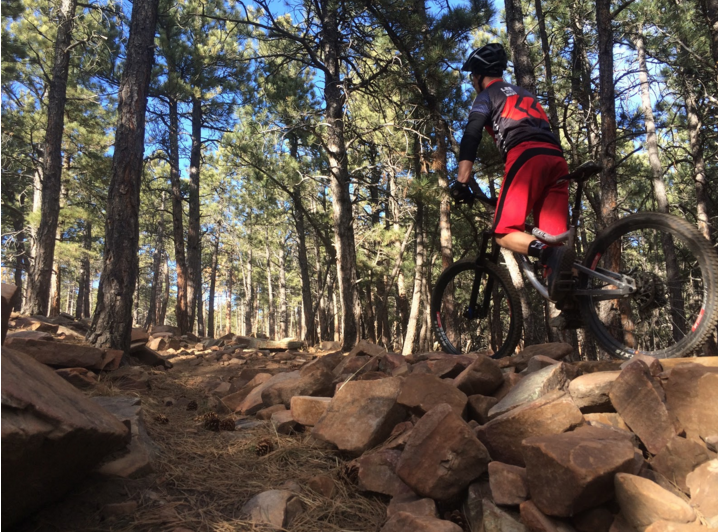 Climbing gnar with ease aboard the GG MegaTrail.
In Trail mode the bike climbed on par with or better than my carbon Enduro. Wait, come again? The initial stroke small bump sensitivity was so supple while pedaling up over the gnar, I originally questioned the GG recommended air pressure. Baby-heads and square edges at low speeds? Forgetaboutit! Yet there was no seated pedal-bob. The mid-stroke support of the Trail mode was "Stand Up and break the freakin' cranks off" able, even with that 'questionably low' air pressure. Out of the saddle crankin? Not a problem! Pumping rollers and mashing on the pedals yielded no vague wallowing. Starting to sense some magic here. Then there was the bottomless end stroke feel due to the progressive ramp up of the pivot design. I never bottomed it out in Trail mode, even through high speed rock gardens and high-g corners.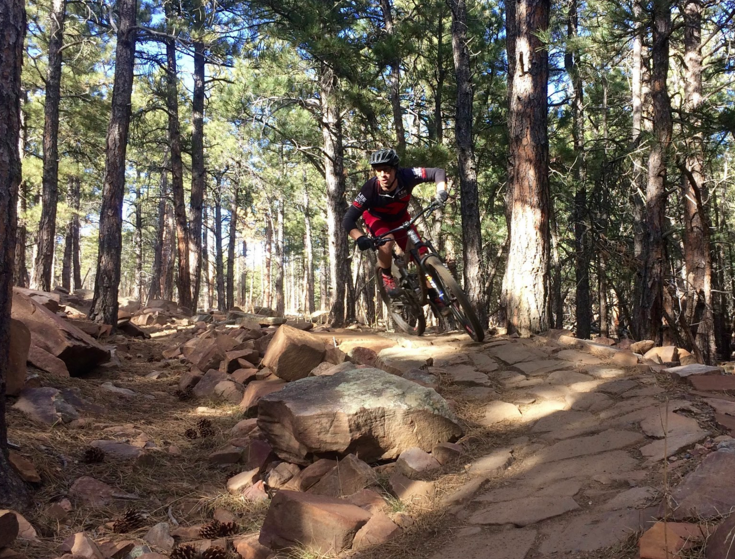 Confidently cornering the MegaTrail thanks to long, low, and supple design.
And if you only ride up just for the downs? Switch to Gravity mode at the top of the climb for 10mm more linear suspension, lower BB, and raked out head angle. Switching the shock mount to Gravity mode took less than 30 seconds using a craptastic multi-tool with gloves on – and holy supple, bottomless, ground-hugging confident high speed SHREDDING.

My trail partner for the day threw a leg over the MegaTrail for a few runs (up and down) and said he wants to immediately trade his 2015 Bronson in for one. Ya, it's that good. #WIN
The PedalHead
Before even riding the PedalHead the sight of the frame instantly reminded me of the Banshee Morphine – in that beastmode, indestructible, freeride capable look and geometry. Except it's a bit like the Morphine got lucky with Santa Cruz's Jackal, and the PedalHead was born and immediately started getting pumped at the gym. Bigger is better in this case.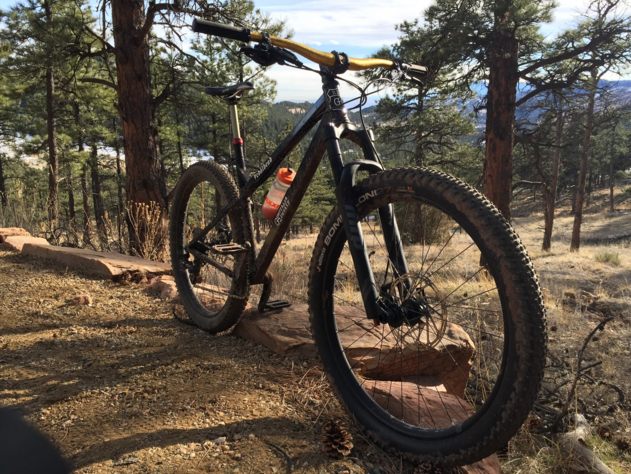 27.5+ tires give the burly PedalHead hardtail even more confidence.
Bombproof. Playful. Stable. The medium frame weights 6 pounds even. At $2095 for the complete Trail Spec model, it won't break the bank. Capable of running 29×2.3 or 27.5+ tires, I went with 27.5 x 3.0 Vittoria Bombolonis for my test ride.
Admittedly the test frame was too big for me. This was the medium prototype frame, with a reach of 445mm and spec'd with a 45mm stem. For comparison my medium Specialized Enduro is set up with frame reach of 421mm and a 35mm stem – much shorter overall. The production size small PedalHead will come with a 420mm reach; stoked to see that! The longer front end of this test frame left me feeling a bit stretched out, but also potentially helped the bike feel stable at high speeds.
The 419mm short chainstays (on a 27.5PLUS tire bike at that!) felt responsive and snappy under accelerations, pumps, and corners. When the trail became violent, that short rear end did feel a bit loose – but perhaps I'm simply accustomed to 5" or more of cushion these days, and perhaps playing with tire pressure further could alleviate some of that. It never struck me as problematic as the bike still managed to feel calm and collected even when the backend stepped out a little.

Super short chainstays did feel a little loose through this chunder at mach speed.
Climbing with the PedalHead was business as usual for a hardtail. Quick power to the pedals, responsive maneuvering up and around rocks, and those Plus size tires grabbed on to seemingly anything. Pedaling in and out of the saddle felt controlled, smooth, and the bike proved very capable of ascending the most demanding sections with speed and efficiency.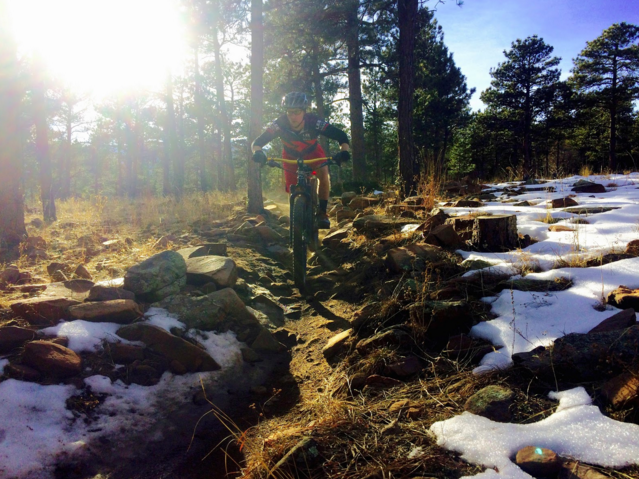 Perhaps not the steepest test track, Heil Ranch was dry enough to get rowdy.
Descending on the PedalHead was a true blast. Having previously raced DH on the east coast's infamous Plattekill Mountain using a Banshee Morphine, I was no stranger to descending on a capable hardtail, albeit that was many moons ago. Today's GG PedalHead makes use of modern technologies and material processes not available back during the Morphine's glory days; making it lighter, more agile, and more responsive. The Plus sized tires gobbled up trail chatter and kept traction high at most speeds, only giving some slight bounce and looseness in the rear when the going got truly FAST and gnarly. Playing with the rear air pressure might have eliminated some of the bounce. The steel frame felt balanced and controlled — while feeling alive. It seemingly begged for more, increasing my confidence on the descents.
During bouncy descents when legs knock into the top tube, I noticed the square edge of the frame's tubing. Will, "El Presidente" at Guerrilla Gravity, says the tubing used in the alpha prototype frame is off-the-shelf steel stock, and the production will have smoother, rounder corners.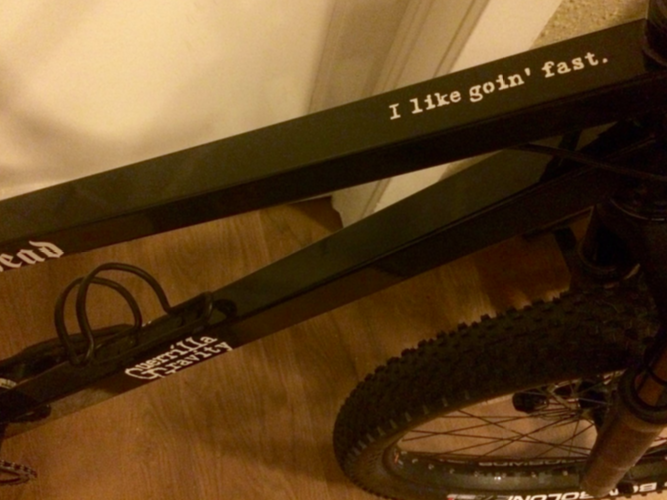 Production PedalHeads won't see such square edged top tubes.
I sure do "like goin' fast"- and so do the folks who work and ride with Guerrilla Gravity. I can get behind that.
Learn more at ridegg.com.
About the author:
Kevin Stiffler resides in Boulder, CO and coaches for LeeLikesBikes. Kevin previously coached at WoodWard and can be found at Valmont Bike Park most days. When not saddled up, Kevin is a classroom teacher and Doctoral learner at NCU. Sometimes, he gets nerdy while wearing full riding kit.
---
Know more. Have more fun!
Join the leelikesbikes mailing list:
---
https://www.leelikesbikes.com/wp-content/uploads/2018/08/leelikesbikeslogoheader.jpg
0
0
leelikesbikes
https://www.leelikesbikes.com/wp-content/uploads/2018/08/leelikesbikeslogoheader.jpg
leelikesbikes
2016-01-27 16:26:24
2016-01-27 16:42:29
First rides: Guerrilla Gravity MegaTrail and PedalHead