Guerrilla Gravity Trail Pistol: for punk rock ninjas?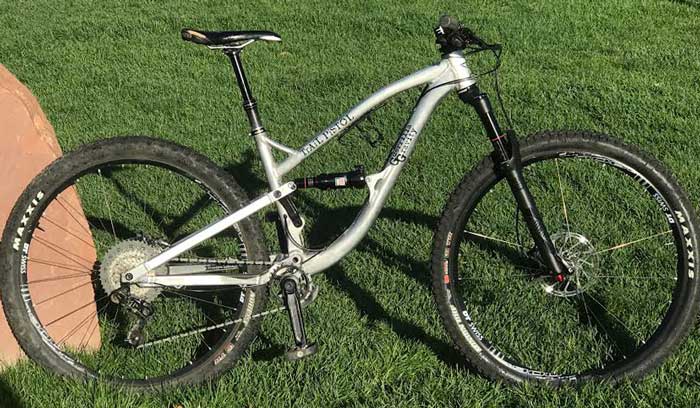 In the words of Guerrilla Gravity: "As the "Singletrack Flyer," the Trail Pistol inspires the kind of fun you only experience flying through the pit of a punk rock show. The kind of reckless fun that reminds you why you started mountain biking in the first place."
That is some good copy. Especially if you've never been in a real pit of a real punk rock show (before punk went mainstream). In reality they are violent and crazy and kinda scary! I have this awesome scar from a show …
But it's great copy, and I think it captures the intent of the Trail Pistol.
After riding this bike for two days with about 11 hours of ride time, here are some other things I think:
Made in 'Murica: GG bikes are crafted in the shadow of Mile High Stadium in Denver, CO. This is an American company run by Americans doing American things like driving big trucks and riding metal bicycles.
Have gun will travel: The Trail Pistol has 120mm of rear travel and is designed for a 120-150mm fork. The bike I rode had 120mm front and rear. We're talking about a short-travel trail bike. It reminded me of my old Specialized Camber, but less Journey and more Minor Threat.
What is a Short Travel Trail Bike? For most of the bike industry, an STTB sits between an XC race bike like the Specialized Epic and a Medium Travel Trail Bike (MTTB) like the Specialized Stumpjumper. STTBs usually have 100-120 millimeters of suspension travel. They are great bikes for normal people who ride normal terrain and for ninjas who shred everything while valuing a lighter, tighter ride.
An arrow for many targets. A small company like Guerrilla Gravity can't afford to create a model for every type of riding, plus variations within those models, the way Specialized does. I mention Specialized because I've been riding for them for 15 years, and I feel like I understand their mission. A company like Guerrilla Gravity most focus on a small number of models that can be tweaked to serve a wide variety of riders. Since they don't do an XC race bike, the Trail pistol sits between their Pedalhead hardtail and the Shred Dogg, which is a MTTB (Im riding that bike now; stay tuned). As GG's STTB, the PedalHead can serve a lot of different masters.
Roll your own way: The Trail Pistol can take 29er, 27.5 plus and I suppose 27.5 regular wheels, but the GG boys say the bottom bracket is too low with a 27.5 regular tire, at least for civilians. My test bike wore 29×2.3s. This setup tweaks the Trail Pistol toward normal-people-on-normal-trails or Jedi-ninjas-wherever-they-want. With plus tires, the Trail Pistol becomes less quick but more capable. Normal people can tackle extra-normal trails. Jedi ninjas can ride as if they're on MTTBs or even LTTBs (long travel trail bikes).
Two extreme badasses I know ride the Trail Pistol in plus setting. Kevin Stiffler, who coaches for Lee Likes Bikes, and Nicholas Simcik, who works for MRP. These dudes do all the big, crazy stuff you see on YouTube, and they do it with 120mm of suspension. Jedi ninjas. Kevin's an old punk rocker too.
Crush and Plush: The Trail Pistol has two rear suspension settings. Crush Mode, made for 29-inch wheels, has a firmer/steeper leverage ratio. Plush mode, made for 27.5 plus wheels, raises the bottom bracket for the smaller wheels and has a softer leverage ratio. Switching modes is surprisingly easy. Remove the lower shock mounting bolt, unweight the rear end, slide the shock in a nifty channel, line it up with the other hole then re-install the bolt. Smooth. I rode the bike in Crush mode.
But I crushed it: When we set the bike up at GG headquarters, I asked the guys to tune it on the stiff side. I planned to pump/jump this thing, and I wanted more support. While their suggested civilian sag is 30 percent (to create a plush ride), mine was closer to 25 percent. So my Trail Pistol was stiffer than normal, and the RockShox shock had all three tokens inside it, which should give maximum bottom out resistance. But I smashed through the travel like a crazy person. Berms, troughs, flat turns, jump faces … they all used full travel. For a normal person I doubt this is an issue. If you are founder of Pump Track Nation and the current world champion of RipRowing, you might need more pressure in your shock. This is not a deal breaker. It's a tuning tip.
Nosebleed seat: The seat tube angle is steep. We're talking 75.8-76.6 degrees depending on Crush or Plush, which is where enduro bikes like the Specialized Enduro have gone. Why? Matt and Will at GG says this places the rider more on top of the pedals rather than behind them, and they said this steepness makes the geometry more consistent at various seat heights. Imagine: Compared with a slacker seat angle, the seat moves less forward when you drop it. When they were designing the 2nd version of the MegaTrail, they measured common seat positions for XC, trail and DH, and they found the seat "path" was more vertical than with slacker seat angles, so they built the seat angle steeper, and people like it. I love the fact they thought about this rather than doing what other people do. Agree or not, that's the punk rock spirit.
Freedom Linkage: GG bikes use their version of a Horst Link. The Horst Link, called the FSR Link while Specialized controlled the patent, means the rear axle is attached to the bottom of the seat stay rather than the end of the chain stay, and that the axle follows a path that's determined by the bike designer rather than a simple arc at the end of the chain stay. This can create a very neutral design, in which braking and pedaling forces have very little impact on suspension function. If that makes sense to you, I wrote it well or you're smart. Now that the patent has expired, lots of companies like Transition and Guerrilla Gravity are using Horst Links. They work.
Name dropping … I met Horst Leitner (inventor of the Horst Link) in about 1993 at the AMP Research headquarters. Brian Lopes and I dropped down one of the crazy Laguna Beach drops and dropped by to say hi to Horst, who was Brians' bike sponsor at the time. I eventually adopted one of Brian's old AMP B3s. A couple inches of suspension front and rear. Cantilever brakes. Completely flexy and undamped. The sickest thing out there. These days the Trail Pistol is considered a short travel trail bike. It would have been a SICK downhill bike in 1993.
And now let's talk about riding the Trail Pistol. I rolled this bike at Valmont Bike Park in Boulder, CO.
Dual slalom: After my protracted off-bike warmup (#gettingolder), I dropped into the Valmont Bike park dual slalom at my normal speed, which is not as fast as Lopes, but is not slow. When I engaged with the first corner, two things happened. 1) The bike went fast. I'll credit the slackish (~67°) head angle, lowish bottom bracket and shortish rear end. 2) The lizard in my head detected an issue. What is going on? A bit of flex. Where is it? It feels like the wheels. Maybe the rear triangle? So I backed off the corner power and railed the rest of the lap. Climb, repeat. After a few laps I got calibrated, and the bike was hauling ass. Sprint, pump, manual, jump … all good.
Pump track: Surprisingly fast. I was working with a pro-level client on a tricky trick: Hopping into a 180 berm, jumping from that berm over a spine into another 180, hopping out of that 180 into a tiny trough then using that pressure to jump the next pair of rollers. This is an extremely technical move that requires the perfect mix of fluidity and power. I usually do this on a DJ hardtail or DS race bike, but the Trail Pistol was very, very good. If I had a firmer rear shock it would have been even better. A smaller wheel … even better.
Jumps: From the pump track we rolled to the dirt jumps. Medium line easy and good. Large line easy and flowy and … did I say easy? XL line easy and nicely poppy despite using full travel, but when I nosed into steep landings the 29er rear wheel grabbed my crotch. This is not a deal breaker. It's a comment about a large rear wheel occupying part of your cockpit. If you don't have long legs, and you want to make big angles, you might prefer a smaller wheel back there. But dang this bike jumps well, and once in a while it's fun to get your crotch grabbed.
Slopestyle: My client and I stepped to the XL Slopestyle and started working the first two jumps. These are big and beautiful and mathematically perfect. And, oh man, I was riding them perfectly. The Trail Pistol felt basically perfect.
Unexpected challenge: A guy was streaming live on Facebook, and he saw me do the big jumps then challenged me to a dual slalom race. I tried to say no, not now, I'm working, but my client said go for it. Ready, set, go! And I waxed him. That's not impressive; I have more laps on that track than anyone. But the bike worked perfectly. I didn't give it a thought. So that's good.
Cornering: During some of my classes I ran our advanced cornering drills, which involve pumping flat ground, pumping uphill, pumping uphill with hops between the turns, scalloping in a circle, scalloping with hops between the turns, cornering to hops while switching directions in the air and other fun stuff. These drills require a lot of strength, and they are sketchy if your bike is flexy. Keep in mind I usually do this stuff on a DJ hardtail, slalom race bike or full on enduro bike … not an STTB. I was fully expecting the Trail Pistol to suck. But it doesn't. I was making beautiful violence and starting to love the bike.
Climbing: This bike pedals just fine in the saddle. Out of the saddle was crazy good. Stiff frame? Lots of traction? I dunno, but it was smashing steep/technical sections.
Smashing: No review of a trail bike would be complete without smashing into stuff. At the end of our last class, I sprinted full power and jumped into a long set of steep, big stairs. This is like bashing through a rock garden, but with squarer impacts. Bap bap bap bap bap! The Trail Pistol skimmed across them like a super cross racer in the whoops. The bike held speed, and my shoulders didn't hurt. Win.
To sum it up: The Trail Pistol is a "short travel trail bike" that does a few things differently. The head angle and seat angle are skewed toward what you'd see on a longer travel bike. The chassis is burly. The suspension tune is firm. This bike pumps, manuals, hops, jumps, corners, climbs and smashes well enough to make me happy. By the end of the second day, I was having warm feelings about the bike.
If I ran the zoo: I'd build a Trail Pistol with a very stiff suspension, 27.5×2.5ish tires and the biggest dropper post I can fit. I would paint it red, and I would be a bike park ninja on it. Then, on trail days, I'd put on bigger tires and get after it.
Kind of like flying through the pit of a punk rock show, but more precise.
Like a punk rock ninja.
Learn more about the Trail Pistol at the Guerrilla Gravity website >>>
---
Know more. Have more fun!
Join the leelikesbikes mailing list:
---
https://www.leelikesbikes.com/wp-content/uploads/2018/08/leelikesbikeslogoheader.jpg
0
0
leelikesbikes
https://www.leelikesbikes.com/wp-content/uploads/2018/08/leelikesbikeslogoheader.jpg
leelikesbikes
2017-09-25 15:16:16
2017-09-26 09:23:40
Guerrilla Gravity Trail Pistol: for punk rock ninjas?