Guerilla Gravity Pedalhead: Front Range weapon?
Guerrilla Gravity says "The Pedalhead is an adventure hardtail built for everything from crushing singletrack miles, getting rad around town, or as an all-around play bike."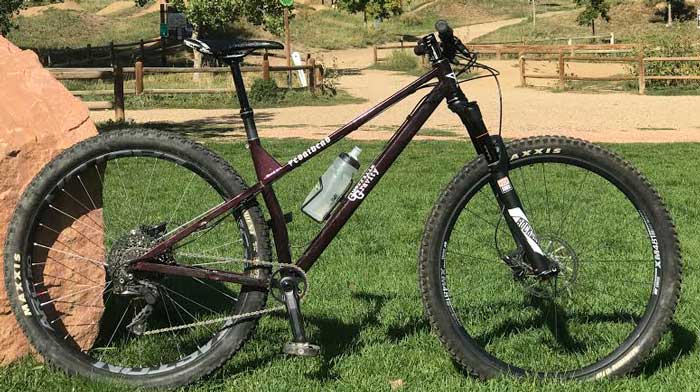 I just spent a day on one, and here's what I say:
As a guy who's written promo copy for more than 30 bike companies, I know how to spew bike bullshit. I will try to dispense none of that.
Transparency: GG loaned me the bike. I did not pay for the privilege, but I did fight traffic between Denver and Boulder, so I guess I have skin in the game.
Made in Denver, CO, USA: This is a big part of the GG story. They fabricate their bikes in their small but tidy shop right next to Mile High Stadium. When you buy a GG bike, you are supporting CO families. I like that.
Steel yourself. The Pedalhead is made from square profile steel, and steel is reportedly real. More real than aluminum? Certainly more real than carbon! My test bike was right around 30 pounds. With some smart parts picks Kevin Stiffler had his Pedalhead under 26 pounds, over a pound lighter than my aluminum Specialized Fuse, which annoyed me.
Wheels: You can fit up to 27.5×3.0 or 29×2.6 tires. That's a lot of meat. My test bike had 29×2.3s, which made it feel quick and nimble. I've seen and ridden this bike with 27.5×3.0s, and in that format it is a bad ass trail bike for skilled riders.
Being a plus hardtail, the Pedalhead is also awesome for more beginning and timid riders. My wife and girls all ride plus hardtails because: 1) Huge amount of fun for the money. 2) Crazy versatile. 3) Some extra cushion. 4) Lots of traction. Things that are sketchy on little tires … aren't so sketchy on big tires.
What the fork? You can run up to 140mm. My test bike wore a 120mm Pike. The Pike worked as Pikes do. Just fine. But it's not a FOX 34 or 36. Sorry, but it's true.
Sit and spin: 74 degrees is the effective seat tube angle, and that's on the steep side, and you see this on more and more enduro bikes. It's supposed to place you over the pedals rather than behind them, especially when climbing.
Stay chain, stay: Pedalhead chainstays are 419mm, which is short, especially with such big tires. My beloved Specialized Enduro SX, which is the sickest slalom bike on earth, has 419mm stays. Yes, these bikes have the same junk in the trunk.
Low slung: Depending on tire size, the Pedalhead bottom bracket is 305-315mm off the deck. This is low. How low? As low as or lower than my Enduro SX! What we're starting to see here is a bike that is laid out for all-day pedaling but, from your feet to the back wheel, feels like a slalom race bike. Uh huh. Seat up ride to the bike park or trails. Seat down shred like crazy. Seat up back to civilization.
Slack: With a 120mm fork, the head angle is 65.5 degrees. That's in the enduro bro category, and it's pretty darn slack for a hardtail. This slackness says, "Dude. I am a hardtail, but I am made for shredding." See the above paragraph.
Reach for it: GG bikes (and all modern bikes) tend to be long in front. The small Pedalhead I rode has a reach of 420mm. The leverage ratio between the front of the bike and the back of the bike is high. What does this mean? It means every pound of handlebar pull gets multiplied into mega rear-wheel smash. That, my friends, makes a bike pump, manual, hop and (if you know how to corner) corner with a ton of power.
Not Gary Fisher's 29er: When you combine the steep seat angle, short stays, low bottom bracket, slack head angle and long reach, you get a bike that checks all of the aggro/enduro boxes, but that happens to be a hardtail.
I rode the Pedalhead at Valmont Bike Park, which I know like the back of my hand.
10 laps on the dual slalom track (up the dirt road, down the slalom, switch lanes and repeat) is my standard test of fitness, strength and bike ride-ability. That's 500 feet of climbing, 60 corners and 180 bumps which can be pumped, manualed and jumped in myriad combinations. I've ridden every kind of bike on this track, from BMX to DH to XC to DJ to DS to trail to CX. 10 laps at a medium/hard pace usually takes me 20 minutes.
On the Pedalhead it took 17 minutes. That was shocking. I was not trying to pin the descents. Instead I was easily pumping, manualling, jumping and carving, then climbing at moderate pace. I was not in a hurry, but apparently I was going faster than usual.
Why? Matt from GG says the steep seat angle helped on the uphills. I think the hardtailness adds speed everywhere (if you know how to ride a bike). I think the geometry clicked my brain into slalom mode, and I think the feedback I got from the stiff chassis put me on Be Careful, Be Smooth alert — which apparently works well.
Tucker Samuelson is a young ripper and LLB coach in training. He rode it around, came back and declared: "This thing's a Front Range weapon."
Learn more about the Pedalhead at the Guerrilla Gravity website.
Check out Kevin Stiffler's Pedalhead review
---
Know more. Have more fun!
Join the leelikesbikes mailing list:
---
https://www.leelikesbikes.com/wp-content/uploads/2018/08/leelikesbikeslogoheader.jpg
0
0
leelikesbikes
https://www.leelikesbikes.com/wp-content/uploads/2018/08/leelikesbikeslogoheader.jpg
leelikesbikes
2017-09-22 16:26:52
2017-09-22 16:26:52
Guerilla Gravity Pedalhead: Front Range weapon?