Guerrilla Gravity Shred Dogg: mid-travel attack bike
Guerrilla Gravity says: "This is a bike that turns your local trail into your very own pump track. The Shred Dogg provides an exceptionally lively platform for those that value playfulness more than smashing the super-gnar. Plus with Gravity Mode™ available, you still have the downhill chops for when going gets rough…er.
More great copy from the little bike company in Denver, CO.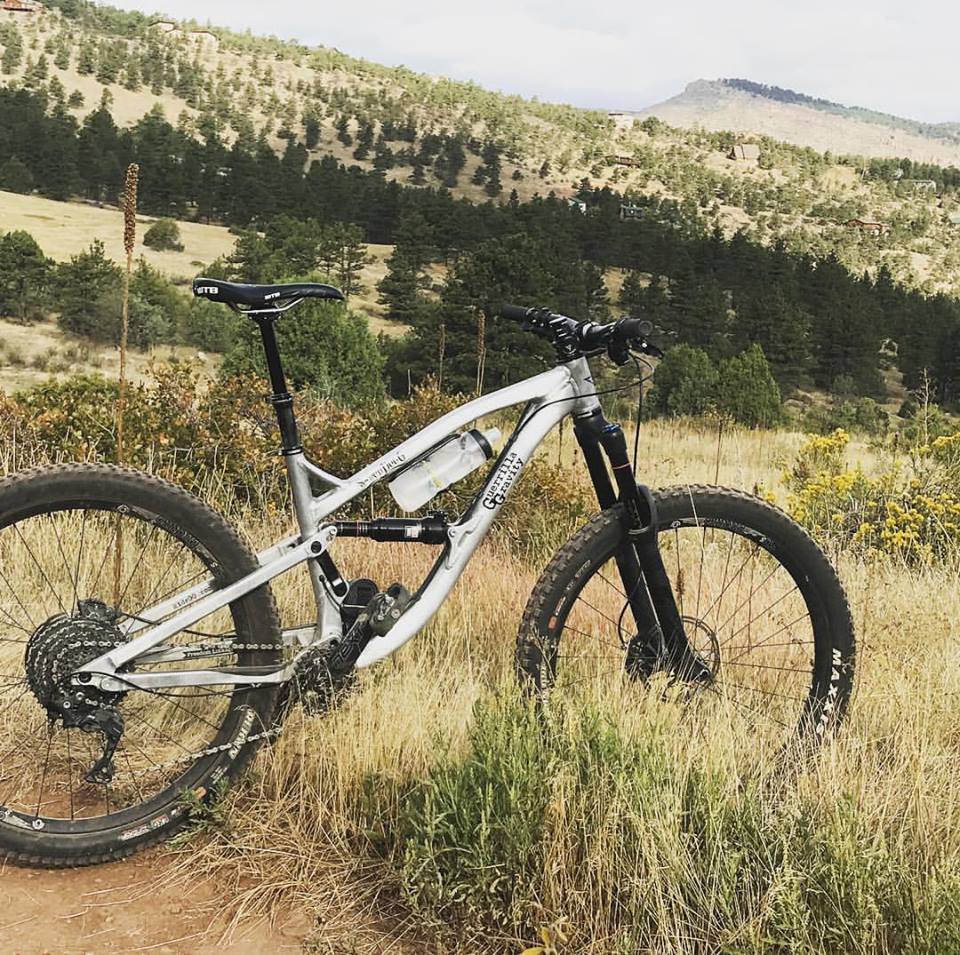 It's also another great bike from Guerrilla Gravity. I just spent two weeks on a Shred Dogg, and here are some thoughts.
---
In my mind, the Shred Dogg is a MTTB, or a mid-travel trail bike. These days most bike companies offer these types of trail bikes:
XC Race Bike. XCRB. Either hardtail or 100mm dual suspension bikes. Steep angles. Made to climb fast, but most of them descend well too. Examples include the Specialized Epic hardtail and Epic full suspension models. GG does not make this bike.
Trail Hard Tail. THT. 120mm of front suspension. Rigid rear end. Moderate geometry. Made for beginners to explore trails and experts to slay trails. Often come with 29 or 27.5+ tires. The Specialized Fuse and Diamondback Mason are THTs. The Guerrilla Gravity Pedalhead is a THT. See Guerrilla Gravity Pedalhead: Front Range Weapon?
Short Travel Trail Bike. STTB. 100-120m of travel. Geometry between THT and MTTB. Made for most people on smoother trails and experts on most trails. The Specialized Camber and GG Trail Pistol are STTBs. See Guerrilla Gravity Trail Pistol: for Punk Rock Ninjas?
Mid Travel Trail Bike. MTTB. 130-150mm of travel. Moderate angles. Made for most riders on most trails and expert riders on almost any trails. The Specialized Stumpjumper and GG Shred Dogg are MTTBs.
Long Travel Trail Bike. LTTB. 150-180mm of travel. Angles between MTTBs and downhill bikes. Made for the gnarliest of trails, but they don't suck on normal trails. Expert riders can pilot these pretty much anywhere a DH bike will go. The Specialized Enduro and GG Megatrail are LTTBs.
Bigger bike companies fire arrows at each of these categories, and they make bikes that very specifically target various types of riders.
Meanwhile, Guerilla Gravity throws a grenade into the mid-travel and long-travel trail bike area, and the machine that survives is the Megatrail, but with two different suspension packages. In long travel mode, it's the Megatrail. In medium travel mode, it's the Shred Dogg.
Yes, the Shred Dogg uses the same frame as the Megatrail. This is cool for a few reasons:
1) It allows a small company to offer more choices while keeping things simple. Agile development for the win.
2) It allows you, the consumer, to own two bikes with the switch of a shock and fork, or perhaps just the shock. Do you usually ride moderate terrain but sometimes hit the bigger stuff? Ride the Shred Dogg during the week, then push it to Megatrail mode for the weekends.
3) It gives expert riders a mid-travel bike with long-travel badassery. Often a big company will make its mid-travel bikes lighter and less burly to hit weight targets and work well for less aggressive riders (beginners need flexier bikes). With the Shred Dogg you get the same exact burl as the Megatrail, but with less travel. This creates a bike that pumps and jumps in a lively way yet carves hard and conveys a sense of security when you're pinning it. If you have never felt the nonspecific, low-level sketchiness of a noodly bike, never mind.
My test bike wore a 150mm Pike fork, and it functioned as Pikes do, which was pretty darn well. The bike will accept up to a 180mm fork. As the GG guys pointed out, a 160mm fork plays well in both Shred Dogg and Megatrail modes. One frame, one fork, two shocks, two bikes?
As nifty as that sounds, I think most riders will pick a fork and shock that works for them, then they'll fine-tune their ride using the Shred Dogg's two suspension modes:
In Trail Mode the bike is truly and exceptionally lively. Rear travel 135mm. Head angle 67 degrees. Bottom bracket height 13.4 inches. When I rolled it into the Valmont Bike Park XL Slopestyle line, I was shocked. Wow, this thing says BRAAAP! And it slashes smooth trails. And it climbs very well.
In Gravity Mode the bike is slacker, more planted and feels, in my opinion, more balanced and dialed in. Matt at GG told me the suspension curve is a bit flatter in this mode, so the bike's less likely to hang up on jump takeoffs and other edges. In this mode I basically rode the shit out out this bike without worry. Rear travel 145mm. Head angle 66.3 degrees. Bottom bracket height 13.0 inches.
The Shred Dogg accepts up to 27.5×2.8″ tires. My test bike ran a 2.6s, and I understand why that size has become the new middle ground. It rolls fine, carves well and still has some float in the rocks.
I rode the Shred Dogg at Picture Rock Trail in Lyons, CO; Valmont Bike Park in Boulder, CO; and Eagle Bike Park in Boise, ID.
Climbing. Very, very good in both modes. The GG guys credit the steep seat angle. OK. This bike climbs great.
BMX. Yes, BMX. Eagle Bike Park has an ABA race track, and I rode it like I wrote the Bible of BMX technique. Sprinting was very good. Pumping, manualing and jumping: very good. I surprised myself by cleaning some big doubles. Hmm. This bike jumps great.
Rocks. One of the trails at Eagle has some excellent rock gardens. Carry speed, hit the first rock and skim through the rest. Very nice. This bike is tuned to ride fast and stay high in the bumps. If you're slow and timid, this isn't the bike for you. If you want to kill kill kill, this is the bike for you.
Overall shred. I rode a mix of pump, jump, slalom, flow trails and natural trails … and … this bike works great. Seriously. I taught my classes, rode for myself and even hit a big drop. No issues. The bike works great.
All GG bikes are made in Denver. Ride globally, buy locally.
If you want a mid-travel trail bike with the attack factor of a long travel trail bike, check out the Shred Dogg.
Learn more about the Guerrilla Gravity Shred Dogg here >>>
---
Know more. Have more fun!
Join the leelikesbikes mailing list:
---
https://www.leelikesbikes.com/wp-content/uploads/2018/08/leelikesbikeslogoheader.jpg
0
0
leelikesbikes
https://www.leelikesbikes.com/wp-content/uploads/2018/08/leelikesbikeslogoheader.jpg
leelikesbikes
2017-10-04 14:05:28
2017-10-04 14:54:57
Guerrilla Gravity Shred Dogg: mid-travel attack bike