Guerilla Gravity Megatrail: surgically precise sledgehammer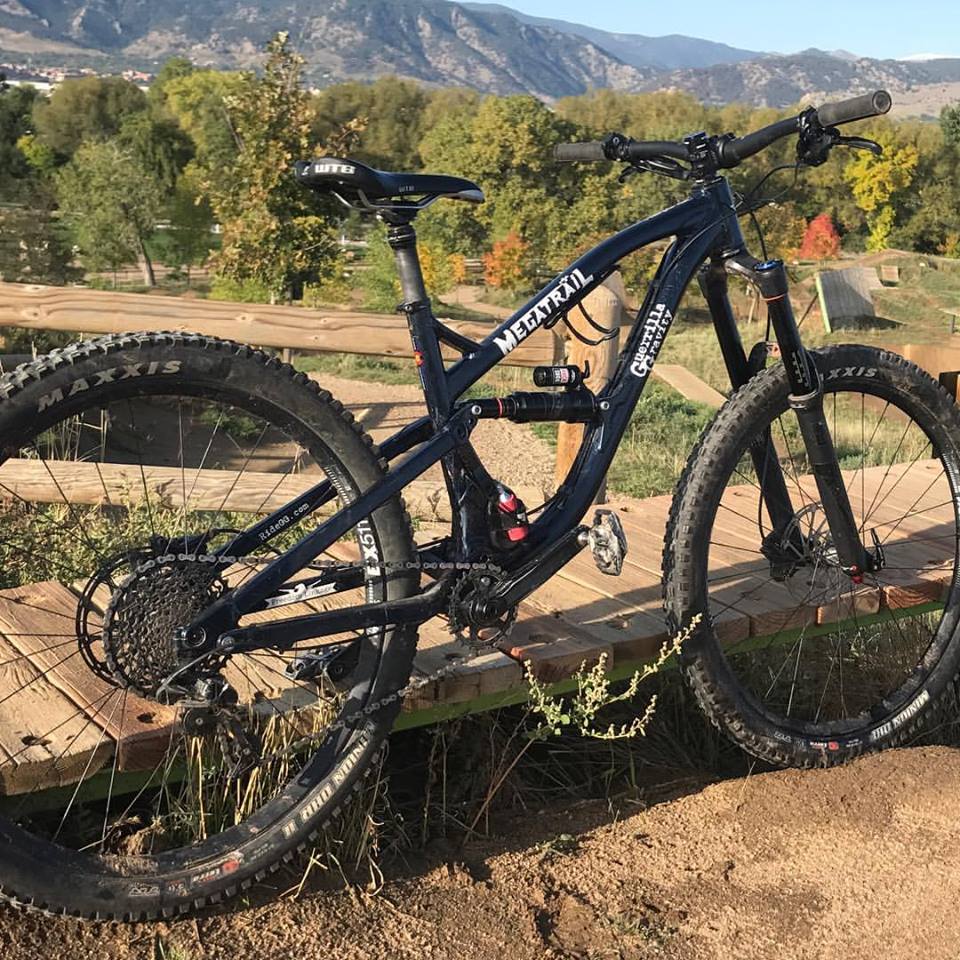 Guerrilla Gravity says:
"As a highly refined and extremely versatile trail bike, the Megatrail is built for everything from conquering high-alpine adventures to shredding bike park laps, or just slaying your after-work rides. And when it's time to turn the Rad up to 11, Gravity Mode™ provides a 20-second, one-bolt geometry toggle that transforms the bike into a downhill dominator–it's like having two bikes!"
I rode a small Megatrail for one long, awesome day at Valmont Bike Park and the Betasso Link Trail. About six hours of ride time. Thoughts:
---
After the grenade: Instead of firing arrows at the mid and long travel trail bike segments, GG threw a grenade into that zone, ducked the shrapnel and found, in the smoking rubble, a Megatrail looking all proud and badass.
Sitting on a high horse. GG puts a lot of thought into their seat angles, which are rather steep. They say it aids pedaling and gives you a more consistent cockpit at various saddle heights. I can't disagree.
Two bikes in one: With a bolt position change, you can switch from Trail Mode (150mm rear travel, 13.4" bottom bracket, 66.2 degree head angle) to Gravity Mode (165mm rear travel, 13" bottom bracket, 65.5 degree head angle). GG wants you to do this during rides.
That sounds like bullshit. I imagined a lot of fiddling and washers getting lost in the grass. But the switch is easy and slick. Remove the bolt with a 6mm hex key, slide the lower shock mount into the other position, let it catch nicely, reinstall the bolt. Shred.
In Trail Mode, the bike is very poppy and responsive, like an enduro bike but … a bit tighter and quicker. When I dropped into the Valmont dual slalom for my normal test, I railed the first corner, threw an unexpected manual across a big double then jumped the rest of the way down. Holy shit! This bike rips! And it climbs very well.
In Gravity Mode, everything feels more settled and more like the enduro bikes we're used to riding. My normal trail bike is the Specialized Enduro Öhlins Coil 29, which is as big and bad ass as trail bikes get. In gravity mode, the Megatrail feels more poppy and responsive and less … big. After switching the bolt position, I dropped right into the XL Slopestyle (very unlike me!) and wow wow wow all the way down. I had extra speed, which carried me higher than ever on the big wall ride, which means more drop into the landing and more stoke the rest of the way.
My test bike wore 27.5×2.3 Minion DHR and DHF tires with EXO casings. Compared to the 29×2.5 DH tires on my Enduro, these are light and quick, and I certainly felt that.
The Megatrail is the baddest of GG's trail bikes, and it is bad. And it can do big, terrible things like smash through rock fields. But, to me, it also feels precise, surgical and fun. That's in both modes.
Maybe four bikes in one: Because the GG grenade destroyed what might have become their Stumpjumper, they cleverly created a mid-travel bike by shortening the Megatrail's shock. The resulting ride is the Shred Dogg, which I rode and loved last week. That bike has a 135mm Trail Mode and a 145mm Gravity mode. Yes: With an extra shock you potentially have four bikes. If you have an extra fork and an extra shock, you could have two pairs of very different bikes.
Read my reviews of the Shred Dogg, Trail Pistol and Pedalhead.
As I mentioned above, I got about six hours of riding time at Valmont Bike Park and the Betasso Link Trail. Rather than riding loops in the park, I rode up and down the Link three times.
An important caveat: I like bikes, and I spent all day yesterday riding this one. What a great day. Stoked! Everything felt magical.
A matter of style. Statistically speaking, I'm probably more skilled, more precise, more injured and more careful than you are, and I'm also more aggressive and faster than you are. I need a bike to respond to intentional inputs and absorb unintentional impacts. A big that's too big and soft feels uncontrollable, and that makes me tense. A bike that's too little and harsh feels excruciating, and that makes me tense. The Megatrail … made me feel relaxed. In an aggressive way.
Technical climbing: I parked at the bottom of the Betasso Link Trail and rode right up. Boulder locals know how nasty that is: steep, rocky, steep and steep. In Trail Mode with the shock on the softest setting, this bike had great efficiency, plenty of traction and easy roll over rocks. I usually stop 35 seconds into this climb because I'm so anaerobic. Yesterday I motored along with less trouble than ever, and I "easily" cleaned all of the rock ledges on the way up. Being lighter and stronger never hurts (#riprow), but this bike really and truly climbs well. Especially in Trail Mode.
As you might expect, the bike doesn't climb as well in Gravity Mode. It pedals fine on smoother and flatter sections. On the steeps and ledges, I missed the extra-steep seat angle. This thing GG does with their seat angles … It works.
About the suspension: I like to repeat the same descent because I'm old and boring, and because it lets me make adjustments. With the fork and shock in their softest settings, at my pace with my riding style, the bike was hard to control. With 4 clicks of low speed compression on the fork and the shock in the middle setting, the bike tightened up perfectly. Funny: That's exactly how Matt at GG set the bike up for me.
Cornering: This. Bike. Rips. Credit the geometry and the stiffness and the Minions and the hero dirt, but I've ridden a lot of bikes through a lot of turns, and this bike turns well. Berms, flat corners, off camber corners, off cambers with rocks in 'em … not hitting trees, not flying off cliffs. All good.
Pump/jump: Bikes in this travel bracket sometimes suck for slalom, jumping and the like. I think that's because their suspension is tuned to feel "plush" for civilians who ride over curbs in bike shop parking lots. GG does not make bikes for civilians. Their bikes favor faster, more aggressive riders. This translates to a firm, supported feel that shreds the pump track, slalom, slopestyle, dirt jumps and natural features.
Shredding the gnar. Am I tool old to say that? In the polite rock sections I pumped, hopped and jumped; easy and smooth and surprisingly precise given the bike's big travel. In the impolite rock sections I got light and let the bike do the work. That's where careful suspension design and tuning come into play: The bike switched from ballet mode to sledgehammer mode. At one point some civilians were off the side of the trail and I jumped from one rock to another. The gap was pretty big, and I landed on a postage stamp, and they were like "YES! THAT WAS RAD!" and so was I.
Dropping … An attack bike named after Megadeth needs more seatpost drop than the 125mm my test bike has. Since I was switching the bike to Gravity Mode at the top of the climb, I dropped the seat post all the way. GG offers the KS LEV in 120, 150 and 170mm drops. When you order your Megatrail, get as much drop as you can.
A viable option: These days we can choose from a lot of great bikes. I'll compare the Megatrail to my Enduro because that's what I ride and because I think it represents the battle GG is waging against the big companies. Is the Megatrail's fit and finish as fancy as the Enduro's? No. Does it ride really well and is it fun? Yes. Is it a viable option for a rider who wants something different? Yes. Can you meet the person who's building your Megatrail, choose any color you want and have it built however you want? Yes, yes and yes.
Shred in the USA.. All GG bikes are made in Denver, CO only 15 minutes from rock gnar. You can visit any time and take a bike for a test ride.
Learn more about the Guerrilla Gravity Megatrail >>>
---
Know more. Have more fun!
Join the leelikesbikes mailing list:
---
https://www.leelikesbikes.com/wp-content/uploads/2018/08/leelikesbikeslogoheader.jpg
0
0
leelikesbikes
https://www.leelikesbikes.com/wp-content/uploads/2018/08/leelikesbikeslogoheader.jpg
leelikesbikes
2017-10-06 11:52:00
2017-10-06 16:51:48
Guerilla Gravity Megatrail: surgically precise sledgehammer