Converting Stumpy 29 to EVO?
(Question inspired by Week one: Stumpjumper FSR 29 Carbon S-EVO)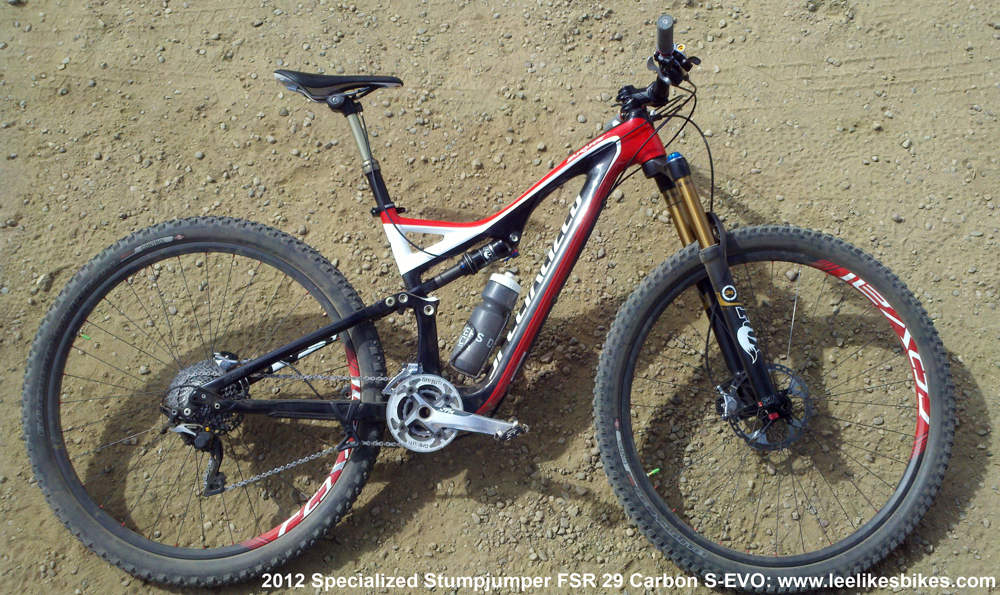 Hello Lee,
I added a fox 34 hoping it would improve my bikes handling about the same time I discovered you site (awesome articles by the way) and was happy to see I wasn't the only one who tried and loved the 34!
My question is you mention the EVO conversion for the rear. 1) where can I find this, it's not on the big S site and my searches turn up nothing? 2) have you tried this yet and what were the results?
My hope is the extra 5mm travel would be nice and with the lower BB height the bike might take sharp switchbacks better.
Thoughts?
Thanks!
Kyle
---
Hey Kyle,
Compared with a standard Stumpjumper 29, the Stumpy 29 EVO has a longer fork and a unique shock, link and seat stay. This package provides +10 mm front travel, +5 mm rear travel, a 1-degree slacker head angle and a slightly lower bottom bracket. That typically adds up to braaap.
My Stumpy 29 has an Expert Carbon frame with 130 mm travel and a FOX 34 set at 140 mm. The 34 is about an inch taller than the stock 130 mm fork, which slackens my head angle about a degree. Because my front end is an inch taller than stock, my bottom bracket is almost one half-inch higher than stock.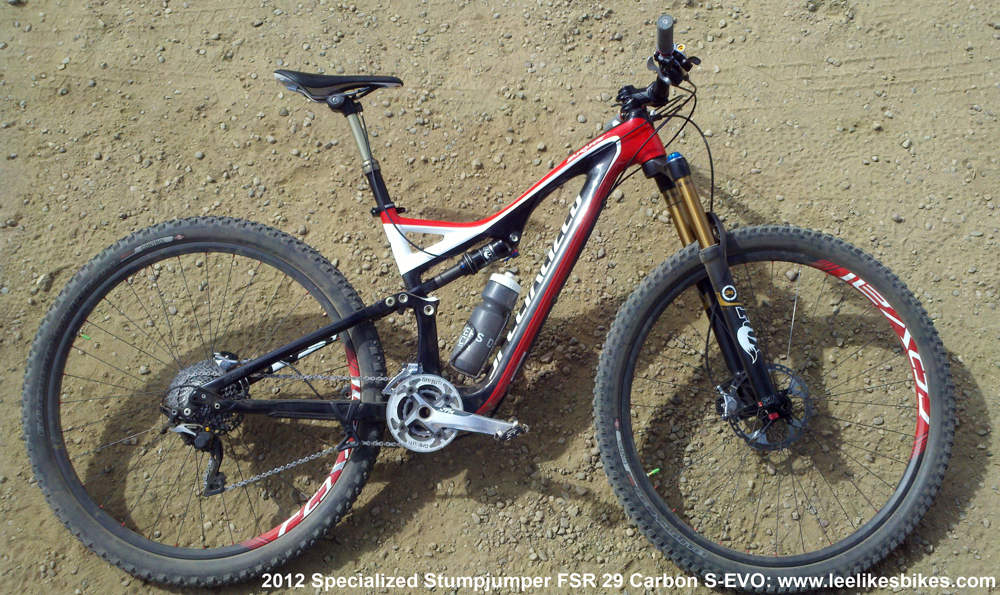 Changes since this post-build photo: 50 mm Shimano PRO stem, Shimano DH pedals, 2.1 Ground Control rear tire (the 2.3 lived a valiant life), Utah high school MTB league water bottle.
At first the higher bottom bracket freaked me out. Specialized geometry is pretty darn dialed, and I hate to mess with that. I thought (feared) I'd "need" to get an EVO kit to make the geometry closer to stock.
Well …
This bike does not suck. I've been riding it for just over three months, and it's working great everywhere: slalom, jumps, XC and light DH. Heck, I rode the Stumpy 29 at the Sea Otter dual slalom — and took 2nd in Cat 1 vet (beating more than one of my heroes!). You can't do that on a bike that doesn't handle well.
I think:
• The bottom bracket is still pretty low.
• When I corner, I crush the bottom bracket even lower.
• Around here we do a lot of technical, rocky climbs. I am striking fewer pedals, which is great.
As for the EVO conversion:
• There is no ready-to-roll EVO conversion.
• I don't think it's important. I'd still like to try the lower BB, but I'm in no hurry.
About the Fox 34 fork
I've been keeping quiet on this, but I can talk now. My 34 has the new 2013 internals. Some of you might have noticed it's hard to get full travel out of older Fox air forks. Well, not any more. The new FLOAT air spring curve is rather coil-ish, and I'm getting the full 140 mm all the time. My Fox 34 fork is plush and controlled, and it's stiff enough to let me do everything I want. I freaking love it.
Very fun. Braaap!
Lee
---
Know more. Have more fun!
Join the leelikesbikes mailing list:
---
https://www.leelikesbikes.com/wp-content/uploads/2018/08/leelikesbikeslogoheader.jpg
0
0
leelikesbikes
https://www.leelikesbikes.com/wp-content/uploads/2018/08/leelikesbikeslogoheader.jpg
leelikesbikes
2012-07-02 14:21:16
2012-07-02 14:21:32
Converting Stumpy 29 to EVO?