Making a fast rider faster

Last week I rocked a skills session at Valmont Bike Park with Mountain States Cup pro pinner Eric Landis. We hit the basics, then he attacked his drills with rare aggression. As he told me at the beginning of our session, "I'm dressed to crash."
---
Eric is a business owner, dad and racer. I respect everyone who can kick butt in all three areas, and I'm excited to work with this ex-pro-moto racer. As Eric says, he's always been a better athlete and competitor than a rider.
Well, my job is to make him a great rider. I've worked with Eric before, and many of his core skills look great. Last week we focused on balance, vision, sprint technique, line choice and advanced pump.
Sprint!
As I learned from Coach Greg Romero while creating the book Pro BMX Skills, sprint technique is all about alignment. As Eric found new alignment and created new torque, he broke his crank arm!

Good news: You have great torque.
DH!
The culmination of our session was the 5280 stairs to gravel to sketchy turning drill. The goal here is perfect balance, active management of the transitions, a clean turn then coast as high as possible. As Eric dialed in his approach, he wound up getting half his elevation back.
NOTE: People rarely crash in my sessions. Eric was fully pinned. He's a grownup. He can do what he wants!
ANOTHER NOTE: We sped up his rebound to deal with the rat-tat-tat of the stairs.
Check out this vid:
Race results
Last weekend Eric raced the Mountain States Cup in Crested Butte, CO.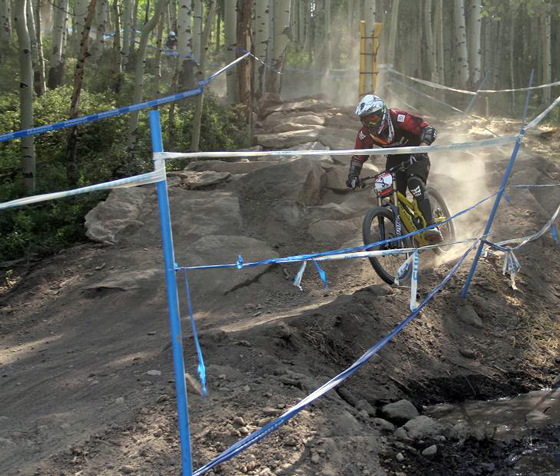 Nice position. Great vision.
"Lee, I just wanted to thank you again for your time. Although I have not perfected anything I was definitely able to use the new techniques at the race last weekend. Probably the No. 1 thing was still looking ahead, but I also pushed into the berms and was more proactive with bump management.
"In my race run I had one large mistake where I came to almost a complete stop in a corner because I got loose under braking because I was going faster than I expected. I nailed the top section, I'm sure as fast as anybody up until that mistake. The mistake jumped my heart rate & I struggled the rest of the run a little but still finished 10th & very close to the leaders.
"I was very close & felt I had something for them that day. I was a little disappointed but in reality if I had not set a goal of the podium I would not have learned the lessons I am learning & would not have practiced as hard or studied the track as much.
"My wife even stood by & spotted for me ready to scrape me up or call the ambulance as I jumped 2 super sketchy rock gardens that only the top 5 or so riders jump. It turned out jumping these gardens was much faster. I would start thinking speed early several corners before them & ride smoother & faster even throwing in strong pedals toward them where I would normally coast, then of course carry that momentum several corners past. It was a little dangerous but I was geared up for crashing so I was not too afraid."
Yup, Eric is not afraid.
Eric's aggression + his fitness + more refined skills = Speed!
Strava!
Yesterday Eric set KOMs up and down the famous Ribbon Trail in Grand Junction. "I have been going after that descent time for a couple months now. I think my vision, cornering and bump speed are much better."
Sweet. It's fun to see a fast athlete get even faster (and have even more fun).
Eric is sponsored by:
Grassroots Cycles Grand Junction CO
Transition Bikes
Deity Components
Five Ten Shoes
DT Swiss
Kali Protectives
MTB Strength Training Systems
MRP Chain Guides
Lee McCormack leelikesbikes Bicycle Skills Coaching

Sweet sticker.
If you are fast and want to get faster — or if you're having fun and want to have more fun — check out my skills clinics or email me to set up your kung fu lessons.
As I tell everyone: Yesterday was the last day you sucked on a mountain bike.
---
Know more. Have more fun!
Join the leelikesbikes mailing list:
---
https://www.leelikesbikes.com/wp-content/uploads/2018/08/leelikesbikeslogoheader.jpg
0
0
leelikesbikes
https://www.leelikesbikes.com/wp-content/uploads/2018/08/leelikesbikeslogoheader.jpg
leelikesbikes
2012-06-28 07:54:13
2012-06-28 07:56:06
Making a fast rider faster