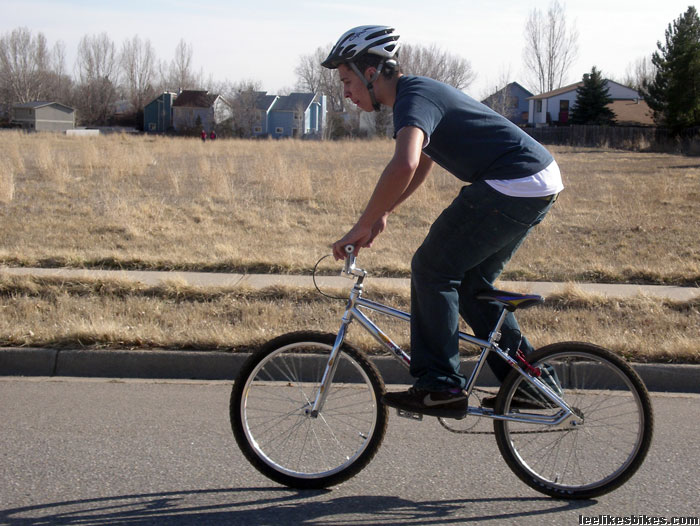 I just started working with a new rider, and this one is important for a few reasons.
Who: Ian is my wife's son. I guess that makes him my step son, but I don't like that term. He's my kid. Ian is 15 years old. He is a standout athlete in basketball, football, baseball, lacrosse — pretty much any sport he tries. Until now, Ian has not been a bike rider.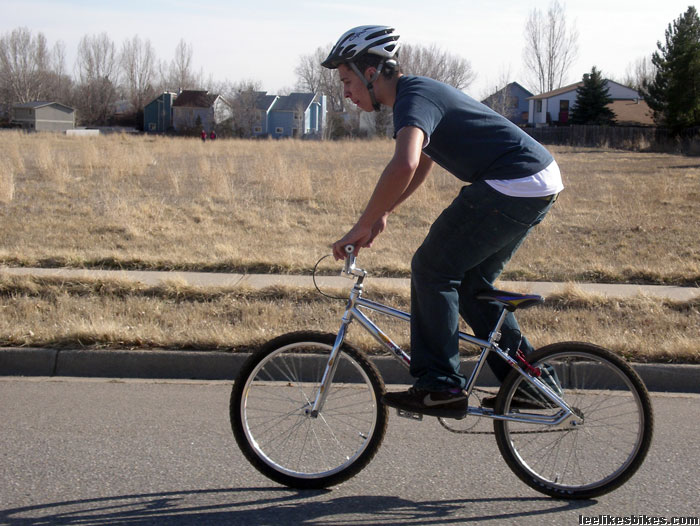 Day 1: Working the attack position. Heavy feet, light hands, elbows out …
What: The Alexander Dawson School requires that students play a sport two out of three seasons. Rather than play baseball this spring, Ian is riding with me.
The bike: I've put him on a few different rides (including my ultra-sweet Specialized SX), and so far he prefers a BMX bike. I asked him why: "I like the control." So he's learning on a BMX bike with flat pedals. Perfect.
Also cool: He's riding my 1992 GT Pro Cruiser — a beautiful bike that happens to be the same age as Ian.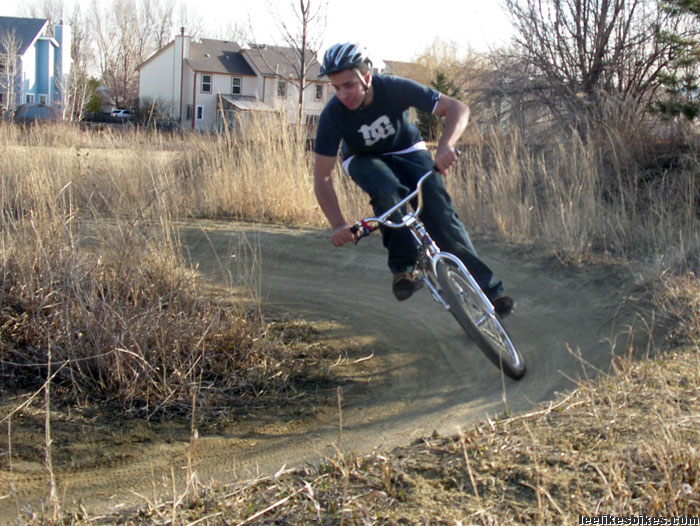 Day 1: Ripping a turn. Leaning the bike, loading the outside pedal, looking where you want to go …
So far: Ian and I started meeting after school last week. We've been doing some basic drills, ripping some turns and working the pump. Ian is already pumping through big BMX rollers and making it around The Fix's pump track. If you've ridden that track, you know that's no mean feat.
Ian is a cool kid and a serious athlete. Not only is this a great way to bond with him (aside from hassling him to do his homework), it's an awesome chance to teach my program to a rider with no history or expectations. A fresh lump of clay, if you will.
I have a feeling Ian will take to this quickly. Right now he sees this as a way to avoid baseball, but we'll see where it goes. At the very least, he'll learn a useful skill and get strong for football.
Stay tuned.
— Lee
---
https://www.leelikesbikes.com/wp-content/uploads/2018/08/leelikesbikeslogoheader.jpg
0
0
leelikesbikes
https://www.leelikesbikes.com/wp-content/uploads/2018/08/leelikesbikeslogoheader.jpg
leelikesbikes
2008-03-15 17:13:15
2008-03-16 08:10:34
A fresh lump of clay