Yummy pizza and kung fu skills in New York
Shredding is our business, and business is good.
On the weekend of Oct. 18, Lee McCormack were simultaneously at Denver International Airport heading in different directions for several days of coaching and shredding: Lee in Illinois, me in my home state of New York.
---
But first, I had eight hours of laptop work to complete (in the terminal, oh the wonders of technology) and a drool cup to find. The thought of NY pizza had my salivary glands cranked to 11!
After arriving in NYC at 11 p.m., and being picked up by Jason Cairo, the NY NICA league director, I had a mission: Get some pizza and build the bike in preparation for tomorrow's early rise. At 2 a.m. when I finally finished dialing in the bike, pizza had to wait. A few hours of sleep and then:
Day 1: Friday public clinic at Tarrytown Trails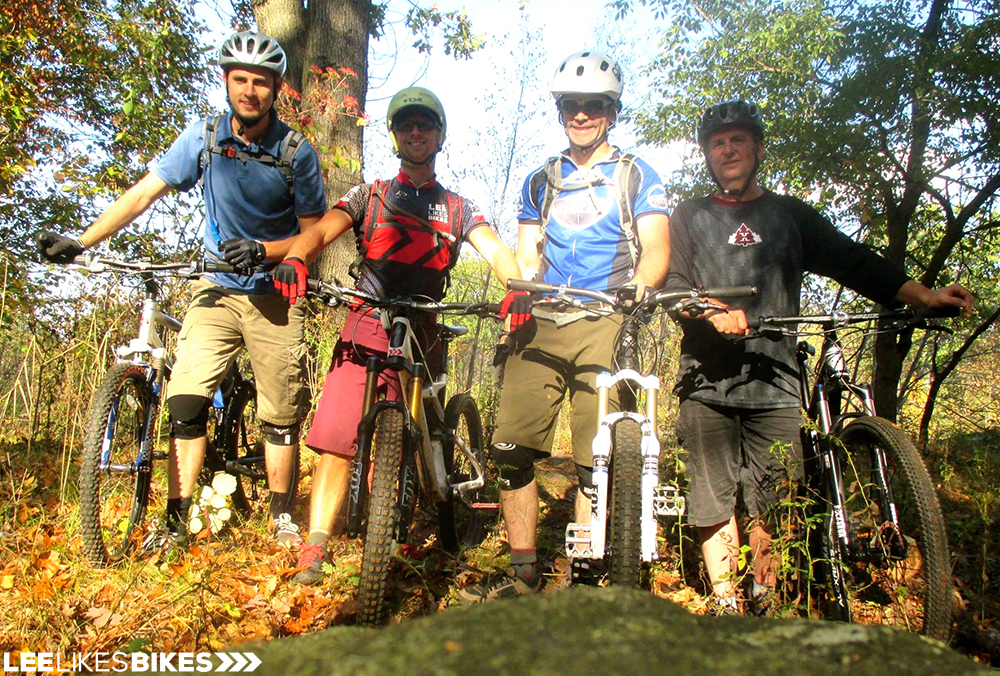 Stoked shredders at Tarrytown.
At 6:30 a.m. I met Jason at the Tarrytown 119 trails.
What a privilege to be guided by the man who built and maintains much of this trail network. As the sun climbed over the hillside and the morning fog cleared — holy east coast tech! I had forgotten what wet roots, non-stop technical rock gardens, and off-camber slippery slopes were like, and the humidity: my goodness!
Such a treat to find my feet, crank it to 11 and get loose in the loamy corners and slippery rocks. By 8:45 we had blitzed most of Tarrytown's loops. Time for the LLB public skills clinic:
Parking lot intro. Check.
Safety check. Check.
Position. Check.
Braking. Check.
Cornering. Check.
These guys were serious shredders, having read Mastering Mountain Bike Skills and taken an LLB kung fu clinic with Master Lee before. We refined, refined and refined. After lots of skills drills and micro adjustments, we were feeling ready to absolutely shred. Time to hit the trails!
Right out of the trailhead, steep climb. Worked technique, technique, technique — Progress!
Then to a nice rounded step-down rock roller, worked more positioning and technique. Hit it down, ride back up, repeat. This progressed into following the trail off the roller into an off-camber loamy left corner and ultimately, into a 3-foot rollable drop followed by a short landing pad leading directly into a switchback loamy right. Pure shredding bliss. We spent a lot of time here practicing the kung-fu. We finished our single track skills application back in the parking lot around 4 p.m., refining position even further after we had settled into that familiar trail groove.
Then it was off to dinner with Jason, shop talk and in bed by 11pm.
Day 2: Saturday coach training on the Hudson River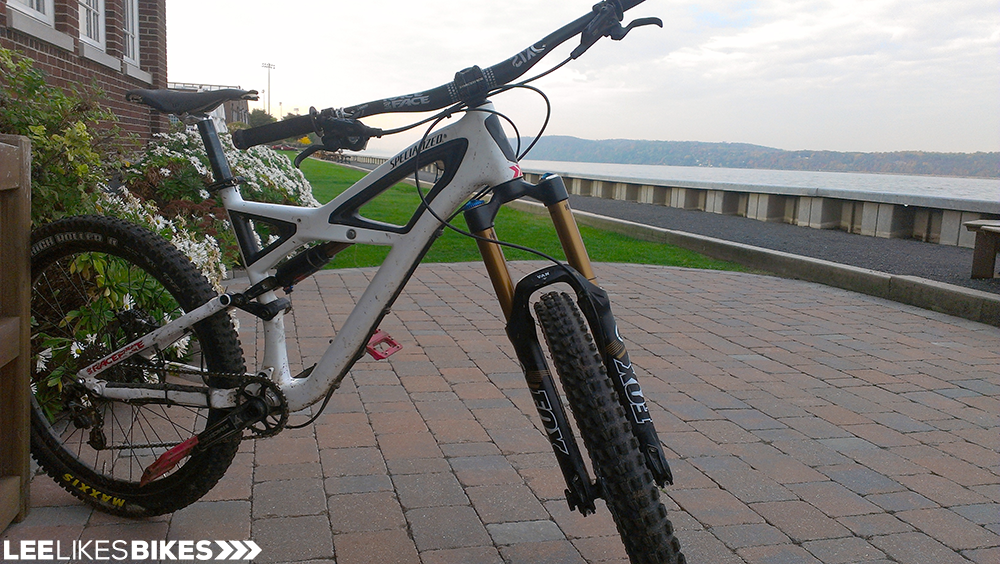 Dead sexy in any state: Lee's old Enduro on the Hudson.
Out the hotel with chamois on by 6:45 a.m. Today's battleground: a pier-side parking lot just north of NYC along the Hudson. Today's shredders: Current and soon-to-be NICA/New York high school mountain bike coaches. But first, bagels. OMG, NYC bagels. Had I forgotten? So damn good.
Being back in NY, spreadin' the safe shreddin' was super meaningful to me. Today's mission was grand: Teach these coaches to teach the LLB teaching method, keeping kids safe and shredding not just for their teams, but for their lives. My heart swelled. This is what it's about. Inspiring others to take up this RAD sport, to share this passion.
The coaches shredded the parking lot. If they had shredded any harder, there'd be flaming rubber left on the tarmac. Some serious skill was demonstrated — and whats even better, methods for sharing these skills were discussed, practiced and applied. I can't wait to see the shred level of the NICA NY middle and high school team riders next year!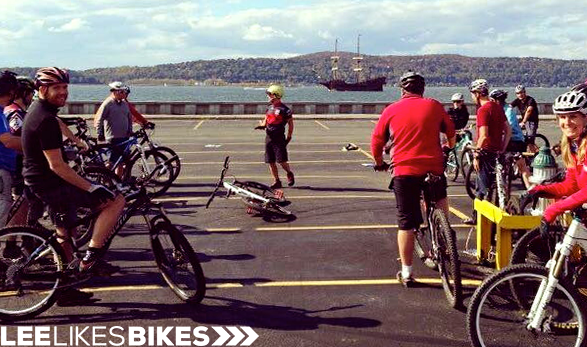 Teaching current and prospective high school MTB coaches how to ride — and teach riding.
After the parking lot session, it was time to hit the trails with these shredders. Seeing 35 kung-fu equipped riders flood a trailhead and rip into the woods was a real sight that again made the heart swell. That! In NY! Amazing. Soon it was nightfall, and it was time to take over half a restaurant and fill the fuel tanks.
Day 3: Sunday shredding with student athletes
Feeling rested from the night's sleep, and like a champion at this lower altitude, I drafted a pack of roadies along a creekside paved bike path and managed to keep pace until my turnoff for the trailhead. Good warmup, but man was I dripping with sweat from the humidity!
Some extra lucky coaches from the day's prior session were at the trailhead, and soon some New York high school team riders arrived. Today's mission: Increase the level of kung-fu mastery in both the NICA team riders and coaches, and turn up the shred level on the trails. The mission was a success! Smiles for miles, lots of accounts of "I didn't think I could do that!" and "amazing!" These young riders will shred safely, and they are in it for the long haul.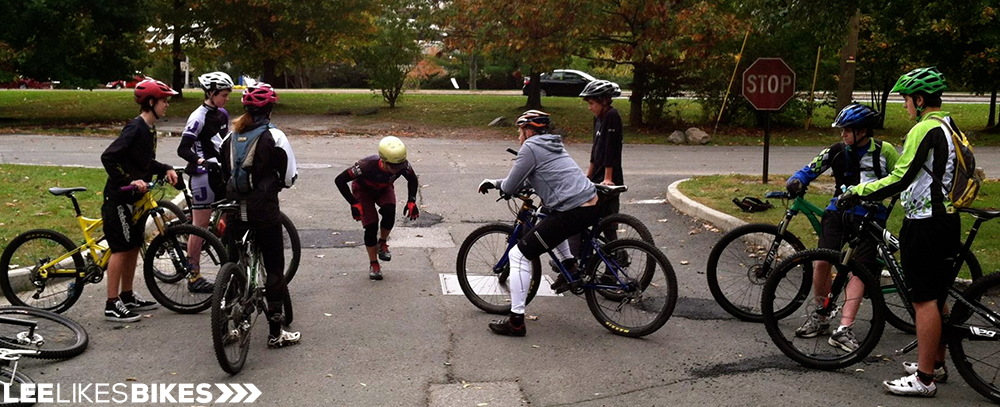 Covering the basics before we take these high school riders to the trails.
Being from NY, here comes the bonus treat: Seeing my family. My dad picked me up from the trailhead, and we rallied back up to the capital district. But first, one last slice of NYC pizza. MMMmhmm.
Day 4: kung fu shredding at Pittstown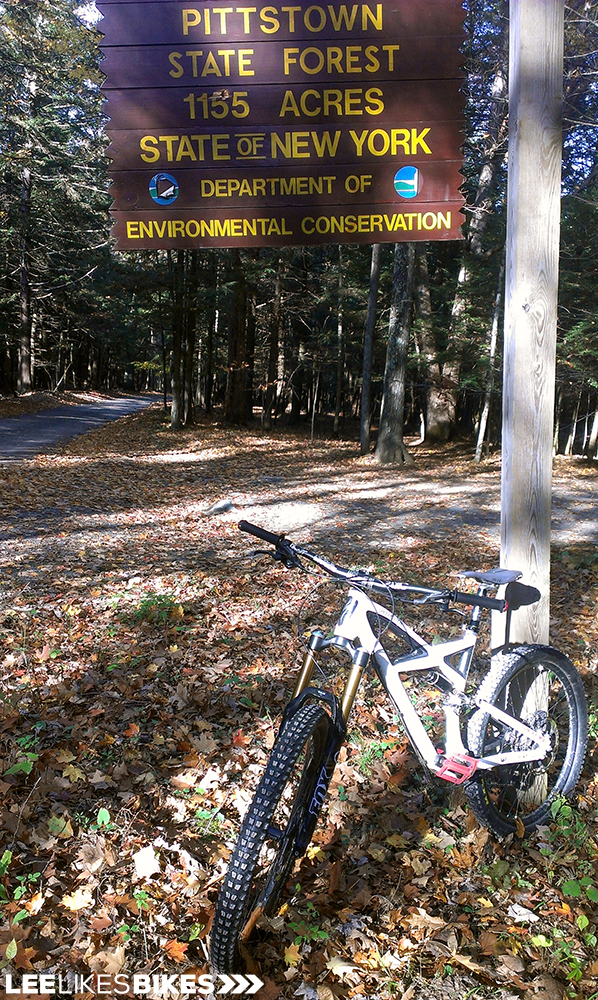 Woke up in the familiar environment of "home," grabbed the keys to mom's hot hatch, and rallied to Pittstown trailhead. The location: So good! The Adirondack's finest fall colors surrounded me, and the trails! Sprinkled with traditional low speed pedaly east coast tech, wet off-camber roots and rocks, loamy soil tack, and the clincher: sections of modern berms and flow that were out of the world! The riders: A good mix of shredder and beginners that made for one heck of a day on the trails!
A note to beginners: Taking a skills clinic early in your riding years is more beneficial than the latest greatest carbon suspension bike that cost more than an engagement ring. You'll gain confidence, skills, and prevent injuries. BAM!
True to this, one of the riders showed up on a bike that cost less than many of today's popular rear derailleurs, and after working through the skills progression, proceeded to shred even the most advanced trails there with kung-fu ease.
All of this riding, 4 days on the east coast, and no rain. The universe smiles upon shredding. Unbelievable, cloud 9 feeling.
Sure enough, Days 5-8 were rainy. And when it rains in the fall in the Adirondacks, it pours. Having these days scheduled as rest days, off the saddle and in front of the laptop with mom's home cooking, friends and family is a good way to rest and recover.
I did get to shred one last time before boxing the Enduro back up. Day 8, after several inches of rain had fallen, the sun peeked through the clouds. Some local friends and I hit the trail with the best drainage — and what a treat that was! Perfect loamy conditions, drifting corners and railing the jumps, bumps, and rollers with a speed that made the fall colors blur together. The ride was short, sweet and immediately followed with laughs around our favorite watering hole. I couldn't ask for more out of this trip, or out of life that matter!
Kevin Stiffler is an LLB certified skills coach based in Boulder, CO, but he loves to travel. Learn more about Kevin and Lee Likes Bikes skills clinics.
---
Know more. Have more fun!
Join the leelikesbikes mailing list:
---
https://www.leelikesbikes.com/wp-content/uploads/2018/08/leelikesbikeslogoheader.jpg
0
0
leelikesbikes
https://www.leelikesbikes.com/wp-content/uploads/2018/08/leelikesbikeslogoheader.jpg
leelikesbikes
2014-11-03 10:05:56
2014-11-03 10:05:56
Yummy pizza and kung fu skills in New York