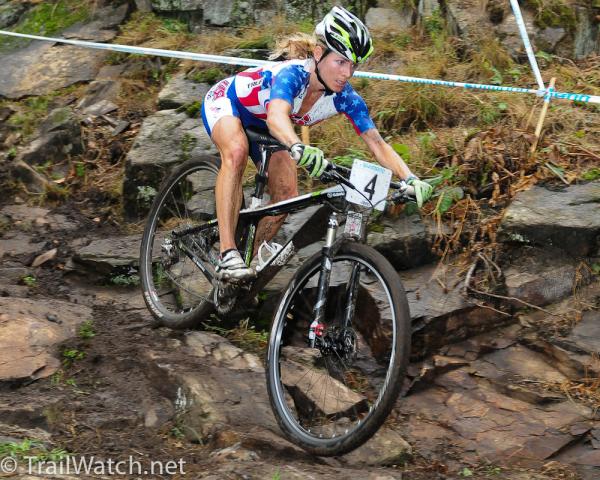 Lee,
I hope you and your family are weathering the fire — how scary! I live in Littleton and can see the smoke from my house. Keep everybody safe and we're happy to help in any way.
I participated in your skills clinic for the Colorado Mountain Bike coaches clinic in June. What an awesome event and I loved your information! I hoped to join Gil, Grant and Connor at the Colorado Springs event, but we had other events that day. If you have more skills clinic later this year or next year, we will definitely participate.
I saw this picture from Worlds race in Canada and I thought about you. What great position and technique Willow Koerber is portraying in this photo! She gives me inspiration.
Take care,
Erlinda
Hey Erlinda,
Thanks for writing. I'm stoked you enjoyed the coaches clinic; it was a surreal pleasure to give a presentation like that. My family is safe, thanks, and the house is still there.
Yeah Willow! That is a great photo showing fantastic technique.
– Weight balanced on her feet. Arms pretty darn relaxed given the situation.
– Torso low and long.
– Pushing the front end down into the backside.
– Eyes way down the trail. Yeah! While Willow plans her future, she lets her bike, reflexes and training handle the present.
– You can rip technical trail on a long/low XC race setup. This is how.
You don't win a bronze at Worlds by accident. Willow has been working at this for a long time. This moment shows a well prepped athlete executing perfectly under pressure.
Go Willow!
— Lee
https://www.leelikesbikes.com/wp-content/uploads/2018/08/leelikesbikeslogoheader.jpg
0
0
leelikesbikes
https://www.leelikesbikes.com/wp-content/uploads/2018/08/leelikesbikeslogoheader.jpg
leelikesbikes
2010-09-08 13:58:37
2010-09-09 14:38:02
Willow at Worlds