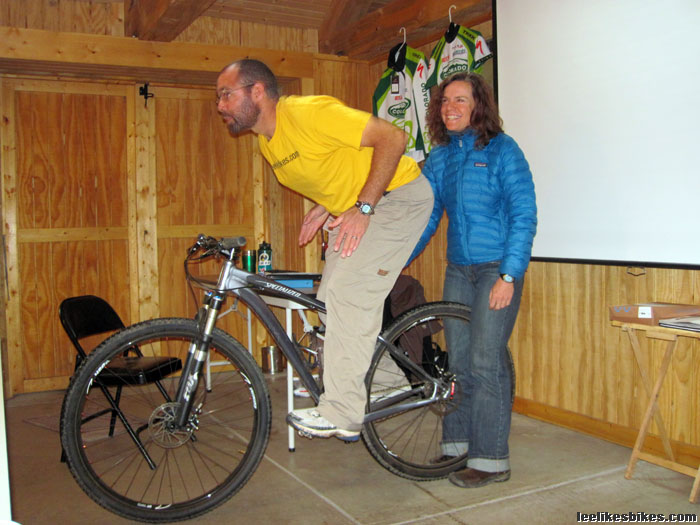 Last weekend I rocked a lecture and some drills with a group of future high school mountain bike coaches.
This was a fun time and a huge step in the mission to create a standard mountain bike curriculum.
Rock!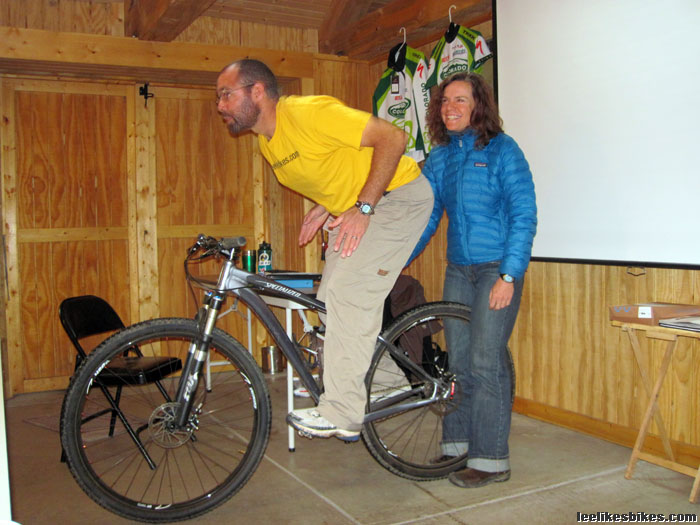 Balanced on the feet, straight torso, etc. Kate Rau thinks this is funny.
Goal: Lay out my kung fu approach to bike skills. Give these coaches a foundation for future learning.
Who it's for: The national high school mountain bike racing league, most specifically the new Colorado league. Colorado high schools will be ripping this fall. They're already racing in California.
Who attended: Current and future coaches and league administrators from Colorado, NorCal, SoCal, Texas and Wyoming. Standout attendees included Olympian, coach and author Ann Trombley.
What we covered: Position, range of motion, braking, cornering, bumps, all the essential stuff. When I teach clinics, I focus on the specific skills. In this class I described how everything fits together. Once a coach (or rider) understands the overall model, there's no end to the braaap.
Format: We wanted to ride, but the weather was terrible. We did almost three hours in the classroom (crazy: lecturing about how to rip), then got in a few minutes of drills.
Outcome: Everyone seemed really stoked. People who know a lot about riding, people I respect, said I brought a whole new understanding to their riding. Which is cool.
Next: As the skills guru for the national organization NICA, I will develop the curriculum to teach mountain bike skills at high schools throughout the nation.
The Mission: I started this whole coaching adventure to create a standardized curriculum for bike skills.
It's taking some time, but it's happening!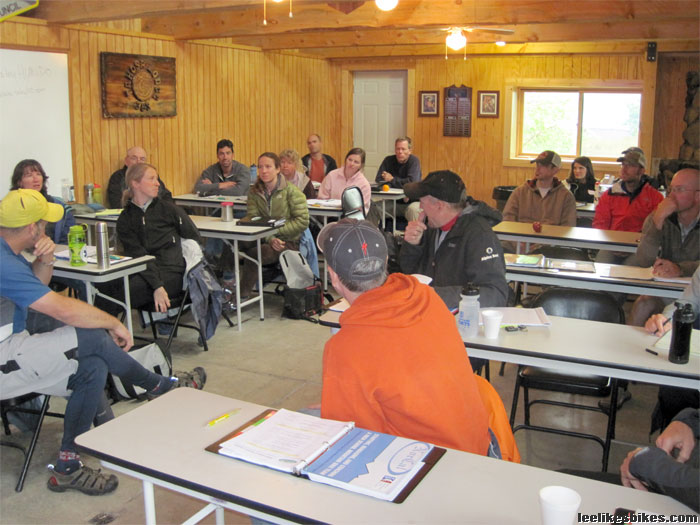 Don't be nervous. Imagine they're all on bikes.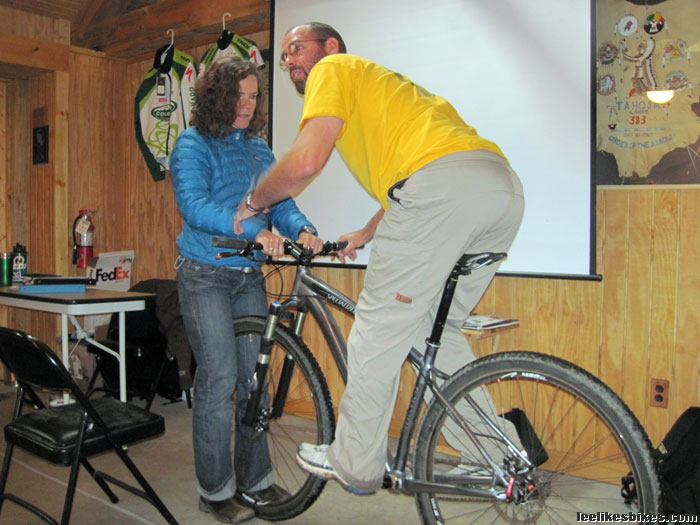 It all starts with a neutral position. This loaner Stumpy 29 SS is longer and lower than my bikes.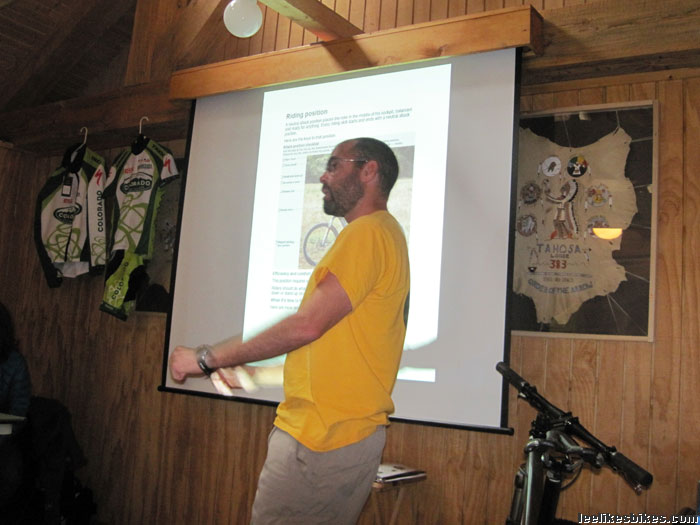 This is surreal.


Feel your butt! Does anyone remember this?


Shoulders down and back.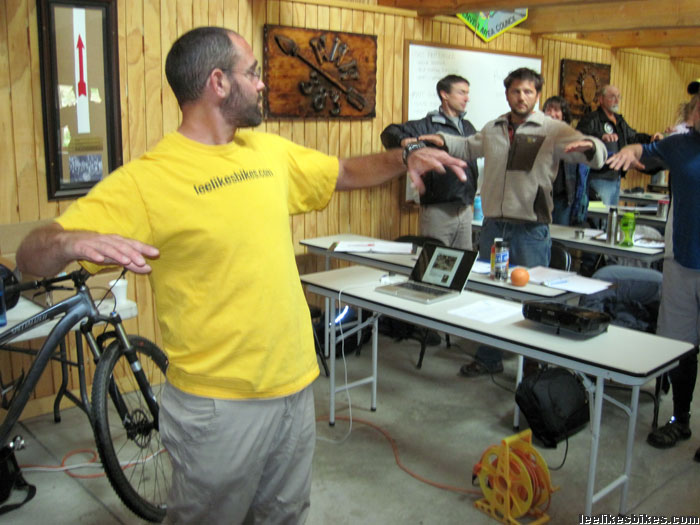 Elbows out.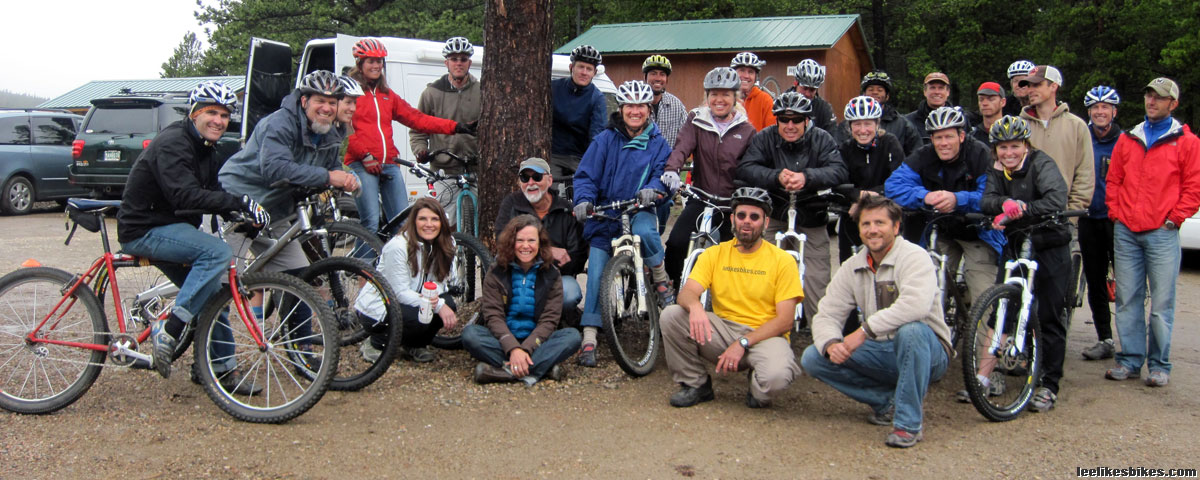 The crew. National director Matt Fritzinger is on my left. Colorado director Kate Rau is on my right.
---
Know more. Have more fun!
Join the leelikesbikes mailing list:
---
https://www.leelikesbikes.com/wp-content/uploads/2018/08/leelikesbikeslogoheader.jpg
0
0
leelikesbikes
https://www.leelikesbikes.com/wp-content/uploads/2018/08/leelikesbikeslogoheader.jpg
leelikesbikes
2010-06-15 11:40:08
2010-06-15 13:17:04
Coaching the coaches