What's up with the Stumpjumper EVO?

Hi Lee,
You know the Specialized product line inside out and you dig both the ups and the downs, so I figure you're the man for this question.
I'm riding an old 6″ Horst-link frame with outdated geometry in the form of a skyscraper-high BB and steepish head angle. To make things worse, I can only drop the seat 2 1/4″. Things go from fun to terrifying whenever the trails get steep.
I also have a full-on downhill bike, so I don't need a "One Bike" bike, but I do prefer the mini-DH feel. My preferred trails are often on the steep and rocky end of the cross-country spectrum and free of any noteworthy stunts. I'm about 175 lbs, so no special considerations for rider weight.
The Enduro was a leading candidate until I saw the Stumpjumper Evo, which seems like a perfect mix of cross-country efficiency and mini-DH geometry. My concern is that the frame and fork stiffness might not let the bike take full advantage of its geometry. The Enduro is only a little heavier and climbs pretty well, but the BB is a fair bit higher and I have no need for the added strength.
I'd love to hear your thoughts on this and thanks for the years of outstanding advice, discussion, and enthusiasm from your site!
-Ryan
Hey Ryan,
Compared to the stock Stumpy FSR
The Stumpy EVO has:
– More suspension travel. Instead of 140 mm front and rear, the EVO has 150 front, 145 rear.
– Slacker geometry. The head angle is about 1.5 degrees slacker, which is noticeable. The seat angle is the same, which is great for pedaling and proof that Specialized did more than merely slap a longer fork onto the same frame.
– Longer wheelbase. That might be from the slacker fork.
– Chain guide with slightly lower gearing. I run Gamut dual guides on my Stumpy and Enduro. Pretty awesome.
– A Command Post remote-adjustable seatpost. A great upgrade for any aggressively ridden trail bike. My friends in the repair biz say the Command Post is one of the most reliable adjustable posts out there. (I'm starting to loathe my original-issue SpeedBalls.)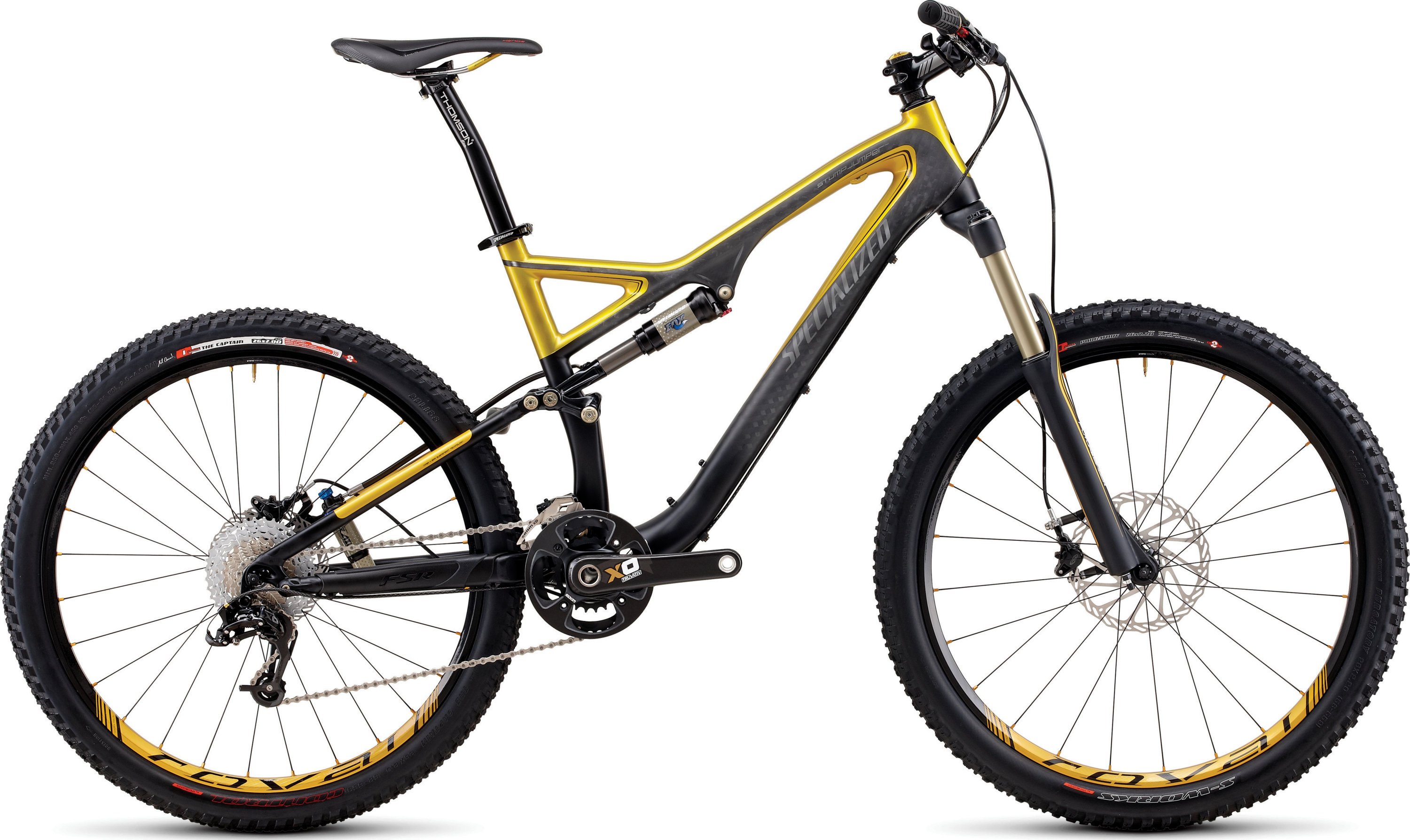 Stumpjumper FSR Expert Carbon


Stumpjumper FSR Expert EVO
I think
A Stumpy EVO would be a great aggro trail bike. I've spent a lot of time on my current Stumpy and Enduro. Both are fantastic machines suited to different occasions. The Stumpy EVO looks like a sweet middle ground. If you have a full-on DH bike, the Stumpy EVO would be an awesome "little bike." Throw in a P.3 on the hardtail end, and you'll have a versatile quiver.
My Stumpy is extremely capable on all sorts of trails. The "weak" spot is the 2007 fork with quick-release hub. I think that bike with a newer through-axle fork would feel even better. The EVO with 15 mm Fox fork should be plenty stiff and extremely braaapable.
Don't take my word for it
Curtis Keene is one of America's top downhillers. He is also an active (and brutal) Specialized tester. Last winter he ripped a Stumpy with a 150 mm fork and custom shock. When Specialized's head of high end MTBs Brandon Sloan talks about optimizing the EVO for aggressive trail riders, he's talking about Curtis.
Watch Brendan Fairclough and Keene rip some Santa Cruz goodness. Keene is on his "pre-EVO." If you ride faster or harder than this, I guess you "need" an Enduro.
Also read: Why Keene rides a Stumpy instead of an Enduro (Last time I rode with him on the above trails, we were both on Enduros, and it was transcendent.)
Rock!
— Lee
---
Know more. Have more fun!
Join the leelikesbikes mailing list:
---
https://www.leelikesbikes.com/wp-content/uploads/2018/08/leelikesbikeslogoheader.jpg
0
0
leelikesbikes
https://www.leelikesbikes.com/wp-content/uploads/2018/08/leelikesbikeslogoheader.jpg
leelikesbikes
2010-12-19 11:42:03
2010-12-19 11:44:02
What's up with the Stumpjumper EVO?