Upgrading an original Specialized P1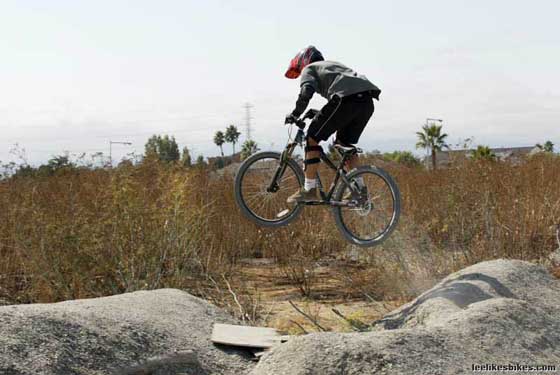 Hi, Lee
Recently inherited an Original Specialized P1.
Just out of curiosity did you keep yours? Are they worth keeping if one was upgraded with nicer components for their time?
Would it be worth going all out and upgrading to newer/lighter/stronger more today's components?
The one we have the "naked lady" is still pretty cherry while everything else has since rubbed off. Wasn't at all ridden hard, too.
Thanks for your time,
Joe
Martinez, CA.
---
Joe!
Congrats on acquiring that sweet bike. My black P1 (original issue) taught me a lot and gave me some great adventures. Best of all was the price: Cheap!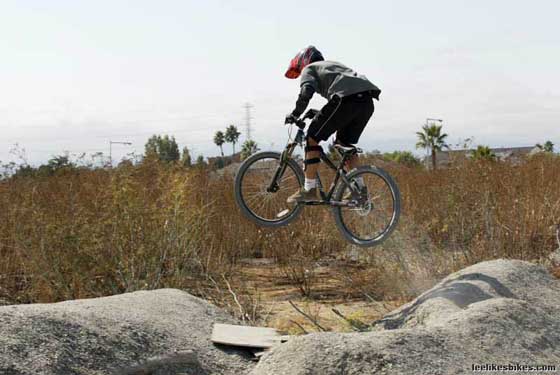 Learning to dirt jump, circa 2004 at Shells in Redwood City, CA.
As long as the parts are working, I'd ride the bike as is, with two exceptions:
Tires. The stock tires were awful, but I'm sure they're long gone. Put on your choice of DJ, street or trail tires. On my P1 I ran a pair of 26×2.4 WTB MutanoRaptors. That tire was way ahead of its time, with big volume, fast middle knobs and hungry side knobs. Many of the current plus tires look like Mutanos.
Fork. The stock Marzocchi was, well, cheap. I ran a FOX FLOAT fork set at 100mm, which made the bike way more controllable. You can probably find an old FOX fork with the correct steerer tube and QR front axle for cheap. As a matter of fact, I think I have one. Email me if you're interested.
I would not spend the money to fully upgrade all the parts.
1) DJ frames are cheap. If you want a new bike, get an all-new setup with modern standards and geo. Buying a complete bike is always your best bargain.
2) Your P1 is a rad piece of history. Plus it still works great. Mine went to a kid I was coaching. Last I checked, he was racing pro 4X and slalom on it. I see Pbikes of this vintage shredding Valmont Bike Park all the time.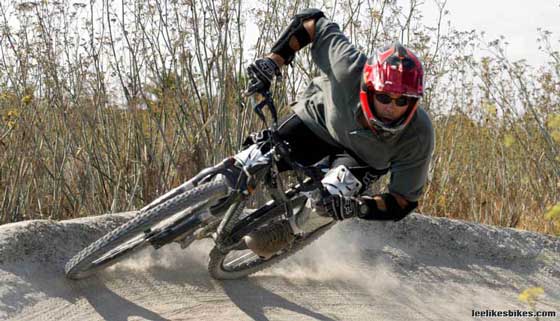 Learning to corner, circa 2004 at Shells in Redwood City, CA.
Tires. Fork. Ride!
Lee
---
Know more. Have more fun!
Join the leelikesbikes mailing list:
---
https://www.leelikesbikes.com/wp-content/uploads/2018/08/leelikesbikeslogoheader.jpg
0
0
leelikesbikes
https://www.leelikesbikes.com/wp-content/uploads/2018/08/leelikesbikeslogoheader.jpg
leelikesbikes
2016-07-05 08:36:36
2016-07-05 08:36:36
Upgrading an original Specialized P1