Trying to keep Rays MKE open

On Facebook I received a petition to turn Rays Indoor Mountain Bike Park in Milwaukee, WI into a public park. That seems unlikely. What's going on?
---
From Boulder, CO it's hard to know all the facts, and it's not worth the time to find out (sorry, but journalism no longer pays), but it seems that:
People have gotten the impression that Trek is closing Rays Indoor Mountain Bike Park in Milwaukee, WI.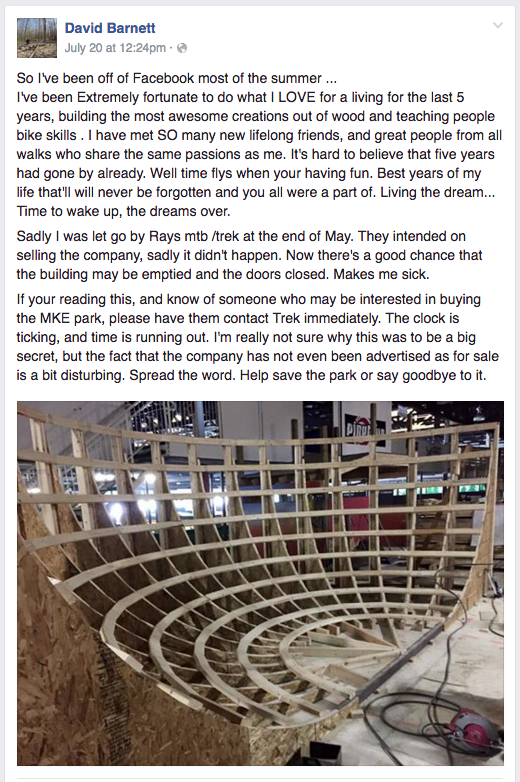 Trek bought Ray Petro's business in 2010 to help him expand and to help get an indoor bike park near their Waterloo HQ. I rode Ray's MKE a few years ago, and it was super fun. But apparently attendance numbers aren't high enough, rent is rising, Trek doesn't want to be in the bike park business and this Rays location just isn't profitable.

Working on the main pump track. Photo by Griff Wigley at http://mountainbikegeezer.com
Locals have started a petition asking Trek, Wisconsin Bike Fed, Milwaukee County Parks and others to turn Rays MKE into a public park.
I can't find any official announcement of the closure online. This updated news story says Trek is "working actively to make sure that [closing the Milwaukee location] does not happen." Also: "If more people want to kick in, any effort to keep it open would be great."
The same article says the Wisconsin Bike Fed doesn't "have the kind of resources to purchase something like that."
On Facebook Trek Bicycle says "We're not looking to close Ray's. We're actively looking for someone to take over the business so that it can stay open. There is some inaccurate information floating around, but we haven't said we're looking to close it."
Whether Trek announced the closure of Rays and is now spinning the story, or they simply indicated they want to leave the business, the bottom line seems to be the same:
Rays MKE isn't a profitable business. The costs of the business are greater than (the number of riders who use the facility x the fees they pay) + sponsorships.
In my opinion:
• If an indoor bike park can't justify itself as a business, how will another entity be convinced to run it for free? That seems like a non starter.
• Mountain bikers like to be outdoors. If you can ride a fatbike in winter, why would you ride in a warehouse? That warehouse would have to provide very high value.
• That indoor bike park would have to appeal to the kind of riders who will pay enough to keep it running. Wooden dirt jumps are rad! But are you going to pay for rent, employees, insurance, etc. based on the whims of DJ groms? I don't think so.
• Anyone who takes over Rays MKE will have to make some big changes. Expanded and improved terrain (or at least terrain that makes people want to pay); programs; look and feel; some combination of more users and/or higher fees … all in a package that keeps people stoked and wanting more.
Want to help Rays MKE stay open? Signing this petition can't hurt. Even better: Come in with money and a plan.
I continually dream about an indoor riding/training facility here in Colorado, but marijuana legalization has jacked up warehouse rent, and indoor bike parks tend to fail. Boulder Indoor Cycling sure didn't last long.
That said, indoor cycling studios are doing great here, and Boulder Indoor Soccer is killing it! There must be a way, and people have offered monetary support. I'll keep dreaming.
Lee

Some cool "natural" terrain, a nice bridge from pump track to real trails. Photo by Griff Wigley at http://mountainbikegeezer.com
---
Know more. Have more fun!
Join the leelikesbikes mailing list:
---
https://www.leelikesbikes.com/wp-content/uploads/2018/08/leelikesbikeslogoheader.jpg
0
0
leelikesbikes
https://www.leelikesbikes.com/wp-content/uploads/2018/08/leelikesbikeslogoheader.jpg
leelikesbikes
2016-07-22 08:10:26
2016-07-22 08:36:57
Trying to keep Rays MKE open