Two weeks on Captain America

I took Captain America, my experimental Stumpjump HT EVO-R, to California for two weeks of riding and teaching. The early reviews are in.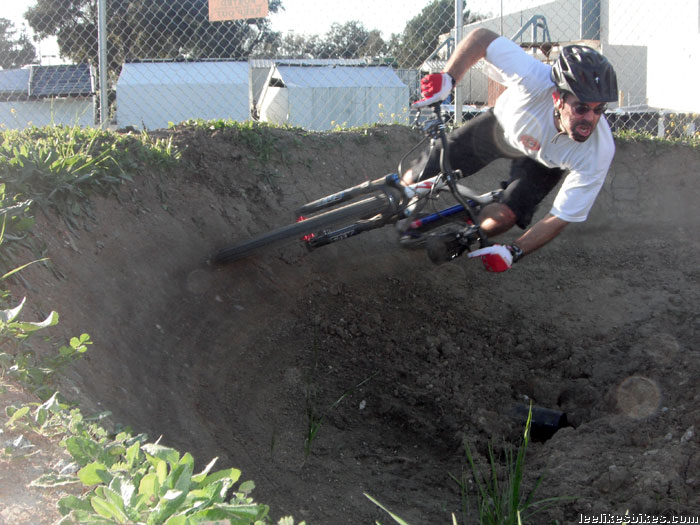 I am used to a slacker head angle, but this one is working.
Mission


Captain America
Build an all-around hardtail for trail/clinic/pump/jump/DS/4X/BMX/tomfoolery.
Captain America takes an XC-race-ready Stumpjumper M5 HT frame and builds it like a DJ bike. Highlights:
– Fox 831 fork
– Sun Charger Pro wheels
– Hayes Stroker brakes
– Answer ProTAPER 780 DH bars
– Answer ROVE AM 70 mm stem
– Answer ROVE FR pedals
– Gamut P20 chain guide with 33t Race Ring
– X-Fusio Hilo 100 seat post.
Regret
When I built this guy I was out of trusty Eskar tires. I slapped on a set of original issue 2.0 Fast Traks (the old high-knob ones, not the new low-knob ones). Fast Traks are light and quick, so a good choice right?
Wrong. I forgot how much those tires suck for aggressive riding. The tires roll well and corner predictably, but the side knobs are poorly supported. At best they squirm. At worst they tear off. I have no faith in them, and that held me back. (Funny: I raced DS and 4X on these for a couple seasons with no complaints. Back then I didn't know about the braaap.)
BTW: The new Fast Trak LKs solve this problem. They give you all the rolling speed with none of the knob-tearing squirmage.
I have some new Renegades to try. This should be interesting.
Pump track
Captain America gets it done!
I rode him at the SoCal high school pump track and the Fox Racing Shox pump track. I like his lightness and stiffness. I'm aware of his steepness, but it isn't hurting me. I can totally work with his longness.
The Fox 831 fork is, indeed, the right tool for the job. I love how that thing holds firm, even in the high-G berms, yet you can blow through the valving when you make a mistake.
A bunch of people rode Captain America, and many of them compared him back-to-back with the Mighty P.3. Newbie and casual pump trackers were split on which bike they preferred. Expert pump trackers clearly prefer a DJ bike.
At the Fox track I did a few laps on Scott Papola's Evil DJ hardtail, and … well … that thing felt pretty right for the task.
But: Captain America was getting the job done at least as well as his pilot. I think he'll rock harder with a shorter stem.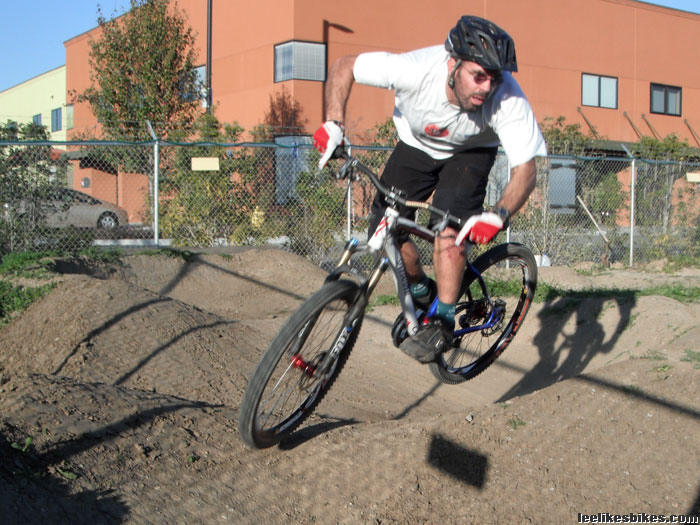 Captain America is whippy enough to do this sort of thing.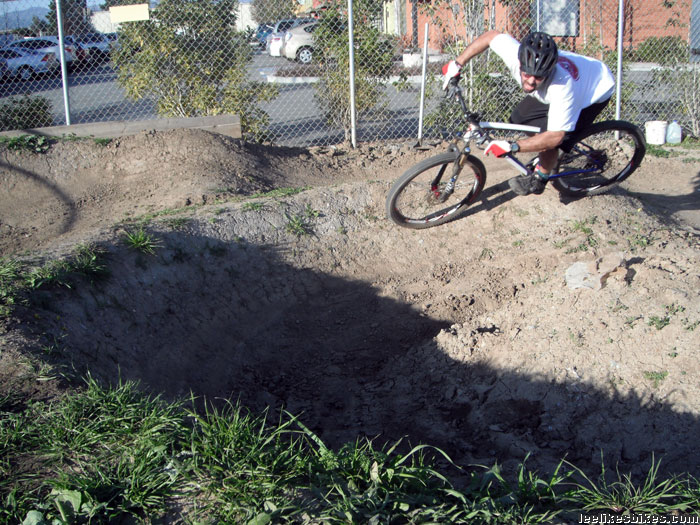 I was worried about getting the seat low enough, but the seat has not been in my way.
Video: Jim Norman, Scott Papola and I ride the Fox Racing Shox pump track.
Clinics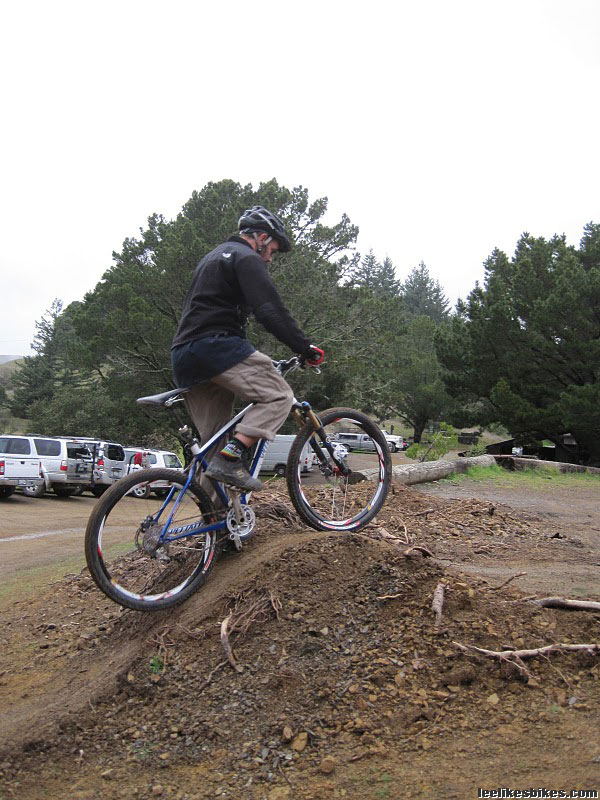 Captain America knows all about longitudinal balance.
All I need for teaching is something simple, reliable and sweet looking.
Check, check and check.
Actually, demonstrating kung fu on a hardtail with flats increases my street cred. And: The bike is light, quick and super responsive. Fun.
Up trail
The climb was tight, bright and right. The bike is light, and it makes the most of your might.
I did notice those pesky bumps, though. When I traded with Jim Norman's Ibis Mojo HD, I wondered whether suspension made the moderately choppy climb easier. Naw …
Down trail
Norman took me down one of Santa Cruz's steeper downhill tracks. That was an unfair test, but I can say this:
I reduced the 831's low speed compression, and the fork felt plenty plush. Certainly plush enough for a light hardtail. The faster I rode the fork, the better it felt. At some point it's better to plane across the bumps than to bash into them. I used almost full travel without noticeable violence — always a good sign. BTW: I weigh 175 pounds and am running 100 psi.
The flatter sections were super fun. The turny sections were snappy like braaap, braaap, braaap! The steep sections were frankly a bit sketchy. I rode everything with no trouble — even "The Chute" (cue dramatic music) — but the steep geometry felt … uh … inappropriate. I can adapt to the 70-degree head angle, but I'd feel more at home with 68 or so.
Excuses: My hands were blistered from the SoCal pump track build. Captain America had no business riding this trail.
Here I am riding a moderately choppy section. I hold on just fine, but you can see I don't trust the corner.
Doctor Jim Norman pins the same section on his Ibis Mojo HD. From the log to the turn, he's a full second faster.
Parts notes
Stumpjumper M5 HT frame: Light and, I think, stiff. The head angle is steeper than I'm used to, but the bike feels quick. When I find tires and turns I trust, I'll see how stiff this frame is.
Fox 831 fork: Incredible. Easily adjustable for pump track or choppy trail.
X-Fusion Hilo 100 seat post: So far so good. Easy operation. Not worrying about it, which is good. I'm liking the 100 mm of adjustment. The Hilo 125 will be even better. I will try the remote kit. Note: I found a bit of squish at the top, but that went away after a few up/down cycles.
Answer bar, stem and wheels: Light enough and very stiff. I have utmost confidence in them.
Answer ROVE FR pedals: They feel great underfoot. Stable and sticky. I am not thinking about them, which is what you want.
Gamut P20 chain guide: Bombproof as always.
Overall, every part of the bike feels good and works great. The only exception is those tires. And I'll try a shorter stem.
So far
Captain America might not be as ideal for pump track as a dedicated pump track bike. He's definitely not as ideal on rough trail as an all-mountain bike. But he's a cool dude, and he gets it done in both situations. He rocks the clinics.


A gun and a knife: The Ibis Mojo HD and Captain America are both capable weapons, but for different fights.
Next
Switch to a 50 mm stem. Put on some trustworthy tires. Ride local trails and dirt jumps. Race indoor BMX up in Greeley.
File a report.
Braaap!
— Lee
Captain America history:
Experiment: Stumpjumper HT EVO-R
---
Know more. Have more fun!
Join the leelikesbikes mailing list:
---
https://www.leelikesbikes.com/wp-content/uploads/2018/08/leelikesbikeslogoheader.jpg
0
0
leelikesbikes
https://www.leelikesbikes.com/wp-content/uploads/2018/08/leelikesbikeslogoheader.jpg
leelikesbikes
2011-02-06 22:43:39
2011-02-18 08:54:10
Two weeks on Captain America