Quickie review: Ibis Mojo HD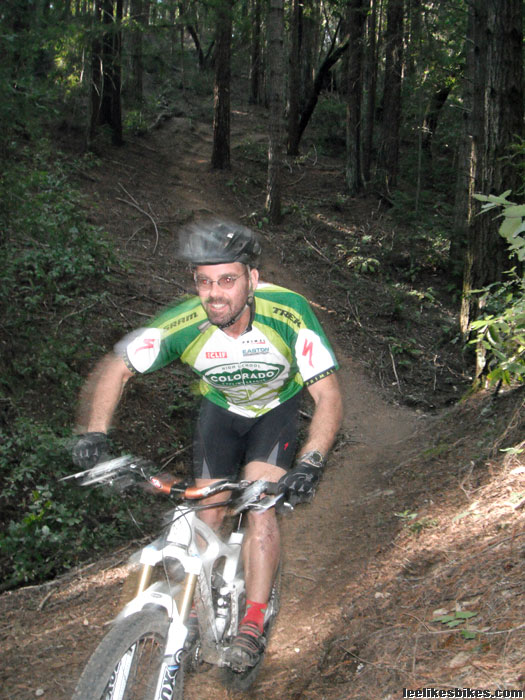 I rode an Ibis Mojo HD in NorCal for maybe 20 minutes. Real quick:
Situation
Riding Santa Cruz with Doctor Jim Norman, Fox Racing Shox OEM genius. Norman was fast before many of you were born.
I was riding Captain America, my experimental Stumpjumper HT EVO-R. Norman and I traded for half a climb and the beginning of a descent. Jim is a sneaky fellow, and this was his way of knocking 5+ pounds off his climb.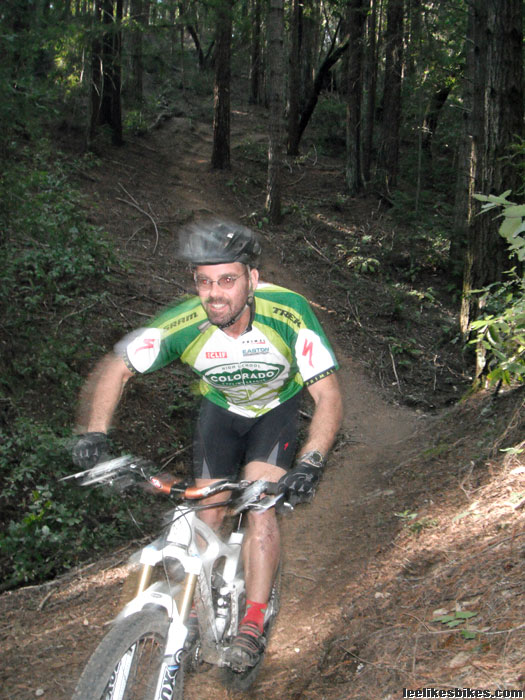 Ibis Mojo HD: So fast it turns your eyes red.
Up
Wow. This bike climbs very, very well. The DW Link gives it a tighter and less wallowy feel than, say, my Enduro DH. Jim will tell you the Mojo HD isn't as neutral as the Enduro while braking over roughness, but — man — if climbing is important to you, this bike is pretty darn sweet.
Wondering: On this mildly bumpy climb, did the HD climb more easily than my hardtail?
Down
Nice. The suspension in Norman's bike is dialed. It better be.
I rode downhill for maybe a minute, but I'll say this:
Geometry = good
Spring rates and all that stuff = good
Amount of energy spent worrying about the bike = zero
Jim says the bike does a great job of staying high in the bumps and supporting the pump, yet it "bashes into shit" when the time comes.
Watch Jim rip this bike. Note how planted it looks, even in the chatter:
We rode one of the more hectic DH trails. If I was smart, I would have rolled my Enduro. I can say the Ibis Mojo HD is a much better DH bike than Captain America.
Here's that section on Captain America. My hands have blisters from the previous weekend's pump track build, but even with that lame excuse you can see the Ibis Mojo HD is a better DH bike. Duh. From the log to the turn, Jim is a second faster.


A gun and a knife: The Ibis Mojo HD and Captain America are both capable weapons, but for different fights.
Summary
It was a short first date, but a good one. If you want a bike that climbs and descends at Kung Fu Master levels, the Ibis Mojo HD is a definite contender.
Have I said braaap?
---
Know more. Have more fun!
Join the leelikesbikes mailing list:
---
https://www.leelikesbikes.com/wp-content/uploads/2018/08/leelikesbikeslogoheader.jpg
0
0
leelikesbikes
https://www.leelikesbikes.com/wp-content/uploads/2018/08/leelikesbikeslogoheader.jpg
leelikesbikes
2011-02-04 16:39:18
2011-02-06 21:23:22
Quickie review: Ibis Mojo HD