The end of flat pedals at World Cup downhills?
Richard Cunningham over at Pinkbike wrote a fascinating piece about flat pedals in World Cup downhill racing. This is so good I need to weigh in.
---
Here is RC's story:
http://www.pinkbike.com/news/The-World-Cup-Downhill-Signals-the-End-of-Flat-Pedals.html
First of all
Richard Cunningham knows his stuff. This Mountain Bike Hall of Famer was already a legend in this sport (check out this Mantis timeline) when I got my first mountain bike.
I once interviewed with Richard for a job at Mountain Bike Action magazine. I did not get the job (but I don't blame RC).
Full respect to RC. Here are the main points I got from his piece, along with my responses:
DH competition is tight
No doubt. To my eyes, the top racers have excellent technique. Below that, I can see clear errors and bad habits (I can help!), but the top guys are super dialed.
If you want to pedal as powerfully as possible, you should clip in
For sure. A strong/skilled rider can learn to pedal pretty darn well with flats, but (s)he can make more power with clips.
I've seen this with my own riding. When I switched to flats, I learned to make more peak power, sustained power and max cadence than I'd ever made clipped in. After the two-year experiment, I clipped back in, and my peak power, sustained power and top cadence went even higher. See Climbing with clips and Sprinting with clips.
This effect will become even more noticeable when you're fully pinned, and especially when you're pinned on gnarly terrain.
And that doesn't even count the control advantages of being attached to the bike. You can move the bike in unique ways, and you don't spend bandwidth keeping your feet on the pedals.
If you're a top rider and you're not riding foot-out — the fastest racers know they're fastest feet up — I see no advantage to flats. Remember, these riders are not limited by fear of the terrain or fear of falling off their bikes. I guarantee they can all rip on any pedal they want.
DH bike geometry is changing things
I agree that slacker head angles move the front wheel farther forward, and that affects the fore-aft balance of the bike. When you're riding a DH bike with heavy feet and light hands, your rear wheel is heavier and your front wheel is lighter than they would be on a steep XC bike. (BTW: This is one reason some DH riders like longer chain stays: More even fore-aft balance for cornering.)
"With slacker head angles, controlled slides have become a popular high-speed cornering technique."
The slacker head angles create a longer front-center, which is the distance between your feet and the front wheel. This makes the front of the bike lighter, which reduces front-wheel traction. The best way to counteract this effect is to intentionally shift your weight forward while cornering.
The forward weight shift is easy to overdo — especially when you're exhausted — and I think that explains a lot of rear-wheel drifts. As Steve Peat told me, if you have to pick one tire to stick, pick the front. However, I think most pros want to load the front tire enough to stick but not so much the rear breaks loose.
People have been sliding their rear wheels for decades. Rear-wheel drift is an arrow in the quiver, but I don't see it as a technique born of modern geometry.
See Weighting the front end in turns (again)
The new geometry plus clip-in pedals are moving riders' positions farther forward
From what I understand as a rider, skills author and instructor, the only great place to ride a bike is on your feet. Watching World Cup footage, I see racers moving forward and backward to handle various situations, but their home base is where everyone's should be: heavy feet, light hands.
While clip-in pedals allow you to ride farther forward with weight on your hands, I don't see the top racers riding forward unless there's a reason. (See the cornering section above.)
We are seeing more riders adopting a butt-back, shoulders forward position. This is the core of what I teach in print and in person. This position gives you the glute recruitment and arm range to deal with madness, but it DOES NOT change your fore-aft balance. You're still riding with heavy feet, light hands. Watch Aaron Gwin, Gee Atherton or Steve Peat. Heck, if those guys intimidate you, watch me.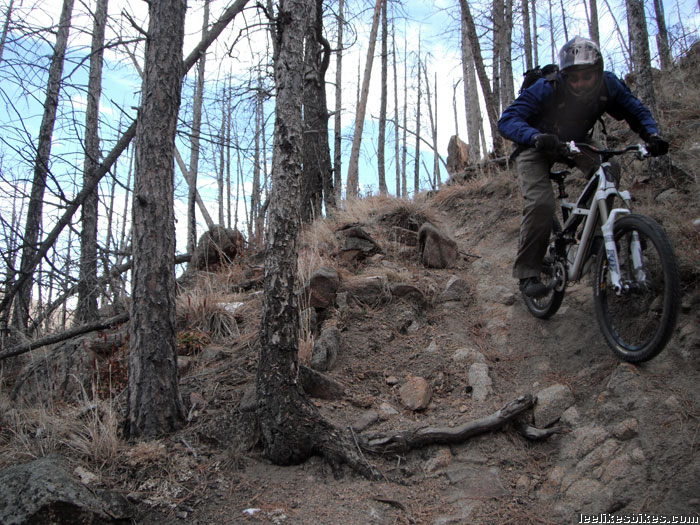 Double-red gnar at Left Hand Canyon OHV Area. Shoulders way forward, all weight on the feet.
Thanks to RC for spurring this discussion.
Braaap!
Lee
What do y'all think?
---
Know more. Have more fun!
Join the leelikesbikes mailing list:
---
https://www.leelikesbikes.com/wp-content/uploads/2018/08/leelikesbikeslogoheader.jpg
0
0
leelikesbikes
https://www.leelikesbikes.com/wp-content/uploads/2018/08/leelikesbikeslogoheader.jpg
leelikesbikes
2012-10-03 17:28:58
2012-10-03 17:28:58
The end of flat pedals at World Cup downhills?