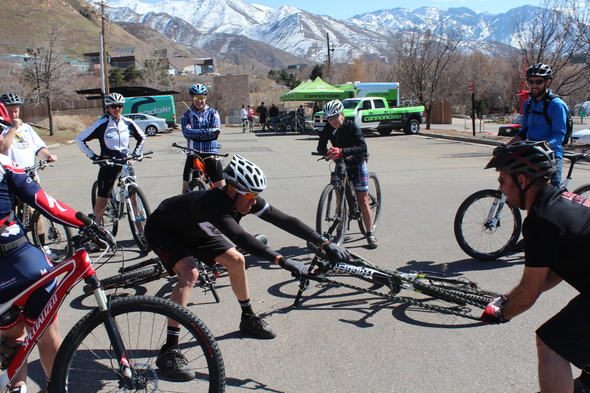 After the Saturday coaching session in Utah (see Radness in Salt Lake City, UT), I was exhausted but we had to rock a trail ride. Chris is a seasoned XC racer. Judd is a new-school ripper. The three of us made a perfect platoon of braaap!
---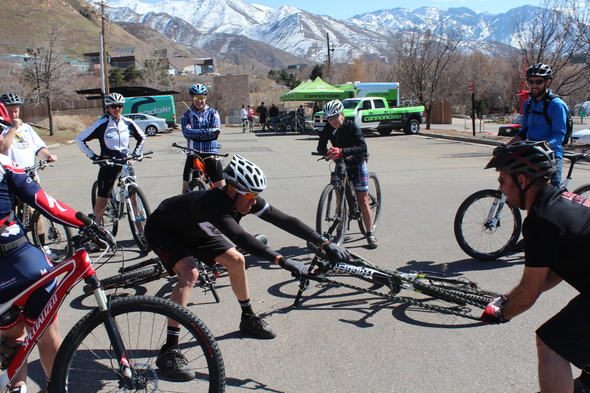 High school coach training: Helping Chris, who is an experienced racer and a total shredder, stabilize his torso while pulling HARD.
Cannondale Trigger: My loaner bike for the day was Cannondale's new 130mm 29er. Trail geometry. Smart, burly build with a short stem and wide bars. This bike rips! Really.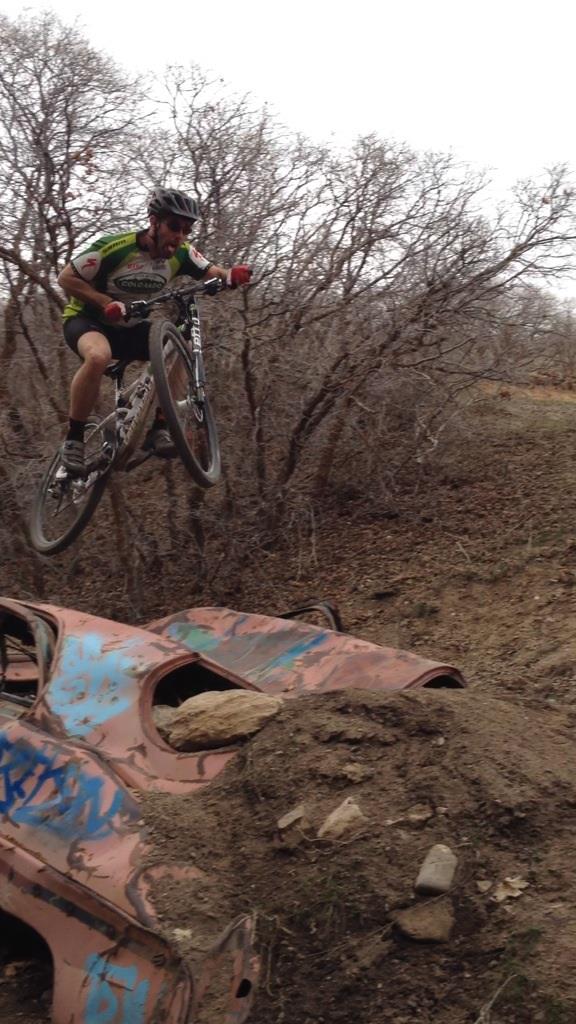 The day before I got the Trigger, I tested a Cannondale Scalpel over a rusty car. It's a light, tight and quick XC machine (the bike, not the car), but too much stem for my shoulders.
Route: Easy climb up a local mountain then rock a popular DH trail. Berms and jumps, jumps and berms, all the way down a long canyon. Rail the canyon wall, jump over a rusty car and on and on and on … SO FUN!
Forget about having fun with your friends. Strava will tell you how good you should feel. Well, we didn't do too bad considering new trail and a loaner bike …
… You know I'm thinking about those extra 10 seconds! This "performance" speaks to how much fun I was having with the boys, how well my winter training program works and how well the Trigger rides.
Also, from the National Interscholastic Cycling Association (NICA) newsletter:
Utah Leader Summit Success
On March 16-17, 2013, the Utah League held its second annual Leaders' Summit in Salt Lake City, Utah. As usual, Lee McCormack's MTB 101 was a hit and loved by all who took it. Lori Harward, Utah League Director, said her favorite comment regarding the summit was from an attendee in MTB 101 whose spouse—a NICA head coach–attended last year's leaders' summit: "Yah, my wife took MTB 101 last year and now she's scary fast, so I had to come this year and see what Lee taught her!"
Stoked! Teaching/riding in Prescott, AZ next weekend.
Lee
---
Know more. Have more fun!
Join the leelikesbikes mailing list:
---
https://www.leelikesbikes.com/wp-content/uploads/2018/08/leelikesbikeslogoheader.jpg
0
0
leelikesbikes
https://www.leelikesbikes.com/wp-content/uploads/2018/08/leelikesbikeslogoheader.jpg
leelikesbikes
2013-04-05 06:56:22
2013-04-05 06:56:22
So close in Utah