Shredding with XTERRA legends Ben and Jacqui Allen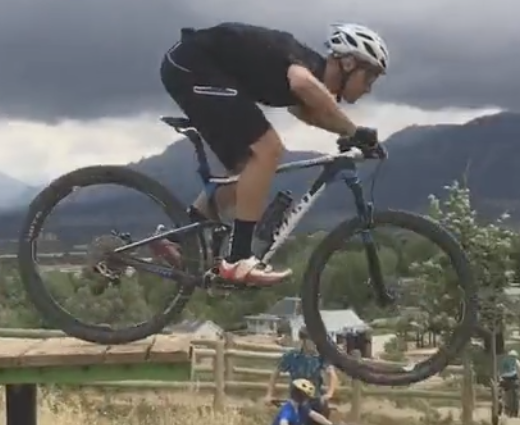 As a teacher, I love helping all kinds of riders ride better and have more fun. The amount of improvement people can enjoy … it's staggering! You just need to spend a little time with me. Afterward you'll say "Why didn't I do this sooner?"
Last week I got to work XTERRA legends Ben and Jacqui Allen. These are two of the best racers in the world … and they got way better in just a couple hours of RipRow™ and bike work.
---
But first a quick video:
Check out what they have to say about our time together.
Jacqui Allen — 11x XTERRA World Tour Champion
I did a clinic with Lee about 4 years when we came to Boulder to train for Xterra World Champs. Lee was fantastic he spent so much time with us teaching the fundamentals this transferred to our XC MTB racing quickly and I swore that when we returned to Boulder we would hook up with Lee for a few more skills sessions.
Four years later we are finally back and of course the first thing on our schedule was to meet with Lee for round 2.
Wow over the years Lee has learned so much more and developed a unique tool called the RipRow to improve bike technique off the bike. Lee is a true professional in everything he does and he makes sure you've completed each phase before we move onto the next skill.
By the end of lesson one I felt faster on the pump track than ever before. I was cornering at speed with no brakes required because the technique was there, and I was also hitting jumps at high speed — something I've never had the confidence to do before.
This has transferred to my racing to make me faster and more efficient. I feel confident to jump sections I never thought possible and I'm going faster into technical sections just because I have the correct feel on the bike.
I came away from Lee's session having learnt beyond what I ever thought would
have been possible. The session certainly wasn't the same old stuff: It was new and it worked instantly. Can't wait to race at the ITU World Champs next weekend and I certainly will be hooking up with Lee before my next race.
Thanks so much Lee you've transformed my MTBing.
(NOTE: A few days after this class, Ben and Jacqui both won the Eldora XTERRA in Colorado.)
Ben Allen – 20x XTERRA World Tour Champion
Why you signed up
You can NEVER stop learning. I am in the sport of gaining seconds and inches and I seek every opportunity to fine-tune my craft and continuing to improve my performance on and off the dirt.
What you learned
More of a question what didn't I learn… Its that old saying, easy as riding a bike!
Well, I have a whole NEW perspective towards mountain biking. The focus, accuracy and quick decision making blows my mind. Proper technique, fundamental movements and mental clarity are the implements Lee was able to draw out of me during one session. That sh#t is deep!
How this can help you ride MTB?
I can shred with confidences knowing, if I apply what Lee taught me I can nail every jump, corner, bump with efficiency, speed and especially purpose. Before I felt I rode my bike mindless and with hope. But, Lee has shared his wealth of knowledge and passed on key mtb tips and hints to help me ride with confidence.
How this can help you race XTERRA
Applying good mtb techniques with confidences will allow me to shred safely and with purpose. I can ride faster than ever before knowing that no obstacle can get in my way during a race.
Lee's wealth of knowledge and passion for mtbing is far beyond anyone else I have come across. His fun loving attitude towards helping me learning in a friendly and safe environment was key to my success in achieving each step-by- step pattern of movements. Ultimately achieving the desired outcome. He is patient and allowed me to figure it out in my own time and always encouraged me. He is the Guru of mountain biking and his love is infectious.
Thanks Lee for your passion and patience.
Benny
You too can ride better, faster and funner!
Dial in your skills and strength with RipRow™
Check out our public and private MTB classes in Colorado and beyond

Learn to shred with the Lee Likes Bikes Online MTB School
---
Know more. Have more fun!
Join the leelikesbikes mailing list:
---
https://www.leelikesbikes.com/wp-content/uploads/2018/08/leelikesbikeslogoheader.jpg
0
0
leelikesbikes
https://www.leelikesbikes.com/wp-content/uploads/2018/08/leelikesbikeslogoheader.jpg
leelikesbikes
2017-08-16 14:32:24
2017-08-16 14:53:24
Shredding with XTERRA legends Ben and Jacqui Allen