How's the Enduro Öhlins Coil?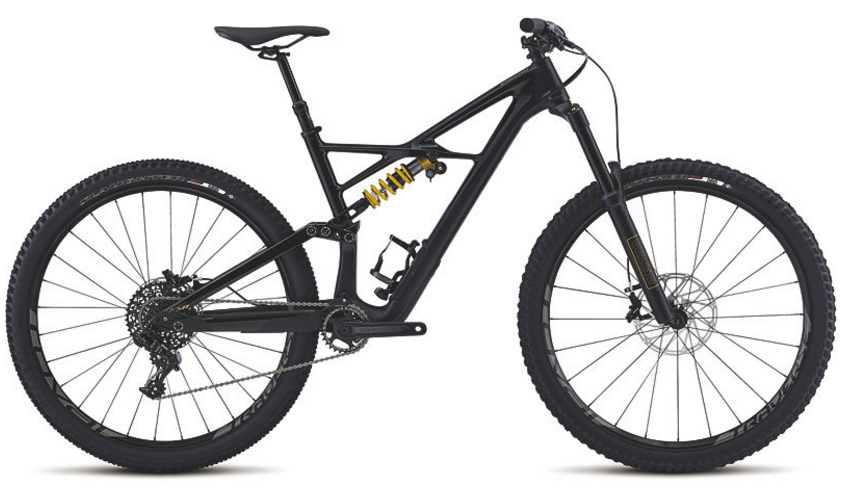 Hi Lee, how's everything going? Busy with release of book and Riprow at the same time I guess.
I have a question about Enduro 29 coil
I just rode the "old" Enduro 29 Comp and for the lack of a better expression "it blew my fucking mind". Me and my friend rode a lift accessed, proper downhill trail a few times and on the 4th or 5th run after I got quite familiar with the track we swapped bikes. Now he was local, he knew every corner. So for first few runs I had a hard time staying just behind him. We are same size very similar weight so we didn't turn the dials much. Not only i did not need to get used to his bike, I felt more confident right away, I left him behind like hell. I wasn't doing almost any brake checks, just open gas all the way, braking hard in tighter corners or switchbacks. And hey, Switchback and wagon wheels? No problem, that thing was equally swift as my "smaller bike". Not only that, I was fresh, I felt like I could do the whole 5-6 minute track without stopping.
Now The only thing Enduro was worse at, compared to my somewhat boutique 27,5 super bike, was suspension. Enduro was not as forgiving for big hits. Landings were a bit wobbly. Later on I had to rent another 650B bike to chcek if my setup isn't crap. It wasn't.
So finally to the point… is latest Enduro with Öhlins coil, as fresh to pop around yet buldozer when asked as the old one? And is suspension noticeably better?
I still have goose bumps cpoming up when thinking about that bike…
Cheers!
Wacek K.
---
Wacek!
It's good to hear from you.
Yeah man, things are busy right now. Busy but rad.
I rode an S-Works Enduro 29 for a couple seasons and it is, indeed, a mind-blowing bike. Mine was hyper-dialed with Shimano XTR drivetrain and brakes, plus a FOX 36 RC2 fork and FOX air shock with their "pro" tune straight from the factory. That bike pumped, cornered, smashed and even pedaled very well.
If you're having funny landings, that could be a tuning issue.
When I saw an Enduro Öhlins Coil at Trail Head Cyclery in San Jose, I about shat my pants. All black and all business except that yellow coil spring, which is its own kind of business. I emailed my contact at Specialized, did some pleading and — BAM! — a brand new 2017 Enduro Öhlins Coil appeared at my house. That was my first complete bike from the big S. Must be doing something right.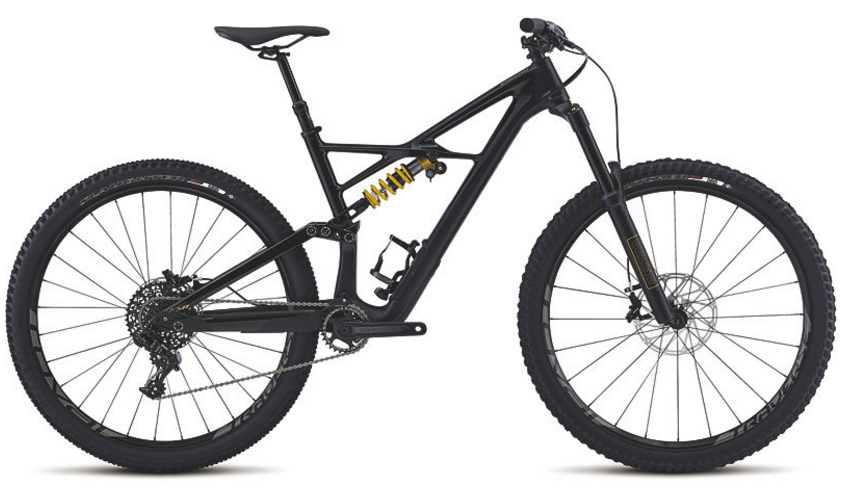 Specialized Enduro Öhlins Coil 29/6Fattie
I've been riding the Enduro Öhlins Coil (EOC) all season, and it's time for a report. As with all of my bike reviews, I'll try to omit bullshit. (I used to write copy for 30+ bike companies, so a lot of that crap you've read about carbon road bikes being responsive yet reposeful … I wrote it!)
Sizing
This isn't an Öhlins Coil thing. It's a modern enduro bike thing. The new frames are long in the reach. I've been on a medium Specialized for 15 years. I have a medium EOC, but a small would fit more like my medium Stumpy and Fuse, which are perfect for me.
In order to make my EOC fit me better, I installed a 30mm stem and commissioned a custom ti handlebar that brings my hands back farther and effectively shortens the bike's reach.
Before you invest in a new bike, check the stats. You might need a smaller size than you think. The Lee Likes Bikes MTB School has the full RideLogic™ setup system with rider and bike calculators.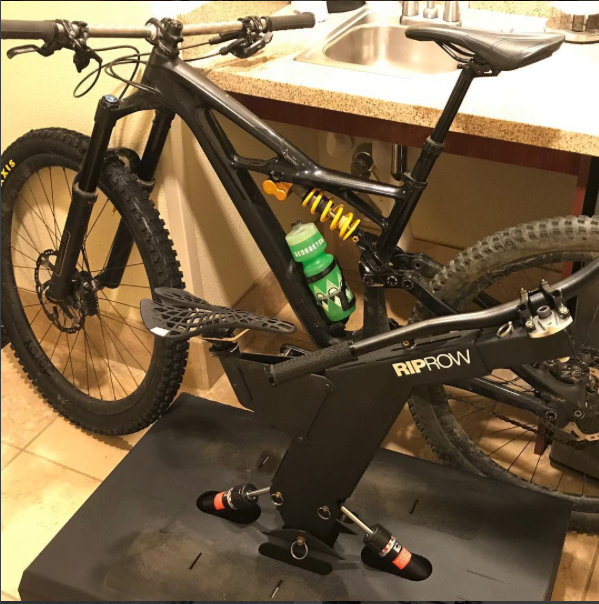 Enduro Öhlins Coil and RipRow — ready for action in a hotel room somewhere in the USA. Note the EOC's handlenbar.
Wheels
The EOC comes stock with 29 x 2.3 tires. It also fits 27.5 x plus tires.
With 29regular tires, it feels like a very bad ass 29er.
With 27.5plus tires, it feels … boring … at least until you push it very hard. This is a lot of bike! The coil suspension plus a set of 2.8 Butchers feels like a downhill bike you can pedal. Totally awesome, either for ultimate comfort and confidence, or to pin it at some crazy-high level. The time I ride plus tires at Trestle Bike Park, I was with a client at slow speed, and the bike was underwhelmed. Some day I'll have to hit Keystone with coil springs and 2.8s!
Right now my EOC has 29 x 2.5 tires, and that seems good: Relatively fast rolling with plenty of cushion thanks to the springs.
Spring rates
I got one of the first EOCs. The front spring was for a heavy rider and the rear spring was for a light rider. Huh? Someone made an unusual mistake back at corporate.
At the time, I couldn't get the right springs from a dealer, so I used my LLB credentials and contacted Öhlins directly. Öhlins was awesome and got me dialed. I believe Specialized dealers now have access to the proper springs.
I weigh 180-185 pounds and am liking the #525 shock spring. That's one stiffer than the spring chart recommends, but it pumps and jumps very well. I often rally this bike on the Valmont Bike Park dual slalom, pump tracks, slopestyle and even dirt jumps.

This told me I have exactly the right springs on my bike. 10-foot-drop to flattish. Full travel in the fork, shock and tires … and bar is flexing too!
Chassis
For context: I've ridden every iteration of the Enduro since 2002. Each one was the Best Ever (except around 2007 which was awkward). I've also ridden lots of Demos, Stumpjumpers, Cambers, Fuses and other Specialized bikes, in addition to many other bikes that belong to clients.
The new Enduro chassis is full on bad ass heavy metal rock and roll. It's burly through the bottom. The leverage ratio between the front of the bike and the sort chainstays is high.
What does that mean?
Every bike flexes. You can't know how much it flexes until you ride one that flexes less. When I rally my S-Works Stumpy (a great bike!) there's a moment of give, of flex, that tells me this is hard enough. It's not bad, but the signal is there. On the Enduro, at my speed, there is no Back Off signal. The bike is made for more than I can give.
Long reaches and short chain stays create a large leverage ratio between the front and back of the bike. When you row the bars to pump, hop, pump-manual, jump, corner, wheelie drop or ride up a ledge, extra force goes into the rear wheel. This makes the bike feel "poppy" or "playful." Even though the Enduro is a much bigger bike than my Stumpy, it rides like it's smaller. At least in this way.
In most other ways, the Enduro feels like a big bike. Point it and it goes. The more courageous you are, the better it works.
Suppleness
Coil springs are what they say they are. Very smooth. Easy to get moving. Supple. I rode the best air fork in the world. The coil feels smoother.
Same in the rear.
Because of my bad shoulders, I've been on plus tires for the past two seasons. The bigger, softer tires do a great job of absorbing random jolts. I swear the coil springs have a similar receptiveness, but with a regular tire, which means I can ride lighter, quicker tires, gain some efficiency and push harder when I feel like it.
Suspension tune
Most of my riding is for work, which means coaching riders. Most of the riders I teach are not as fast as I am on descents. So I spend a lot of time riding below my sweet spot speed, at a low level of engagement.
At low speeds, the EOC feels awful. For you maybe it's not ideal — the valving doesn't open up until you push enough energy into the system — but for me the jarring impacts go into my shoulders, and it hurts like hell.
I was able to set up my FOX 36 to feel good at any speed.
The Öhlins suspension is punk rock. No apologies. No cruising. Nothing but balls out.
The faster I ride the EOC, the better it works. When I'm riding at my sweet spot, with full core engagement and Sine Wave of Love mode set to 11, I handle the big shapes, and the bike does the rest.
There's plenty of support for pumping and jumping*, there's plenty of suppleness for chatter and there's plenty of control for big hits. I have not hit anything hard enough to make this bike miss a beat.
So Wacek, to answer your question:
The Enduro Öhlins is very fresh to pop around. And it is also a bulldozer. My only complaint is that the bike sucks for wimpy riding, but that's nothing to complain about.
If you're an Enduro Öhlins Coil rider, you're not worried about low speed comfort. You're here to shred. Go shred!
Lee
*This is where the crazy happens. The inside of the Öhlins seems to do things differently from the FOX. I can skim across sharp bumps – rat tat tat! – then, when I see a little cup to pump through, I can instantly engage with the ground and get a ton of pop. Just now I skimmed over some braking bumps, hooked a water bar into a small depression then jumped a good 15 feet across a rock band. It felt amazing. Then I relaxed and the suspension went back to gobble mode.
Upgrades
Custom titanium handlebar to shorten the bike's reach.
Shimano ZEE brakes. 200mm front, 180mm rear. A bike like this needs great brakes.
Derby carbon rims on King hubs. Built by Trail head Cyclery in San Jose, CA. The DH wheels they built lasted 10 years under me, and they're still rolling under new ownership.
---
Know more. Have more fun!
Join the leelikesbikes mailing list:
---
https://www.leelikesbikes.com/wp-content/uploads/2018/08/leelikesbikeslogoheader.jpg
0
0
leelikesbikes
https://www.leelikesbikes.com/wp-content/uploads/2018/08/leelikesbikeslogoheader.jpg
leelikesbikes
2017-08-16 13:05:20
2017-08-16 17:25:45
How's the Enduro Öhlins Coil?