Rider analysis: Judy Freeman at the Wisconsin ProXCT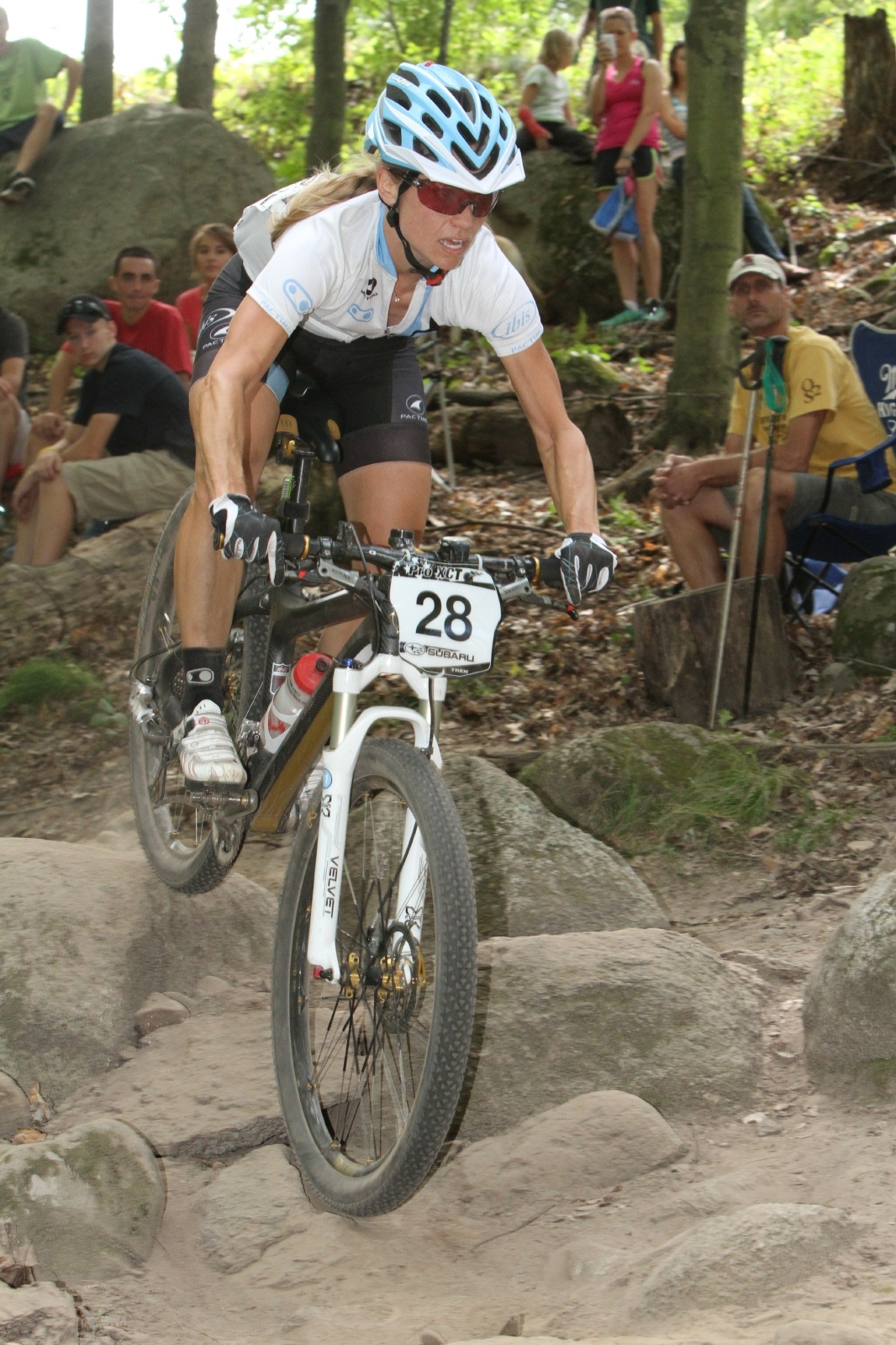 This just in from our friend and skills pupil Judy Freeman. It's all about the pony tail (and maybe a dropper post?).
hey sensei-
got this shot from the ProXCT in Wisconsin.
how's the form look?
---
Judy!
Thanks for the note and the great photo. And congrats on your big win at the Wisconsin ProXCT!
What is awesome
• Head up and eyes out.
• Torso near level.
• Disconnected from the seat.
• Elbows out.
• Hands light.
• Your right tricep is flexing, as is your left bicep. That tells me you're neither pulling nor pushing, neither forward nor backward. Random things are happening to your handlebars, but you are essentially balanced. Excellent.
• It's all about the pony tail, and yours is very quiet. If you were rigidly connected to the bike, your torso would be falling, and your pony tail would be floating. Both torso and pony tail seem placid. That's a sure sign of smoothness.
What could be even more awesome
• Get even lower so you have more arm range left over. Think of arm range as insurance against randomness. But it's hard to get lower with full seat height.
• Heels down. That will help you stay centered in (not on) the bike. But it's hard to get your heels down with a high seat.
In training we should get you on your Crankbrother Kronolog seatpost and time sections with your seat high and low. It'll be interesting to see how much time you can gain with the low seat — and whether I can convince you to carry the extra weight of an adjustable post!
Great job Judy. Keep it up and I'll see you at this Saturday's Level 2 Air class at Valmont Bike Park.
Lee
Also see:
Judy Freeman won a bike race!
Flowing with Judy Freeman
Endurance slalom with Judy Freeman
---
Know more. Have more fun!
Join the leelikesbikes mailing list:
---
https://www.leelikesbikes.com/wp-content/uploads/2018/08/leelikesbikeslogoheader.jpg
0
0
leelikesbikes
https://www.leelikesbikes.com/wp-content/uploads/2018/08/leelikesbikeslogoheader.jpg
leelikesbikes
2012-09-05 13:22:35
2012-09-05 13:29:50
Rider analysis: Judy Freeman at the Wisconsin ProXCT