Endurance slalom with Judy Freeman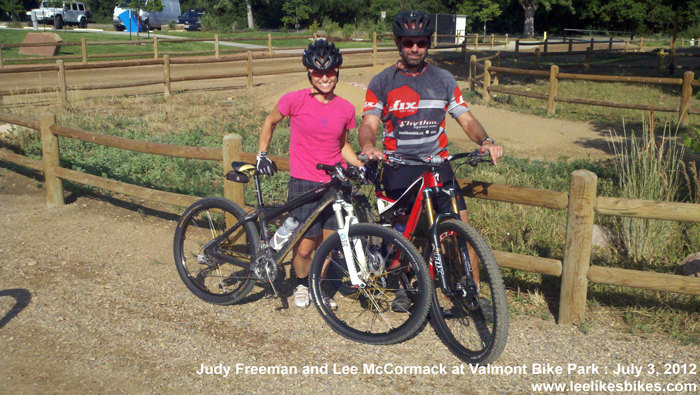 Pro XC ripper Judy Freeman is off to national XC championships in Idaho today. This morning we sharpened the sword with a bit of Valmont endurance slalom.
---
Goals
• Have some fun.
• Get some quality aerobic training (For me. Judy is resting for her race.)
• Mix it up and do something new (For Judy. I do this all the time.)
• Help Judy access more of her range of motion.
• Encourage Judy to ride big, round, expressive sine waves.
• Fun!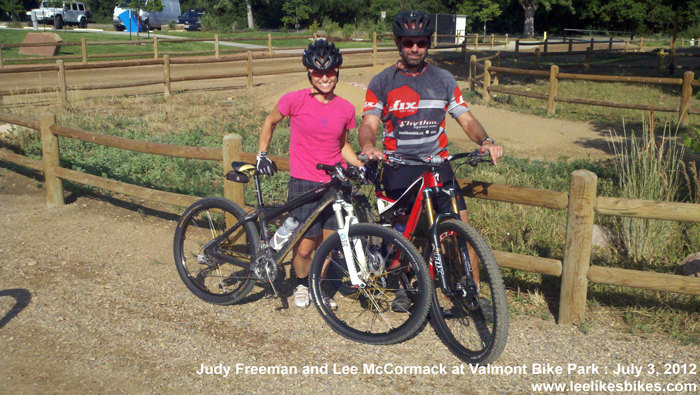 I am fully beaten down. I don't think Judy broke a sweat.
Protocol
• Ride up the dirt road to the top of the slalom track.
• Ride one lane down the slalom track.
• Ride up the road.
• Switch lanes.
• Repeat for 30 laps.
This yields about 1,500 feet of climbing and descending — including 180 turns and about 570 bumps — in a bit less than an hour. Pretty sweet I'd say.
Findings
• Whew, it was hot.
• Yesterday The Fix Bike Shop tuned my Stumpy 29 Carbon S-EVO, and — yes! — it feels just like new except I'm used to it, so it's better than new.
• PINNED: My normal climbing time is about 1:15. Today, with Judy cruising a pre-race taper with her seat down, we were drilling out 0:50s. Wow, I need to ride with her more often.
• The more tired I get, the looser and smoother I get. In the high 20s I am noticing tiny but verifiable bits of jumping style. Will my steeze explode at lap 100?
• On lap 27 I pinned the climb extra hard and felt myself cross some physiological threshold. I railed the first corner, loaded into the road double and … cased hard. My legs just didn't have the pop. Worth noting for my upcoming enduro races.
• As she rolled the laps, Judy got lower and looser and faster. By the end she was just crushing the final straight, all eyes and smile and hands and feet and fluid aggression.
Perfect. Judy, good luck this weekend!
Lee
Read Judy
on her blog: http://judyfreeman.blogspot.com/
on singletrack.com: http://singletrack.competitor.com/tag/judy-freeman
---
Know more. Have more fun!
Join the leelikesbikes mailing list:
---
https://www.leelikesbikes.com/wp-content/uploads/2018/08/leelikesbikeslogoheader.jpg
0
0
leelikesbikes
https://www.leelikesbikes.com/wp-content/uploads/2018/08/leelikesbikeslogoheader.jpg
leelikesbikes
2012-07-03 14:03:02
2012-07-03 14:03:02
Endurance slalom with Judy Freeman