Pump track design critique #1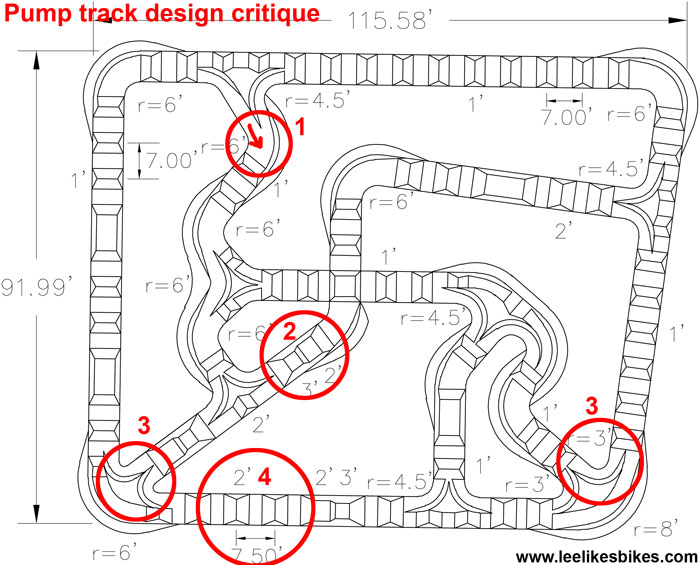 Lee-
We finally were able to get going on the design for our city bike park.
Based on the information I got from your book, I've come up with the attached preliminary lay-out for the pump track. I wonder if you can take a few minutes and provide your input. To be honest with you, I'm not totally in love with it, but this is about the 5th incarnation.
I have roughly 175'x115' set aside for the pump track. I'm almost worried that this is too big. What do you think?
I appreciate whatever input you could provide. Thanks!
Corey, Professional Engineer
Hey Corey,
Wow, there's a lot going on here. This track has the potential to keep a lot of riders engaged for a long time. Thoughts:
Size
Yes, it's probably too big.
From a physiological standpoint, people won't be able to pin multiple laps — or maybe even single laps. If you want to hit the pro lines and jumps, you have to go super hard, and you can only do that for about 30 seconds.
Typically, the only lines that stay packed and ridable are the lines that people ride often. The "other" options — the lines that people don't (or can't) ride — are in danger of getting loose and growing crops.
If you have a large and skilled ridership, they might be able to keep this track packed. Always ask yourself, who will be riding this track? How many riders are there? What is the seasonal use pattern?
Design
1. Watch out for flow issues. Elements must flow into each other.
2. The two- and three-foot obstacles are going to kill the speed of non-badass riders. Especially in the tight/turny sections. Those will become the pro lines (will they get ridden?).
3. Watch out for very tight turns, especially coming out of fast sections. Only pump masters will be able to rip these lines.
4. The roller/trough proportions are taller/tighter than I suggest in Pump Track Nation. While you can definitely go taller/tighter than PTN standard, I'm afraid 2 feet x 7.5 feet will be too tall/tight for most riders.
Challenge
It's very tricky to balance various user needs while maintaining flow — especially for a public track.
I do lots of these designs; if you want a completely documented design that'll stoke all riders (and city officials), please email me.
This track has awesome potential for awesomeness. Please keep us updated.
— Lee
---
Know more. Have more fun!
Join the leelikesbikes mailing list:
---
https://www.leelikesbikes.com/wp-content/uploads/2018/08/leelikesbikeslogoheader.jpg
0
0
leelikesbikes
https://www.leelikesbikes.com/wp-content/uploads/2018/08/leelikesbikeslogoheader.jpg
leelikesbikes
2010-07-30 07:43:16
2010-07-30 07:44:20
Pump track design critique #1