Pedals: Flats vs. clips for goofing off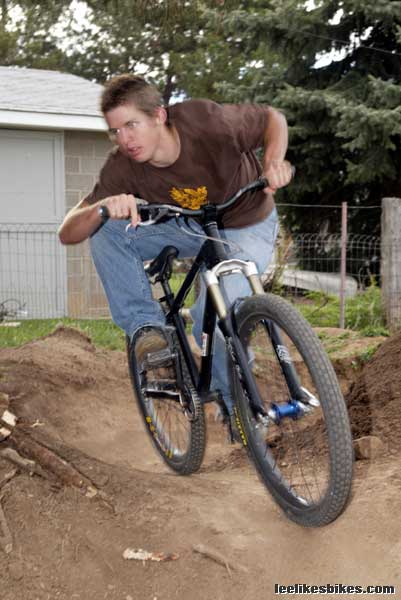 Dear Lee,
I'm not racing, just riding the xc and dh up and down, roots, single track, dips, climbs, etc…Since it is not a race, is it better in your opinion to use Specialized Lo Pro Mag pedals and Five.Ten Impact shoes instead of the Shimano clipless???
My DX clipless with platforms seem to be hitting every root and I used to ride cages in the old days anyway, I do like being cliped in and not worrying about a foot slipping off the pedal though, so are the sticky shoes and lo pro mag pedals safer and a better ride for not racing, just having fun???
Jay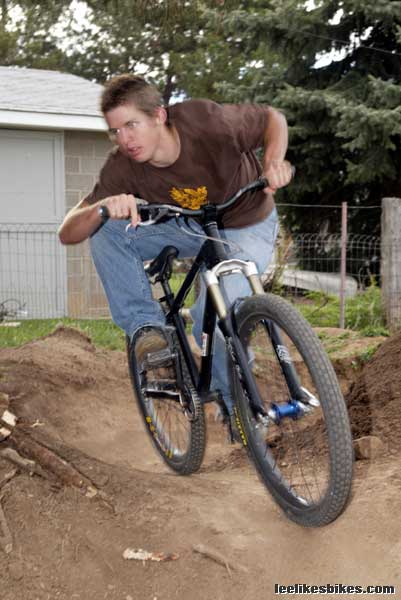 Very few riders are as flowy (or fast) as Elliott Hoover. He always rocks flats.
Hey Jay,
You're actually asking a few questions:
1. Which are better, clips or flats?
That's a matter of personal style. Fast downhillers go either way. Fast XCers all clip in. If you want to cover trail quickly, it's hard to beat clips. If you want to have fun and feel free, flats are awesome.
The best riders are very fast and very flowy on both types of pedals (Curtis Keene comes to mind). Since you're not in a hurry, I think flats will work fine.
2. How good are high-end flat pedals and sticky shoes?
Very good. Five.Ten Impacts and Lo Pro Mags are a very good combination. Those shoes are so sticky, if you want to adjust your feet you have to lift them off the pedals. I ride Impacts and flat pedals (frequently Lo Pro Mags) for 90 percent of my rides, even on the road.
That said, when I clip in for racing and trail riding, I feel like a super hero.
3. How can I stop clipping pedals?
Lo Pro Mags have a much lower profile than Shimano 636s, but they are a lot wider. I think they're equally likely to clip roots and rocks. See the chart below.
The best way to avoid clipping pedals is to stop pedaling in the rough sections. Instead, focus on pumping.
Read these:
Flat pedals on the big bike
Benefits of flat pedals
Drops: Staying on flat pedals
Rocking the flats
Flat pedals for a beginner
---
I did this insanely nerdy chart with an old review of the Lo Pro Mags:
Pedal
Thickness
middle/edge
Width
crank to edge
Compare-O-Tron
Lo Pro Mag
20/17mm
106mm
Atomlab Aircorp
24/20mm
108mm
Truvativ Holzfeller
21 outside/17 center (concave)
110mm
S&M Bikes
30/30mm
110mm
Cheap "XS"
27/27mm
123mm
Shimano 636 clipless
35/21mm
91mm
Oh yeah Baby!
---
https://www.leelikesbikes.com/wp-content/uploads/2018/08/leelikesbikeslogoheader.jpg
0
0
leelikesbikes
https://www.leelikesbikes.com/wp-content/uploads/2018/08/leelikesbikeslogoheader.jpg
leelikesbikes
2008-02-21 16:22:49
2008-02-21 16:23:59
Pedals: Flats vs. clips for goofing off