New, improved Specialized Eskar tires
I've been rocking the Specialized Eskar Control tires on my Stumpy since they were wee prototypes, and I've really liked them. They roll pretty quickly, they corner well, and they haven't been flatting. All in all a good trail tire.
Now they're better.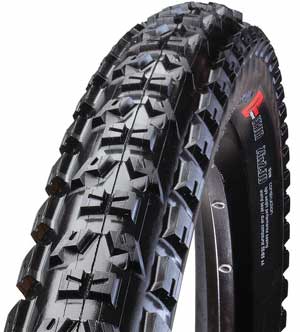 Eskar v1.0.
The issue
If you were to complain about the Eskar, you'd say there was a vague spot between the center and side knobs. If you leaned the tire aggressively, it hooked like a champ. If you sort of apologized your way through the turns — especially if they were loose or off camber — there was a bit of sketch factor.
As some designers say, it was an "expert" tire.
The change
Our man Chris Wyatt, Specialized's tire genius, made the Eskar's side knobs taller. By my tape measure, they're about 2mm taller. Everything else about the tire seems the same — but the taller side knobs make the tire look much fatter. More DHish.
Says Chris:
"Basically we enhanced the side knobs so the rider makes contact with the shoulder knob earlier in the lean angle, and this taller knob will provide better bite in a variety of terrain. The tire is more on the XC side of All Mtn, but we wanted to improve its All Mtn cornering performance. The Name will stay the same."
The new version should be available this July.
The ride
I've been rocking the new Eskars at the dirt jumps and play spots here in Boulder, and they've felt great. Just as quick as before, but more sticky and less vague in the turns.
The real test came Friday at Hall Ranch in Lyons, CO. The 75-minute ride has a good mix of smooth flow and rocky gnar.
I've ridden this trail on my Stumpjumper with the original Eskars many times. Changing just the tires yields a solid experiment.
Findings:
– The bike rolls just as fast as before. Not as fast as dedicated XC tires, but pretty fast.
– That vague spot is gone. The bike feels like it hooks at all lean angles. It's amazing how much more secure the entire descent felt without that moment of transitional drift. I know this trail and my bike very well: The difference was noticeable.
– The ultimate cornering traction feels at least as good — probably better.
– The new version is a clear improvement on an already sweet tire. I'll keep pushing, and I'll keep you posted.
Also read
Followup: Specialized Eskar Tires
Two rides: Specialized Eskar Armadillo Elite 1.3 tires
Enhanced side knob braaap!
— Lee
---
Know more. Have more fun!
Join the leelikesbikes mailing list:
---
https://www.leelikesbikes.com/wp-content/uploads/2018/08/leelikesbikeslogoheader.jpg
0
0
leelikesbikes
https://www.leelikesbikes.com/wp-content/uploads/2018/08/leelikesbikeslogoheader.jpg
leelikesbikes
2009-04-26 09:09:30
2009-04-26 09:09:30
New, improved Specialized Eskar tires