MTB Strength Training Program
I just met with trainer James Wilson, and he opened my eyes to a new way of training, especially for gravity events. I'll keep you posted as my training progresses, but here's a quick rundown — and a special discount on his program.

---
Get the MTB Strength Training Program at a discount
Regular: $147
Special: $97 until April 1
Strength training for MTB?
Great riding comes down to four things: skills, fitness, confidence and equipment. These are all related, but without all four you're severely limiting yourself. Most riders put way too much emphasis on equipment. As you know, I'm on a quest to improve everyone's skills and confidence. Fitness is the other piece.
Most cycling programs are based on road and cross country; gravity racers are left to train like roadies or bodybuilders, and neither approach does the job very well. I've been researching and experimenting with training techniques for years, and right when I was about to write an ebook about training for gravity racing, I met a guy named James Wilson.
James is a professional strength coach and a dedicated mountain biker. He applied his knowledge to our fine sport and created a program specifically for mountain bikers.
What I think
I studied this stuff in college, and I read a lot on the subject, so I think I know some things. James definitely knows more than I do about strength training — that's why I'm telling you about about his program.
James focuses on range of motion, strength, power and anaerobic fitness for mountain bikers. He sees "saddle fitness" as a separate specialty, and he leaves that to other experts. James says he hates gyms (he'd rather ride); his program is short, efficient and can be followed even without a fully-equipped gym.
A couple days ago Yeti racer Ryan Cranston pulled us up a technical climb. At the top he said, "I've been doing James' program since December. This is only my second ride this year, but I feel stronger than I was at this time last year when I was riding a lot more." The testimonials on James's site reiterate that sentiment. Based on what I've seen, I believe James' program will improve control, power, injury prevention and confidence.
James did an assessment on me, and even though I've been working out religiously since my first shoulder surgery seven years ago, I'm starting at his Phase 1. I've always done my own program. This is the first time I've swallowed my ego and followed someone else's plan. This one makes sense. I'll update you guys with my progress.
NOTE: James is a strong personality with strong ideas. I guarantee some of his views will challenge your beliefs. While you might not want to implement every aspect of this vision, I belive the core elements will make you (and me) a better rider.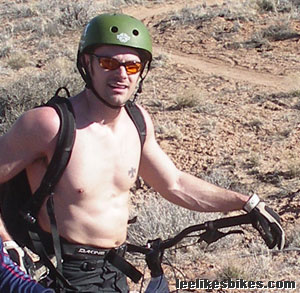 James guarantees muscles like his, or your money back!
Buy his plan
I was ready to write a plan of my own, but James is a true expert in this field. So I decided to partner with him and offer his program on this site (at a 33% discount). James' program includes lots of goodies:
– 16-week workout program
– Fully detailed workouts
– Training logs
– MTB mobility training program
– Recovery strategies
– Nutrition program
– Supplement list
– Audio CD
– Demo DVD
– 200+ page manual
– Two 30-minute phone consultations
– 60-day money back guarantee
Normal price: $147
Lee Likes Bikes special price: $97
I told James his regular price is totally appropriate, but that I want to offer it to you guys for less. Until the end of March, you can get the full program for 33% off — a measly $97. With the money-back guarantee, what do you have to lose, except extra seconds in your race runs?
To get the discount, follow this link:
Follow this link for the discount
BRAAAP!!!
https://www.leelikesbikes.com/wp-content/uploads/2018/08/leelikesbikeslogoheader.jpg
0
0
leelikesbikes
https://www.leelikesbikes.com/wp-content/uploads/2018/08/leelikesbikeslogoheader.jpg
leelikesbikes
2007-03-09 21:47:15
2007-06-13 14:26:22
MTB Strength Training Program