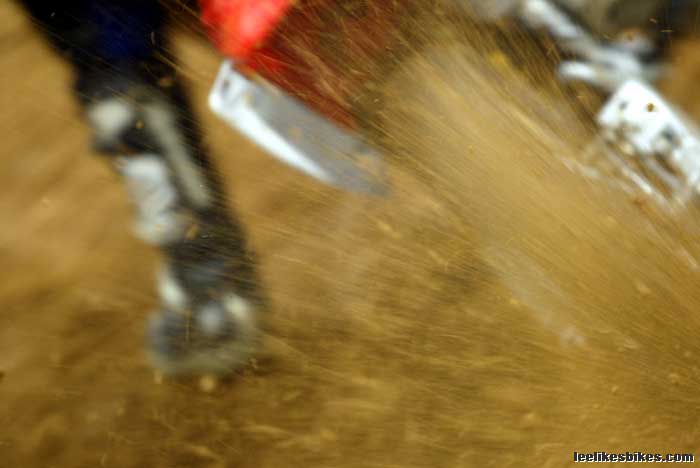 Oh Wise Sage –
I am considering buying a motocross bike for the winter training season and possibly doing a few races. I am planning to upgrade from Expert to Semi Pro downhill next year and am trying to decide my best off-season training options.

Last year, I rode DH once or twice a week just about all winter with the lack of snow we had, and I'm not sure that will be quite as possible this year. Even if it is, there can be more saddle-time to be had on a moto, I understand. I've never ridden a dirt bike before, but I've ridden street motorcycles since the beginning of college, so I am mostly familiar with the controls. My concern is that I might get some bad habits or somehow have some detrimental effect on my MTB goals. What do you think?
– Grant
---
Grant!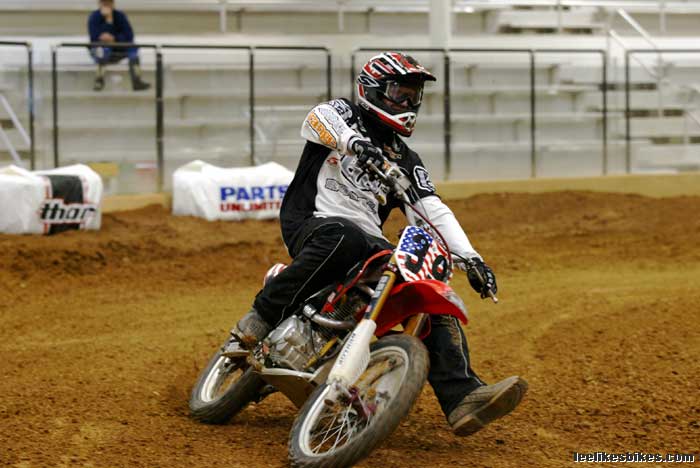 Look at the smile on Peaty's face. You don't need a gnarly 250 or 450 motocross bike. Many bike racers ride 125 or 150 trail bikes like this BBR/Honda CRF 150. They're about the size of a DH bike and plenty fast.
There is no question: If you can stay bike-fit and uninjured, the moto will make you a faster downhiller. It inoculates you against speed and terrain, plus it does crazy things for your strength and endurance. There are some definite differences in riding technique, but the benefits far outweigh the drawbacks.
Riders I know personally who use motos to help them rip on bikes:
– Brian Lopes
– Steve Peat
– Mark Weir
– Curtis Keene
– Branon Sloan
– Deacon James
– Matt Thompson
– Dave Ziegman
– Curtis Beavers
– Dave Ignatew
– Lee McCormack 🙂
– The list goes on …
Not so sure about racing. You can ride a moto recreationally and still get DH benefits. If you get on a track and start to pin it, the risk goes way up. I prefer trails — I find it easier to find flow, and it's more like MTB.
— Lee
https://www.leelikesbikes.com/wp-content/uploads/2018/08/leelikesbikeslogoheader.jpg
0
0
leelikesbikes
https://www.leelikesbikes.com/wp-content/uploads/2018/08/leelikesbikeslogoheader.jpg
leelikesbikes
2006-08-18 17:58:42
2006-08-18 18:01:57
Moto for DH training?