Setup (and skills) for flat drops
Hi Lee,
Love the site and the book. Since you are the Fox guru I have a question about suspension setup. I have a Santa Cruz Nomad with a Fox 36 RC fork and Fox DHX 5.0 Air shock.

My normal weekend ride is at Soquel Demonstration Forest in the Santa Cruz Mountains. There are several big redwood logs thay we ride and jump off (3-5 feet). The bad thing is that the landings are rather flat. How do I set up the suspension so I don't totally bottom out on the bigger stuff, but utilize the travel while normal trail riding? I have tried increasing the compression damping on the fork. Any ideas other than don't do jumps with flat landings? I weigh about 150 lbs.
Thanks – Bob
---
Hi Bob.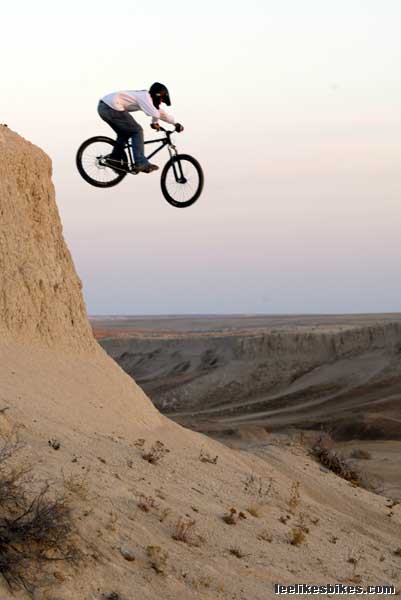 Poor Elliott Hoover with only 18 inches of travel. Pawnee Grasslands, CO.
I know those trails, and I know those logs! So good.
1 – Set your sag per the fork and frame maker specs. Probably about 33% in the back and 25% in the front. Check your user manuals.
2 – Try increasing the compression on your fork. You want to run as little compression as you can without bottoming.
3 – Dial in the air chamber on the DHX. This makes the spring more progressive and resists bottoming. The pressure for your Nomad should be 100 psi.
4 – Clean up your technique. As you reach the end of the log, get as low as you can on your bike. When you take off, extend your legs to the ground. Absorb the impact by bending your legs and arms. Your bike has 6 inches of travel; your body has like 18. Your body travel is therefore three times as important.
Good luck, and rip West Ridge and Braille for me! I'll be out there next month … can't wait!
— Lee
https://www.leelikesbikes.com/wp-content/uploads/2018/08/leelikesbikeslogoheader.jpg
0
0
leelikesbikes
https://www.leelikesbikes.com/wp-content/uploads/2018/08/leelikesbikeslogoheader.jpg
leelikesbikes
2006-08-18 17:43:49
2006-08-18 17:44:14
Setup (and skills) for flat drops