Loving the 2015 FOX 36 RC2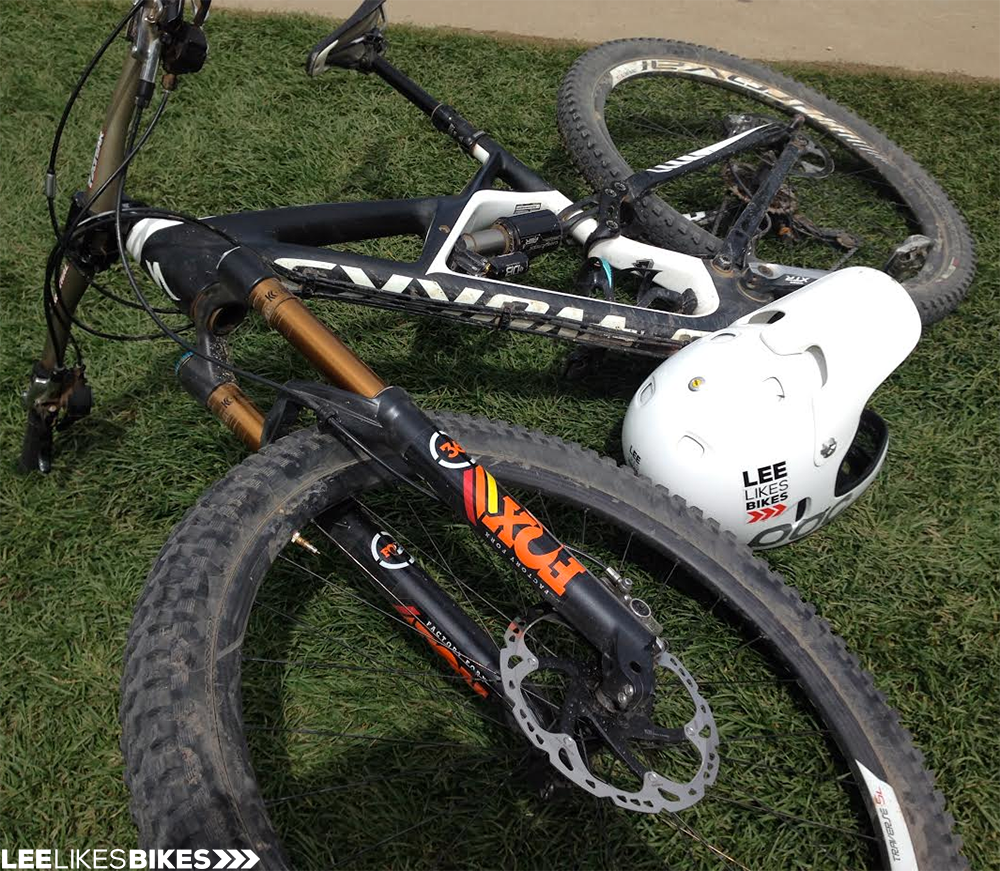 I have a half dozen rides on the 2015 Fox 36 RC2.
My shoulders are a good test of bump absorption, and they like this fork.
---
FOX sent me this fork. I've had a relationship with them for more than 10 years.
What about the Pike?
As many of you know, the Rock Shox Pike has been the go-to long travel single crown fork, especially in the 29 flavor. People like Pikes, and for good reason.
I have a full season on a 160mm Pike RCT3 (29), and I've been happy. When the fork got sticky, the guys at DirtLabs tuned it up, and it felt even smoother than stock. No complaints!
But, as Darren Murphy from Push Industries told me years ago, you don't know different until you feel it.
So …
The 2015 36 RC2
From the FOX press release:
The model year 2015 36 fork offers rigidity and improved traction for all-mountain riding and enduro racing in a new lighter chassis. Also of note is its updated geometry, a new convertible thru-axle design that works both with 15mm and 20mm, a purpose-built RC2 damper, and a redesigned air spring system that equalizes rider weight for increased traction.
• Lighter: a half-pound weight savings over its predecessor (starting at 4.19lbs/1901g)
• 36-specific RC2 damper: a redesigned valve system provides better small bump compliance, reduced friction, better traction, and wider tuning range
• Redesigned air spring system: equalizes rider weight for increased traction
• Convertible thru-axle design: works with both 15mm and 20mm thru-axles
For tech details and early ride impressions, read Mike Levy's writeup on Pinkbike.com.
I want to focus on my direct experience.
Setup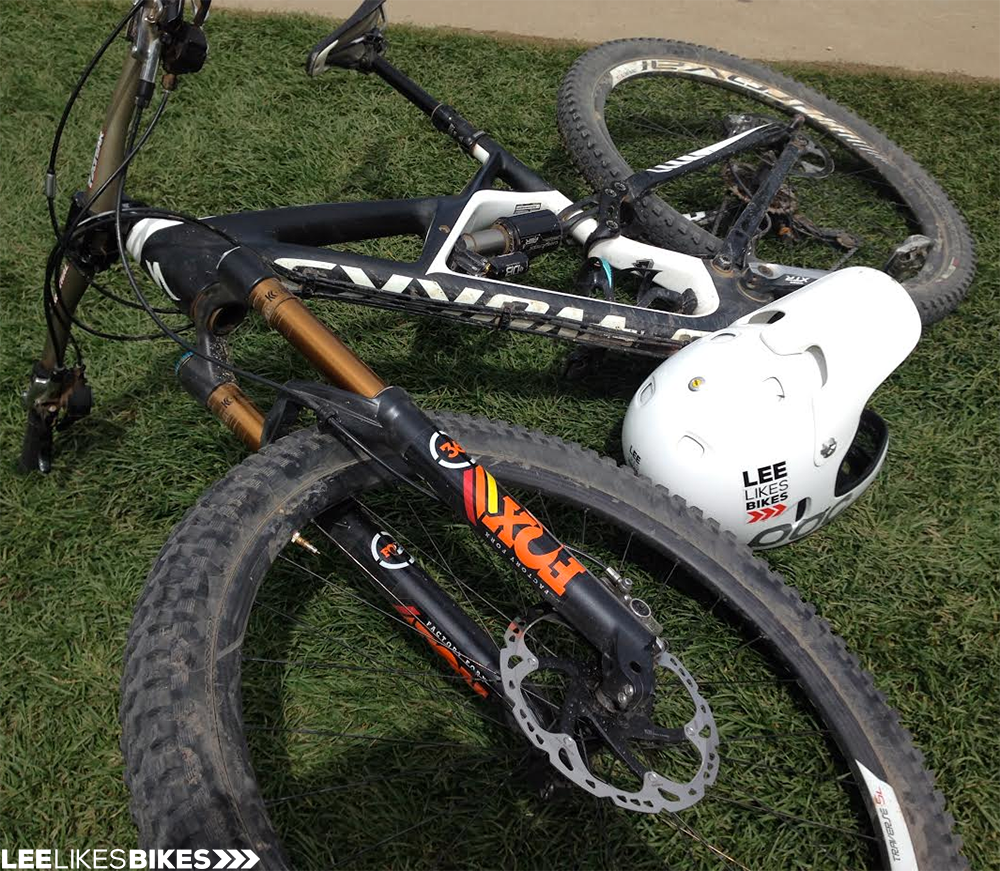 I am running the 29er model with 160mm travel.
• One spacer in the air spring, which is stock.
• 68 psi at a body weight of about 175 pounds.
• Rebound at 12 out of 18 clicks out (factory was 13).
• High speed compression at factory setting 18 out of 22 clicks out.
• Low speed compression at 18 out of 25 clicks out. This is softer than factory, but it matches the rear end. Here's how I bracketed this setting.
Winter Park!
Sunday, for my 45th birthday, my friend Nick and I rode Trestle Bike Park at Winter Park, CO. This place is built for fun, with lots of flowy jump trails and some interesting but non deadly rocky/DH lines.
Trestle is always awesome, but Sunday was amazing. Some of the flow came from riding with a friend and having The Wife and Bugs around, but the fork, man, the fork.
Fast and yet slow. Within a couple runs I was riding faster than ever, but it felt completely controlled. The fork was smooth and stable and — just there doing its job.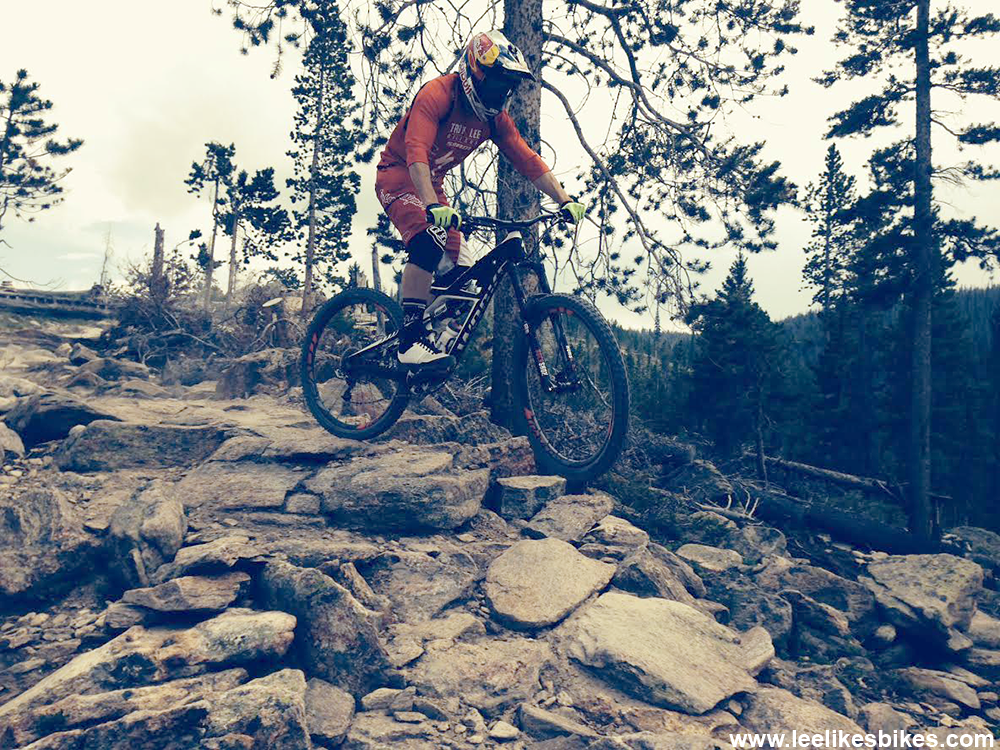 I would have jumped this section like Curtis Keene, but I wanted to test the 36 in those rocks. They have never felt so mellow.
Highly absorbent. At one point I was hauling @$$ on a familiar trail and, because of increased Sine Wave of Love energy, got shot onto a new line. Full speed. Whoa a rock! Whatever. Plow right through it like nothing.
Bottoming out. Happened once. For most the runs, I used 145 of 160mm of travel, which made this fork more active and usable than the Boxxer on Nick's Demo 8. Near the bottom of the Trestle Downhill I hit a big step-down half-assedly, and I came up very short. Bam, full bottom, a clunk but not horrible. Overshooting to flat feels, I'm not sure how to say this, controlled in a fluid way, like there's no impact: just a gradual dissipation of energy.
Do you know what I'm not going? Giving a damn about where I put my front wheel. I believe the brain constantly monitors everything between it and the ground. As the body and bike become more capable, the brain releases more power. I found myself going faster and faster, and setting up these big, round lines — even when (especially when!) bumps, roots and rocks were in the way.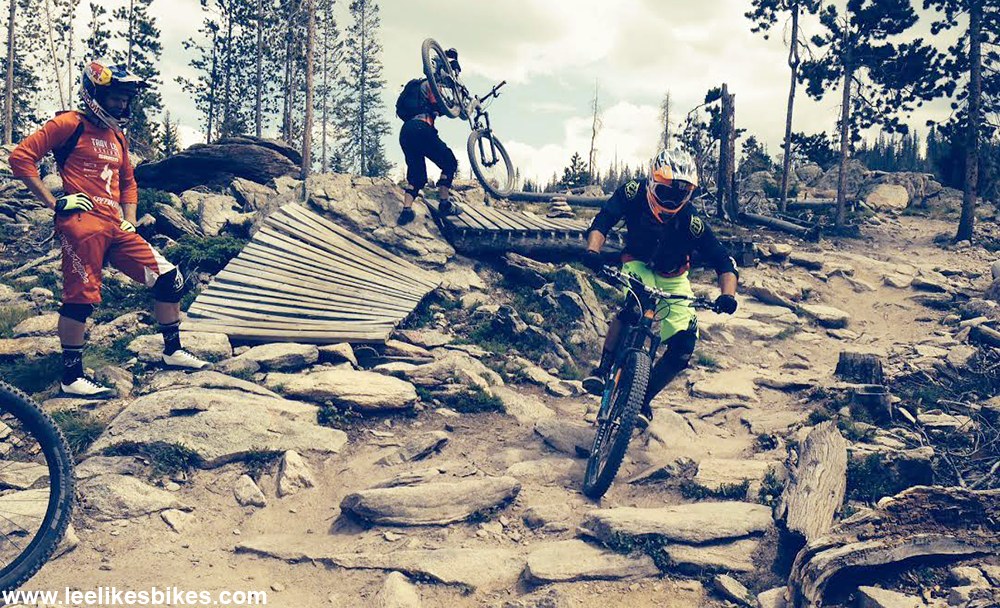 Carve a turn on some rocky gar? No problem. Check out this clinic with Curtis Keene.
Shoulders. Over the past few years I've ridden less and less DH and natural terrain. The random impacts really hurt my shoulders. When my shoulders are extra bad, a hard hit turns them off, and I just crumple on the bike. Sunday we did a full day with some aggressive riding in the rocks … and … my shoulders felt fine.
Later today I'm riding Hall Ranch in Lyons, CO. I'm excited to ride these rocks!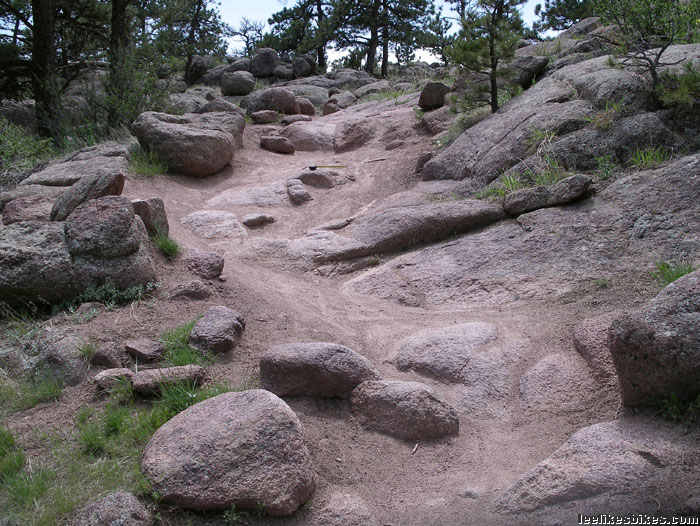 Lee
---
Know more. Have more fun!
Join the leelikesbikes mailing list:
---
https://www.leelikesbikes.com/wp-content/uploads/2018/08/leelikesbikeslogoheader.jpg
0
0
leelikesbikes
https://www.leelikesbikes.com/wp-content/uploads/2018/08/leelikesbikeslogoheader.jpg
leelikesbikes
2014-08-26 10:50:44
2014-08-26 11:35:29
Loving the 2015 FOX 36 RC2