Bracketing a 2015 FOX 36 RC2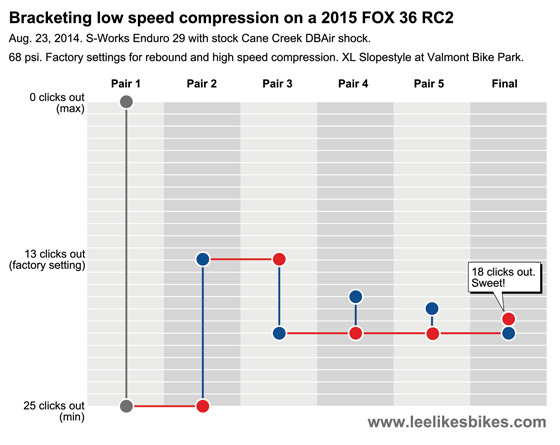 I am loving the new 36 from FOX. After just a few rides, I'm riding faster and more confidently, and my shoulders are holding up better than normal.
With a wide range of both low speed and high speed compression adjustment, the 36 RC2 is highly tunable. And it deserves to be tuned properly.
---
FOX sent me this fork. I've had a relationship with them for more than 10 years.
In the past I've either:
A) Fiddled randomly with settings and never been confident in my setup, or
B) Run factory settings.
Factory settings are a great standby. The people who design and spec our bikes are awfully smart.
The bike
2014 S-Works Enduro 29 with Shimano XT/XTR drivetrain, brakes and pedals. Gamut bash guard. Specialized Butcher Control tire in front, Slaughter GRID in back. Roval carbon wheels. This thing is a weapon.
The stock Cane Creek DBAir shock has factory settings, with a bit more low speed rebound to handle the extra air pressure I use. I know how Brandon Sloan at Specialized rides, and if this setup is good for him, it's great for me.
I have a full season on this machine. I feel super confident on it, and the Pike RCT3 fork always felt good (especially after DirtLabs gave it some love).
Tuning goal: A good all-around setting for bike park, trail and light DH.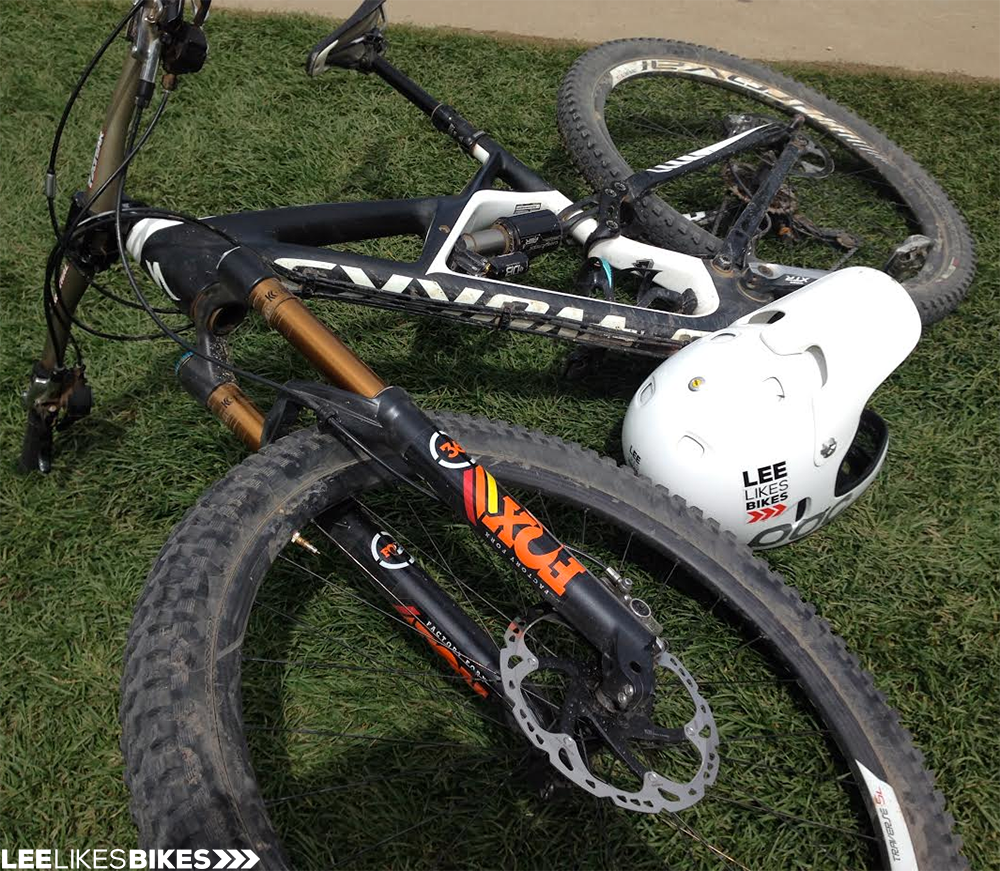 The 2015 36 RC2
From the FOX press release:
The model year 2015 36 fork offers rigidity and improved traction for all-mountain riding and enduro racing in a new lighter chassis. Also of note is its updated geometry, a new convertible thru-axle design that works both with 15mm and 20mm, a purpose-built RC2 damper, and a redesigned air spring system that equalizes rider weight for increased traction.
• Lighter: a half-pound weight savings over its predecessor (starting at 4.19lbs/1901g)
• 36-specific RC2 damper: a redesigned valve system provides better small bump compliance, reduced friction, better traction, and wider tuning range
• Redesigned air spring system: equalizes rider weight for increased traction
• Convertible thru-axle design: works with both 15mm and 20mm thru-axles
Bracketing
With the 36 at factory setting, it feels very smooth and controlled, but a fork like this deserves to set up carefully (especially if it shows up in the mail!).
The guys at FOX have always recommended bracketing their suspension settings. Check out this story (FOX ProPedal and suspension bracketing) and this diagram: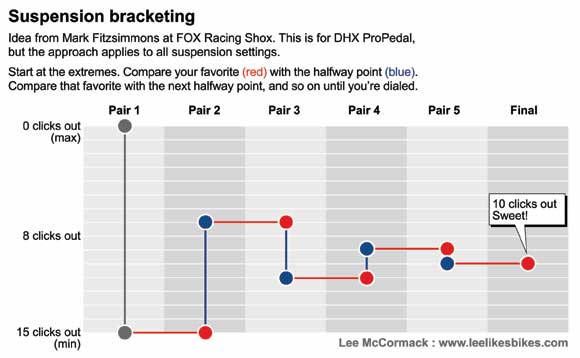 The XL Slopestyle line at Valmont Bike Park in Boulder, CO has six good sized jumps. It's a big sine wave of love and a perfect place to test low speed compression. I set the high speed compression at the factory setting, then started bracketing the low speed compression:
Run 1A: Least damping (25 clicks out from all the way in). Smooth! But way soft.
Run 1B: Most damping (0 clicks out from all the way in). WHOA! Huge pop and I'm way up here!
25 clicks felt better.
Run 2A: 25 clicks out. Super soft; I noticed the fork was "pushing through" the faces of the jumps. This was apparent because the rear was hanging up a bit and rocking the bike forward in the air. I adjusted subconsciously, but the effect was there. My friend Jim Dukes, an old moto enduro guy, could see it 100 yards away.
Run 2B: 13 clicks out. More poppy, but manageable.
13 clicks felt better.
About now I realized I was going to make the fork feel like the shock.
Run 3A: 19 clicks out. Feels good but still pushing a bit.
Run 3B: 13 clicks out. More poppy than the rear.
19 clicks felt better.
Run 4A: 19 clicks out. Awfully close.
Run 4A: 16 clicks out. Still a bit more poppy than the rear.
19 clicks felt better.
Run 5A: 19 clicks out. Still good.
Run 5B: 17 clicks out. Wow, this is getting subtle. Jim could see (and I could feel) the front end pushing through a bit.
19 clicks still felt better.
Run 6A: 19 clicks out. Still pushing a bit.
Run 6B: 18 clicks out. Balanced. Effortless.
Ok, 18 it is!
Lee Likes Infographics: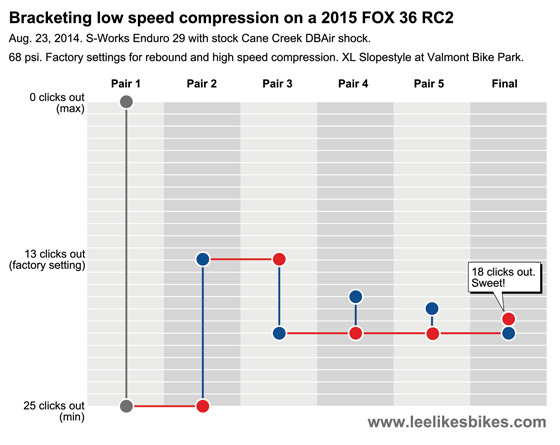 That's 12 runs on the same jump line, riding very consistently and paying close attention to the details.
The more I learn about suspension setup …
… the less I absolutely know. The fork and shock influence each other. If I change the rear end, I'll need to change the front, and vice versa.
For now I'm convinced the low speed compression is balanced front and rear. The fork felt fantastic at Winter Park. Next I'll bracket the high speed compression in some rocks.
Don't be afraid to turn the knobs. But be systematic about it.
Lee
Check out: Loving the 2015 FOX 35 RC2
---
Know more. Have more fun!
Join the leelikesbikes mailing list:
---
https://www.leelikesbikes.com/wp-content/uploads/2018/08/leelikesbikeslogoheader.jpg
0
0
leelikesbikes
https://www.leelikesbikes.com/wp-content/uploads/2018/08/leelikesbikeslogoheader.jpg
leelikesbikes
2014-08-26 09:40:23
2014-08-26 10:52:09
Bracketing a 2015 FOX 36 RC2