I want to be a bike coach: Should I go to college?
Hi Lee,
I am a big fan of yours, you're one of my role models within the World of Mountain Biking.
I write this email as a 17 year old from the UK trying to decide on a career path, I currently work as a lifeguard and I am in full time education. I love Sport and especially riding bikes with knobbly tyres on dirt.
Becoming a Mountain Biking coach interests me greatly as I would love to turn my passion into a career and help share my passion with other riders. I was hoping for some insight into the industry and advice as to how to break into it and become a coach.
Is it better to start part-time and go to University/ College as well, if so would a degree relating to Psychology and Sports coaching be beneficial? or completely commit and become fully qualified straight away? How does someone come about working for your coaching team? What qualifications or experience do you look for?
Any advice you can offer would be a huge help.
Kind regards
Alex
---
Alex!
Thanks for the kind words, and for the great question.
There's so much to say on this topic, but I'd rather keep it simple than let this die in my inbox, so basically:
Go to college?
If you don't have the interest, aptitude or money for college, don't go. Start developing your skills, your brand and your market. Rather than finishing 4+ years with debt, you can spend that time building your business.
If you can go to college, you will gain a broader knowledge base and have a backup plan. Also, you'll relate better to your clients, most of whom will be educated.
The more you know, the better. As a bike coach, you're teaching the mechanics of how people control their bikes, but that's only the beginning. An effective teacher pulls from psychology, physiology, anatomy, math, physics, life experience and on and on. The smarter, more rounded person you are, the more likely you can reach your clients with the cues they need (and everyone needs different cues!). BTW: You don't have to learn in college.
Very few people have the aptitude or disposition to be successful full-time, long-term bike skills instructors. In my opinion, very few "bike coaches" should be trusted with people's minds and bodies. I've seen plenty of them work, and I do it differently.
Becoming an LLB instructor
I and other LLB instructors have trained more than 2,000 U.S. high school coaches in the basics of the LLB Teaching Method, but there are only four certified LLB coaches including me. My standards are super high. We have to ensure safety and deliver the highest quality instruction on the planet.
There's lots more detail, but basically:
• Coach must demonstrate clean, consistent riding in the LLB style.
• Coach must demonstrate a mastery of the LLB teaching method.
• Coach must demonstrate the ability to teach the method. This separates good riders from good teachers.
• Coach must have the energy and fitness to run classes and lead a wide variety of riders on all sorts of terrain.
• Coach must demonstrate a plan and the ability to grow business in an open territory.
• Coach must be an extraordinary, ethical person who can connect with and teach all kinds of people.
• Coach and LLB have an exclusive partnership. Coach can only teach LLB clinics.
• LLB provides insurance and helps with permits.
• LLB handles promotion, registration and payment.
• When assisting a lead coach, Coach is paid $XX per hour.
• When fully certified and leading a session LLB set up, Coach is paid $YY per hour.
• When teaching a session the Coach set up, Coach gets XX% of the revenue.
Working as an LLB instructor is fun, rewarding and profitable, but it's also demanding and not for everyone. I am looking for A players with a rare combination of physical, mental and emotional abilities. Interested folks can email me at lee@leelikesbikes.com.
Other coaching programs don't require as much. That's fine for B players.
My path (so far)
When I finished high school at your age, I was sick of "wasting my time" and anxious to start "real life." I gave the commencement address with a gas station uniform under my cap and gown; I came straight from work — with grimy hands — to give the speech and collect my diploma!
I told my parents I didn't want to go to college. They said OK, here's the market value of your room, and I started paying rent. Meanwhile, I worked full time at the gas station, part time in construction, part time at a motorcycle shop and part time running a hot dog stand.
That was fun and gratifying, but even then I knew I was made for something else. At one point we were adding a second floor to an old house. My job, as the junior dirtbag, was to crawl under the house and dig a bunch of 3x3x3-foot holes to be filled with concrete to support the extra weight.
That day I learned:
• This is hard work!
• I am claustrophobic. I had a panic attack down there.
• College seems like a great idea!
So I went to college with a focus on journalism and learned infographics when that was a new, highly valued skill. After school I worked 10 years in the newspaper business peaking as an art director and winning a Pulitzer. After that I moved to a big Web company where I learned about interaction design, building massive info systems and working with a bunch of entitled geniuses.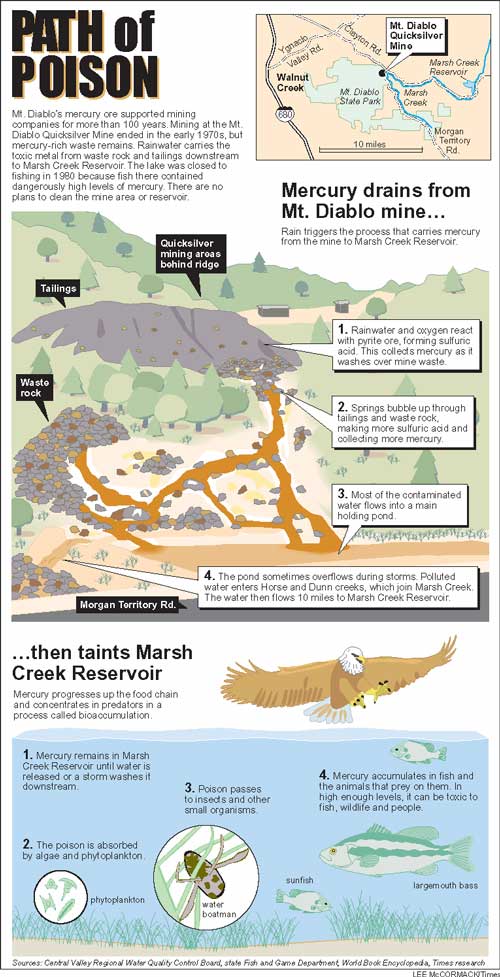 An award-winning infographic from almost 20 years ago. Wow, I'm getting older.
At the same time I was riding and racing bikes, with this nagging thought that some day I would write the definitive book on MTB technique. Finally, I was called to honor my fate (that story is here) — and I quit the six-figure job. Going to zero figures overnight and finally trying to do what I'd been talking about for years was incredibly stressful, but you know what? By the time I committed to writing the first Mastering Mountain Bike Skills book, I had all the skills I needed.
After that came teaching, and here we are. I humbly believe I am one of the most effective bicycle skills instructors in the world. That's because of my innate talents, flaws and experience — and because I work very hard.
This has been my path. Find yours — and rock it!
Lee
---
Know more. Have more fun!
Join the leelikesbikes mailing list:
---
https://www.leelikesbikes.com/wp-content/uploads/2018/08/leelikesbikeslogoheader.jpg
0
0
leelikesbikes
https://www.leelikesbikes.com/wp-content/uploads/2018/08/leelikesbikeslogoheader.jpg
leelikesbikes
2015-05-08 10:26:41
2015-05-08 10:44:48
I want to be a bike coach: Should I go to college?