I feel sketchy and I want better brakes!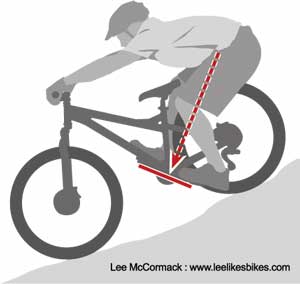 Hey Lee,
Before getting to the question, I just want to see you've got a great thing going here. It's a very helpful and informative site.
Okay, so I have a Specialized Hardrock Sport Disc with the standard Shimano 415 disc brakes. I've noticed that I need a bit more stopping power since I'm around 200 lbs and I ride in some very hilly terrain. I want to upgrade to Avid BB7 discs. I also wish to step up to a larger sized rotor. Many sites mention that its not recommended with XC forks and the rear triangle might not fit it. The BB7 rotors are availible in 160, 185, and 203 sizes. Which could I safely step up to (if at all)?
Ben
The more you click, the more I can post. Lee Likes Groceries dot com!
---
Hey Ben,
Thanks for the kind words. This probably isn't what you want to hear, but let me ask:
Are you out-riding your stock Shimano brakes? They're mechanical, so I know you're not frying your oil. Do they fade? Are the rotors warping to the side then turning blue? Or do you just feel out of control? Are you sketchy on steep sections? Are you blowing turns?
Can you see where I'm going with this? Even at 200 pounds, chances are your technique isn't anywhere near the capabilities of your brakes.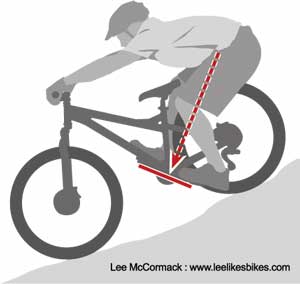 Imagine a dotted line driving from your belly button to your bottom bracket. BB to BB. … Hey, do I look fat in this infographic?
– You could make 8″ rotors fit with the right adapters, but your fork isn't made to handle a bigger rotor, and it would be silly to run a bigger rotor in the rear.
– The Avid BB7 is also mechanical. I doubt its performance is measurably better than the Shimano. If you do upgrade, step up to something hydraulic. I'm running the new Hayes Stroker on my Enduro SL– very nice.
– Hone your braking technique. 1. Squeeze both levers gradually. 2. Shift your weight down and back so the force drives into your bottom bracket (this is the key — your hands should remain weightless). 3. Squeeze hard to stop that beast. 4. Gradually release the levers and resume attack position.
Start with technique. From there comes confidence. If you still want a brake upgrade, step up to hydraulics.
It helps to say braaap!
https://www.leelikesbikes.com/wp-content/uploads/2018/08/leelikesbikeslogoheader.jpg
0
0
leelikesbikes
https://www.leelikesbikes.com/wp-content/uploads/2018/08/leelikesbikeslogoheader.jpg
leelikesbikes
2007-07-31 15:43:00
2009-03-24 16:42:07
I feel sketchy and I want better brakes!