2007 MSC#5 – Full Tilt in Telluride
Everyone enjoyed beautiful weather and a fun DH course, but timing problems left a yucky aftertaste.
The more you click, the more I can post. Lee Likes Groceries dot com!
---
Downhill
Dude, this course is fun! It has the perfect combo of flow and gnarl. I didn't race, but I did about 20 coaching/practice runs in various conditions: full-on slop, tacky mud and fast hardpack. Three very different experiences — all fun.
Borrowing heavily from last year's report
Snowmass is manly — superfast and rough — but Telluride is somehow even manlier. The speeds aren't as high, but the open turns were trickier and the tree sections shook the sense out of everyone who had any. Mother Nature's Track Maintenance Co. watered the course every night. Each morning, riders spread the slop like a pastry chef icing a cake.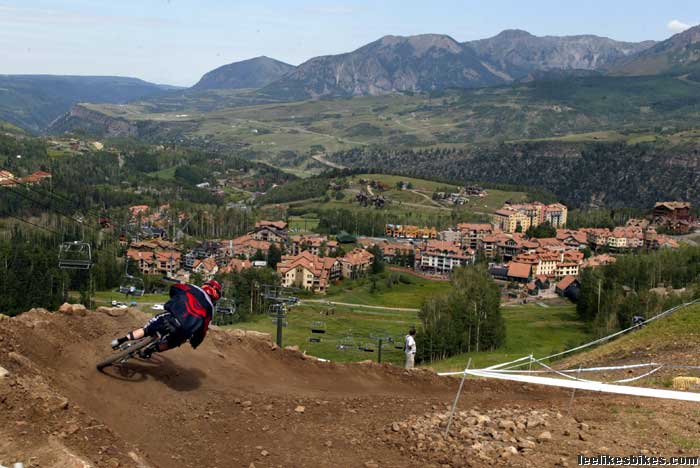 The amazing berm after the drop. Shot last year.
1. Finesse a set of open turns
2. Boost a little double
3. Deeply rutted open turns
4. Short woods section
5. Open left-right then into the forest
6. Three log drops, a chicane then a kicker across the road
7. Wooden bridge into apocalyptic woods
8. Hard left to a huge road gap or a rough off camber
9. Right to set up for "The Big Drop"
10. Full-speed berm to brand-new sidehill action. Rock, root, rock, root, crazy left switchback, drop below the lift.
11. Wide open turns to 60-foot booter to hard left and the finish. Braaap!
| | | | |
| --- | --- | --- | --- |
| Zach Griffith works the top turns like the champ he is. These photos are from last year. | The Triple Log Drop of Love. | Make a hard left out of the woods and braaaaaaaap! | Young Joey Schusler squashes "The Big Drop," which is neither big nor, technically, a drop. |
Dave Camp rocked pro men in 2:13.6. Ross Milan was just 0.3 seconds back. Kain Leonard in third, Steve Wentz in fourth. Go Steve! Jackie Harmony won pro women by 18 seconds.
Tick tock …
Despite promises that the timing company would have their stuff together for this event, we waited too many hours for race results. At first post, we had missing riders, Jr. Beginners running pro times, fast-looking riders taking an hour to get down the hill, etc. The results were torn down, and we waited. Tick tock.
You've taken your family to Telluride for the weekend. You live in Denver, and you have to work in the morning. Your 11-year-old had a great run. He's spazzing out waiting for his chance to stand on the podium. What do you do? Boy raced at 10:30. It's now 6. Tick tock.
As a freelancer, I see every minute as a dollar figure. Waiting out the delay late on a Sunday afternoon, eight hours from Metro Denver, watching professionals stress out and cancel the next day's appointments, got me running a tally:
– Freelance writer: $100 per hour
– Therapist: $150 per hour
– Emergency room doctor: $350 per hour
– Marketing consultant: $500 per hour
– Cardiothoracic surgeon: $1,000 per hour
– And so on …
That's a lot of dollar signs, not to mention lost sleep and perturbed spouses.
It's all about the benefit/cost ratio. When you pay for a service (in money, time, energy, emotion), you should expect a commensurate benefit. From best to worst: backyard pump track, local trail riding, BMX races, Keith Darner's spring races, MSCs, Nationals.
When racers and families decide whether to travel to MSC events, they're beginning to factor in the cost of delays — and that cost might tip the ratio too far in the wrong direction.
I would hate to see that happen. The MSC crew — Mike, Chris, Nate, Craig — are great guys who love the sport and provide a wonderful service. In order to keep his customers, Mike has to make some tough decisions. I'm sure he'll do what needs to be done.
Disappoint me once, shame on you. Disappoint me twice, shame on me.
Super D
This long one combined the top of the DH course, a muddy hike-a-bike and lots of pinner XC trail. There was a high-speed collision in Open Men; forearm laid open, the price of mass-start gravity racing.
Mike West did what he does, which is stomp Open Men. His 14:52 beat No. 2 Brian Laiho by over a minute. Sheesh. I'm not saying Mike's domination is caused by his Maverick ML-8, but there seems to be a correlation. Caroline Jarolimek, a very strong alpine skier turned bike racer, rolled a 19:13 to beat Jackie Harmony by 20 seconds.
Ultra-endurance stud Doug Schuler rocked 19-29 men. My arch enemy Zach White won 30+ men. Our friend Jill Behlen look Jr. women. Sadhu Low owned Jr. men. Two places back was a young man named Ryder Overend, son of some guy named Ned.
https://www.leelikesbikes.com/wp-content/uploads/2018/08/leelikesbikeslogoheader.jpg
0
0
leelikesbikes
https://www.leelikesbikes.com/wp-content/uploads/2018/08/leelikesbikeslogoheader.jpg
leelikesbikes
2007-07-31 14:33:34
2007-07-31 14:44:15
2007 MSC#5 – Full Tilt in Telluride