MSC#6 – Full Tilt In Telluride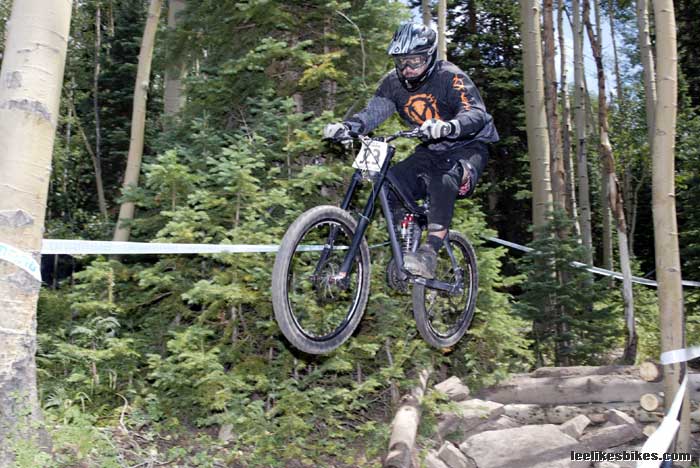 Telluride is a decent place to visit, if you like huge mountains and sweet trails. Oh, and well-run races.

The vibe
This was the Mountain States Cup at its best. The scenery was stunning. The characters came out in force. The promoters and timers brought their A-game. Evening rains kept the dust down. And the humanity — oh, the humanity!
We were all on the lookout for Tom Cruise and his baby, but no luck there.
Downhill
Snowmass was manly — superfast and rough — but Telluride was somehow even manlier. The speeds weren't as high, but the open turns were trickier and the tree sections shook the sense out of everyone who had any. Mother Nature's Track Maintenance Co. watered the course every night. Each morning, riders spread the slop like a pastry chef icing a cake. The resulting ruts and bumps were edible but unforgiving.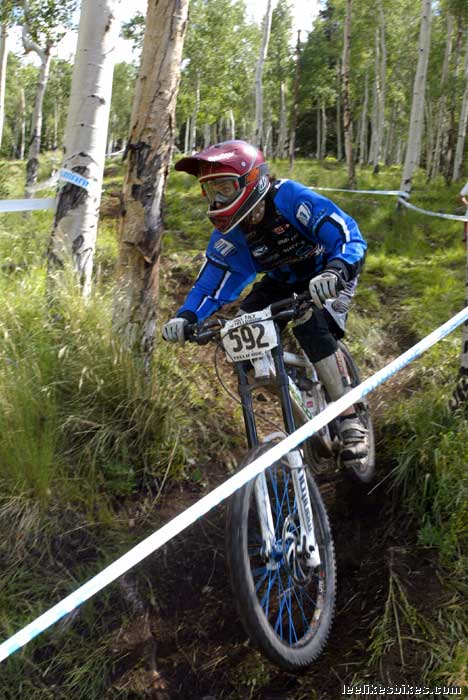 Lisa.
Basically:
1. Finesse a set of open turns
2. Boost a little double
3. Deeply rutted open turns
4. Short woods section
5. Open left-right then into the forest
6. Three log drops, a chicane then a kicker across the road
7. Wooden bridge into apocalyptic woods
8. Hard left to a huge road gap or a rough off camber
9. Right to set up for "The Big Drop" (which is rollable)
10. Full-speed berm to sidehill to drop-in
11. Wide open turns to 60-foot booter to hard left and the finish
| | | | |
| --- | --- | --- | --- |
| Zach Griffith works the top turns like the champ he is. | Troy Cooperman comes from BMX, and he's making VetEx a tough class. The Triple Log Drop of Love. | Make a hard left out of the woods and braaaaaaaap! | Young Joey Schusler squashes "The Big Drop," which is neither big nor, technically, a drop. |
In pro men, Nate Hills rolled a 2:14.68 to beat Kain Leonard by 0.2 seconds. Nate lives right next to Keystone, and he speeds down race courses like most of us eat corn chips. Lisa Myklak rocked a 2:32.24 in pro women, besting Wendy "The Desert Pixie" Reynolds by 17 seconds. Lisa got really hurt last year, but in the off season she found something, and that something seems to be working.
Madison Bailey ripped the top off of Jr. Beginner 13-14 in 2:56.18. Dylan Patterson was six seconds back; now that he's stood on the podium, it's on like Donkey Kong!
Free DH clinic
Friday morning I put on a free clinic for beginner downhillers. We had about 12 riders of all ages and both genders. We spend some time on body position, then we rolled the course looking for good lines. After beginner practice, the sheep lines were all TERRIBLE — we found the wolf lines.
I look forward to the Keystone dual slalom clinic.
Super D
This was the season's most DH-friendly Super D.
1. It ran Saturday afternoon instead of Sunday morning.
2. Only two short climbs.
3. Long, sweet, semi-technical singletrack descents.
4. Ariel Lindsley and Mike West weren't there. (They were in Downieville, where they finished 3rd and 20th.)
| | | | |
| --- | --- | --- | --- |
| Ryan Cranston leads Cole Bangert to the bottom. | Lisa Myklak has been doing her homework, and that means she can get it done any day. | Ben Gager: "Dude, I'm the laziest person in the world." | Alex Clark, owner of The Fix, had the toughest Super D ever. 1. A bee stung his lip on his way to the start. 2. Someone stepped on and destroyed his shifter. |
Pro XCer Lyn Franklin killed Open Women, but Lisa Myklak charged hard on her tail. Ryan Cranston led Open Men to the final flat section, then Cole Bangert attacked and chalked one up for Morewood Bikes. This was Bangert and Myklak's first Super D experience, and they were stoked. Steve Wentz came down last with a flat rear tire, but he was pinning the bottom S-turns as fast as anyone. Jill Behlen and Carolynn Grigsby showed Jr. Women who's boss.
McRibs
Friday was a big day. It started with 9 a.m. beginner DH practice with The Fix dudes, then the free DH clinic, then two hours with the Kona kids, then pro DH practice, then Super D practice. By 6 p.m. I was running on fumes and adrenaline. Wentz and I rocked the Super D course hard — until I flatted. I cruised the rest of the run: pretty fast but not paying close attention — bad combo.
Right near the bottom, my front tire crept over a berm. I corrected, re-corrected then knifed. My chest slammed the bars and pop went some ribs. Such a bummer — and so painful! No riding for this guy, at least for a while.
The Legion of Doom
I've been helping lots of people with their riding technique, and everyone rode well in the downhill. Highlights: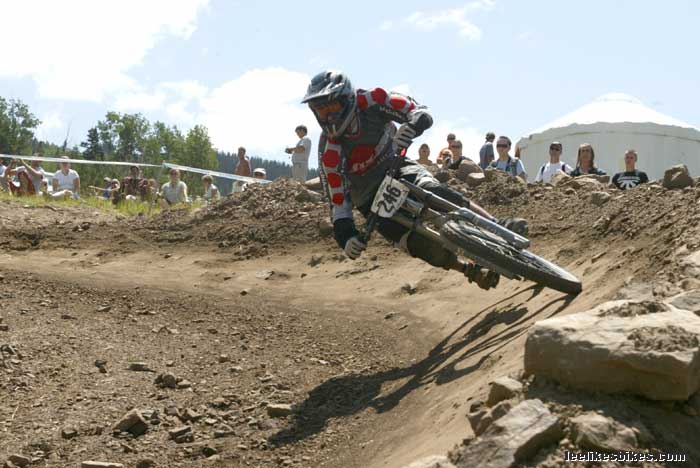 Neil borrowed my Demo 8, and he made it work just fine.
Dave Badger – 1st expert 25-29
Madison Bailey – 1st Jr. beginner 13-14
Ben Gager – 6th Jr. sport
Zach Griffith – 3rd semipro
Neil Grigsby – 23rd Jr. expert
Jerry Harcek – 9th expert 30-39
Yosei Ikeda – 18th Jr. sport
Zach Johnson – 10th Jr. beginner 13-14
Dylan Patterson – 2nd Jr. beginner 13-14
Matt Ripley – 18th Jr. beginner 15-18
Nick Simcik – 5th expert 19-24
Grant Shoemaker – 3rd expert 30-39
Joey Shusler – 2nd Jr. expert
Clay Watson – 6th sport 30-39
Addison Williams – 1st Jr. beginner 15-18
Kendall Williams – 17th Jr. beginner 15-18
https://www.leelikesbikes.com/wp-content/uploads/2018/08/leelikesbikeslogoheader.jpg
0
0
leelikesbikes
https://www.leelikesbikes.com/wp-content/uploads/2018/08/leelikesbikeslogoheader.jpg
leelikesbikes
2006-07-31 17:47:45
2006-07-31 19:37:44
MSC#6 – Full Tilt In Telluride