Four days of Awesome in Peoria, IL

I had no idea mountain biking in the Midwest is so big — and excellent.
Just returned from four days of teaching and riding in Peoria, IL. Thoughts:
---
IL MTB is rad!
Some of you know this, of course, but it was news to me. Wow: Lots of trail networks with deep woods and arboreal flow. We worked at Farmdale Reservoir, which has turny trails, an "IL DH" and a jump/drop zone. What a fun spot — and it's only one of several in the area. Check out other Peoria trails at www.pambamtb.org.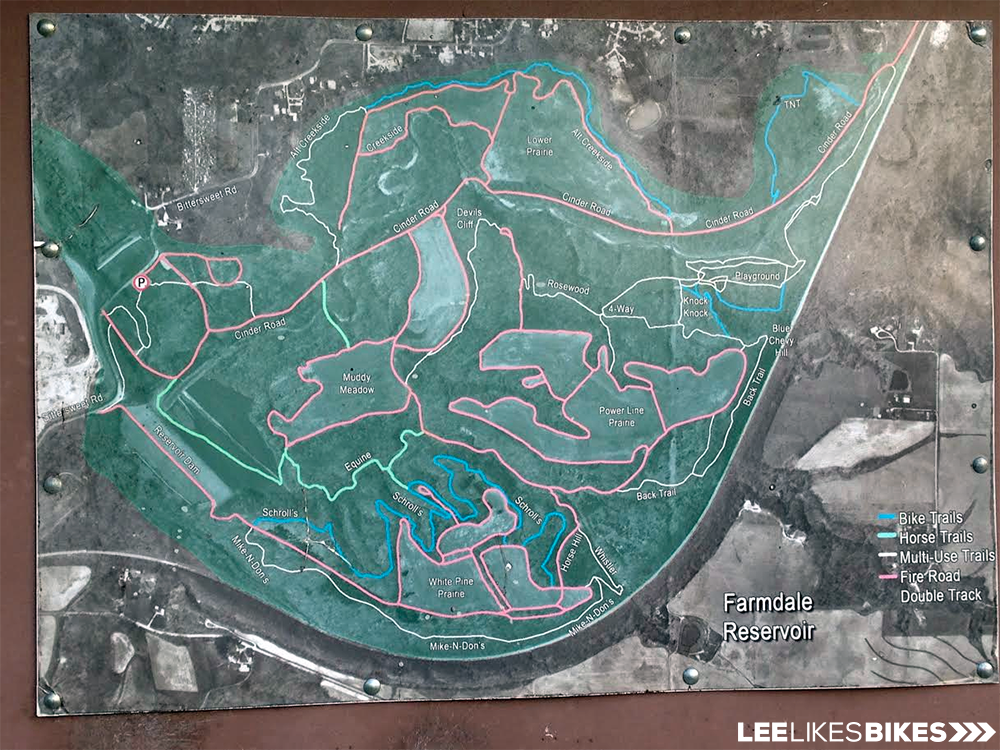 Farmdale is a tangle of flow — and it's easy to get lost.
Lots of nice people!
Mountain bikers tend to be cool, and this was a powerful mix of good folks.
Specialized is crushing it out here
Most riders were on Specializeds, and most of them rode Epics. The short travel, quick geometry and fore/aft pumping platforms make the Epic a sharp knife in these woods.
My Camber worked well, and it let me attack the "IL DH" a bit harder. If I lived here I'd run faster tires (Specialized FastTraks were very popular) and narrower bars. …
Wide downhill bars in tight woods …
… not ideal. My Shimano PRO Athtertons are 29 inches wide. Judging from which knuckles are bloody, I think my maximum usable width is 27 inches.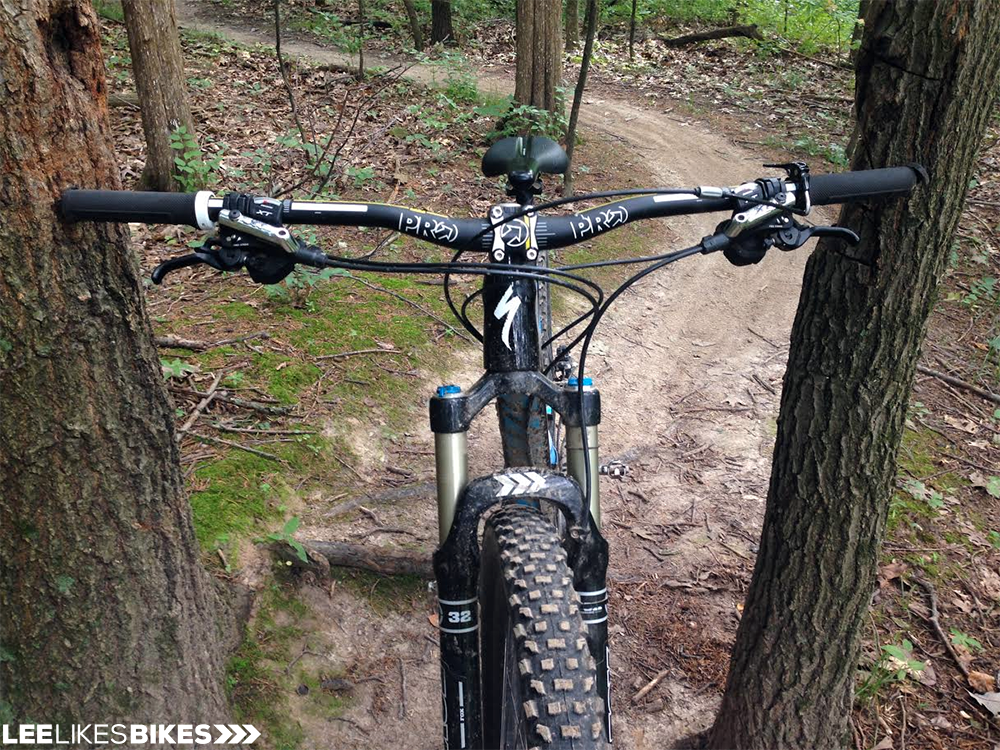 I was either paying attention to the trees and riding poorly or forgetting about the trees and punching them.
PAMBA is the heart and soul of Peoria mountain biking
This sentiment was expressed by quite a few riders. I've donated some money to the Peoria Area Mountain Bike Association; maybe they can add a pump track to Farmdale's skills area. I know a guy who can help.
Learn about PAMBA and shredding in Peoria, IL: www.pambamtb.org
Their kung fu is good!
In four days, 24 riders dramatically improved their skills and confidence.
Matthew Jarrett of the Friday crew posted a very nice report: cyclesinlife.com/lee-mccormack-skills-clinic.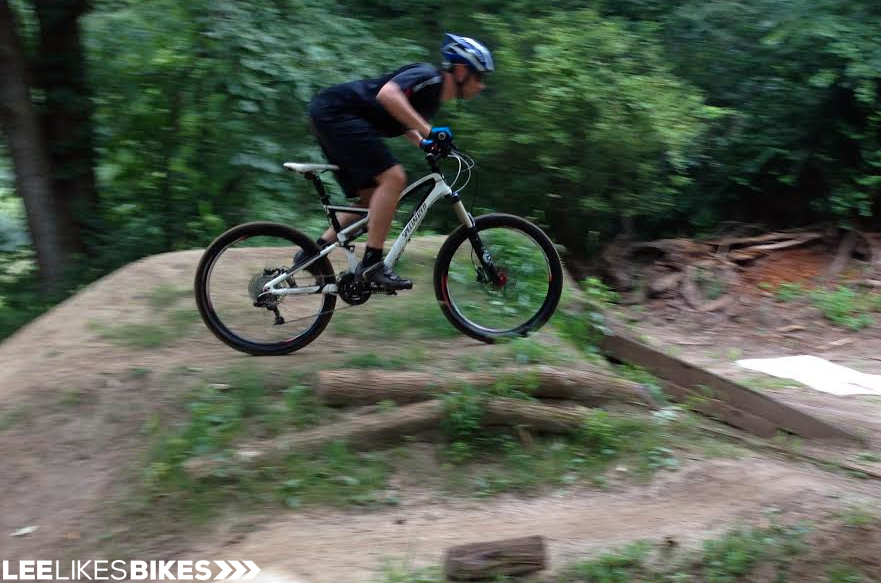 Working the bumps in the Farmdale skills area.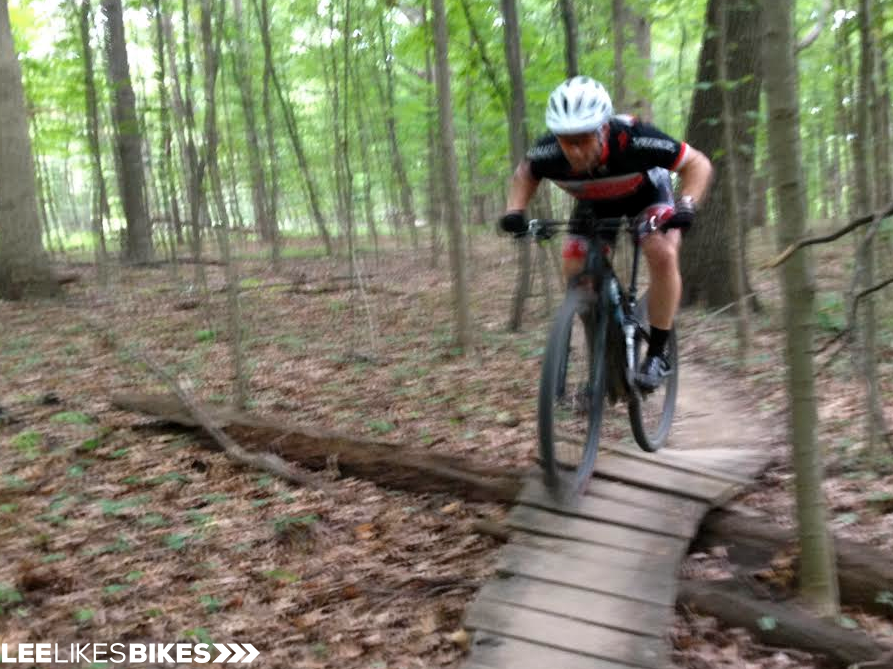 Tom applies kung fu on Schrolls Trail.

Matt flies. Check out his report: cyclesinlife.com/lee-mccormack-skills-clinic
I'll be back
If all goes well, I'll return this fall. Chicago, Bloomington, where else? Email me is you want me of one of the other LLB coaches to make your life even radder.
Have fun out there,
Lee
---
Know more. Have more fun!
Join the leelikesbikes mailing list:
---
https://www.leelikesbikes.com/wp-content/uploads/2018/08/leelikesbikeslogoheader.jpg
0
0
leelikesbikes
https://www.leelikesbikes.com/wp-content/uploads/2018/08/leelikesbikeslogoheader.jpg
leelikesbikes
2014-08-22 10:15:57
2014-08-22 10:15:57
Four days of Awesome in Peoria, IL