Flat Pedals vs. Clipless, Which is "Safer"
Lee,
I recently volunteered to coach a MTB XC team, and the head coach is requiring all riders to be using clipless pedals by the start of the race season as he feels that it is "safer." His thought is that by being clipped in, a rider will not be bounced off the pedals when he/she hits a bump or rock. This concept is being pushed by the league as well.

I have been using clipless pedals since 1998, so I decided to experiment by riding with pegged flats and skateboard shoes to see how dangerous it felt. Surprisingly it actually feels a lot more stable. Climbing is obviously more difficult as its' harder to spin, but I have not had any trouble getting bounced off the pedals. Out of curiosity, have you seen any studies on this issue, or do you have an opinion? If not, no worries.
thanks,
Tom Boardman
Berkeley, California
The more you click, the more I can post. Lee Likes Groceries dot com!
---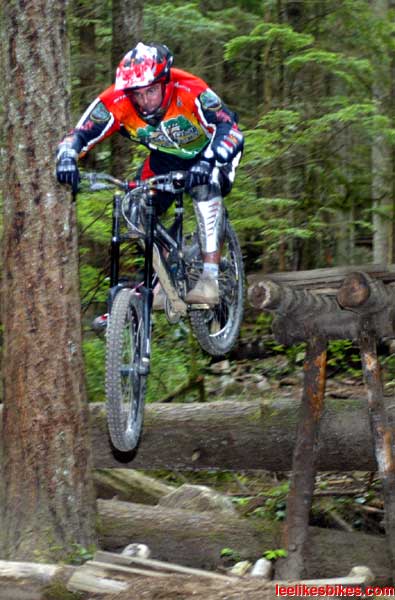 I always clip in for DH, but I ran flats on the North Shore. With all that funny business going on, I wanted to know I could hop off any time.
Hi Tom.
Studies? Ha! You're confusing us with a real sport. But that's the sort of thing I hope to study for my MTB PhD.
I would not say clip-in pedals are safer than flat pedals. It all depends on your riding experience and comfort level.
Beginners: Flats are definitely safer. They're easier to get onto and off of, which creates greater confidence, which lets riders flow more easily. Mountain biking has so many variables: If a person is worrying about his/her feet, that takes away from everything else. At this level, confidence is the key enabler of fun (and safety).
Intermediates: It depends what kind of rider you are. For stiff-legged folks, clip-ins are indeed safer; many XC riders aren't supple enough to stay in contact with flats. For more graceful riders, flats afford all the control, with easier bail-out.
Advanced: It's all about style. Once you dial in your kung fu, run whichever you prefer. All XC racers run clip-ins; gravity racers are about 50/50.
In my book, 99% of riders are beginner to intermediate. You're not advanced until you can porpoise through rock gardens, jump smoothly, drop gracefully and all that. The key differentiator is pump — are you working with the terrain, or are you still fighting it? Clip-ins let you fight terrain and stay on your bike; not so with flats.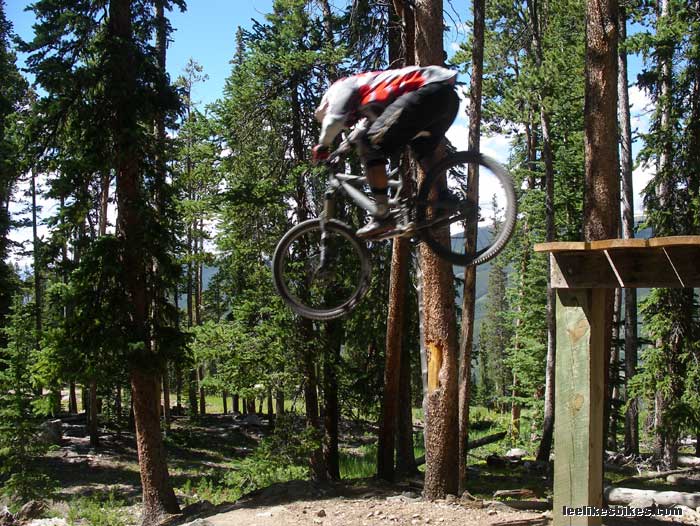 When I'm confident, clip-in pedals give me greater control and finesse than flats. But I had to learn to rip with flats before I could rip clipped in.
If I was running a youth development program (which I do), I would teach everyone to ride on flats. This creates a more fluid connection with the ground, and a more stable connection to the bike. Once that's dialed, XC riders should definitely clip in.
Here it is: Letting your athletes ride stiffly and improperly — relying on clip-in pedals to stay on their bikes — is unsafe. It gives them a false sense of ability, and it invites them to get into situations they can't handle. Teach them to ride well, and make them practice clean technique.
Rock,
— Lee
https://www.leelikesbikes.com/wp-content/uploads/2018/08/leelikesbikeslogoheader.jpg
0
0
leelikesbikes
https://www.leelikesbikes.com/wp-content/uploads/2018/08/leelikesbikeslogoheader.jpg
leelikesbikes
2007-01-16 16:23:20
2007-01-16 16:26:02
Flat Pedals vs. Clipless, Which is "Safer"