Masters training: Enduro/hare scrambles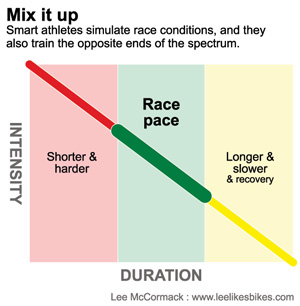 My friend Jason Smith is a 40-something high-level moto hare scramble/enduro racer. Last year he placed 3rd in his class in the national series, and he's an invitee at the Red Bull Last Man Standing. He works 40-50 hours per week and commutes 100 miles per day, and he has a family. This man is busy — here's how he trains to succeed in his sport.

The more you click, the more I can post. Lee Likes Groceries dot com!
---
The key to smart training is to mix it up — especially for older athletes with limited recovery and time. You want to ride shorter and faster than your event, longer and slower than your event and — of course — simulate your event. The rest of your training should be base fitness and recovery. This applies to any sport.
Hare scrambles and enduros combine natural trails, motocross tracks and manmade obstacles. The races usually last about two hours.
Here's Jason's routine:
Shorter and faster: Each Thursday he rides outdoor motocross or indoor mini moto. This is short and intense, and it hones MX-style skills.
Race simulation: Each Saturday he rides trail for 2.5 to 3 hours. He uses a digital timer to stay on his "hot lap" average time. "I have a 10-mile loop nearby. I do 5-6 laps and try to stay close to my 22:15 hot lap speed."
Longer and slower: Each Sunday he does a 3-4 hour group trail ride. This combines endurance, passing, fun and technical skill. "We are all pretty fast, and we ride all day working on line selection and passing each other at speed. I usually try crazy line selection or anything that is nessesary to get by my buddies simulating real race environment. I also walk sections with my group and break down which passing lines worked best on different sections and which did not work. We walk technical sections and all discuss lines we each used."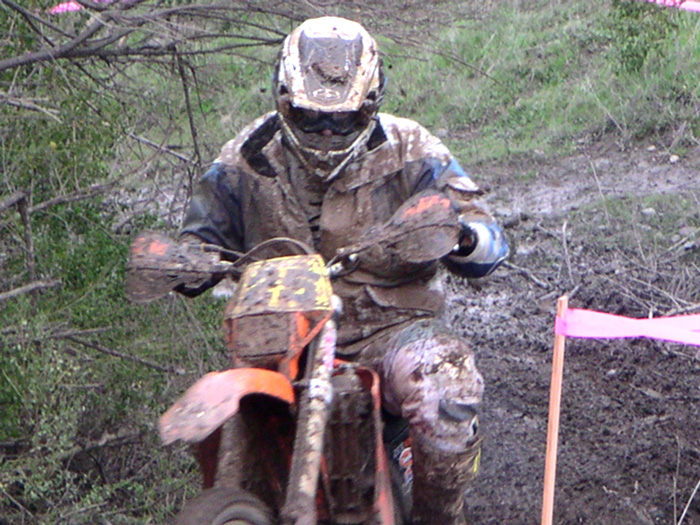 If you race in mud, be sure to train in mud.
Fitness and recovery: Two days a week he rides his stationary trainer for 45 minutes.
No weights: "If I had more time I'd rather do another day in the saddle. Besides, swinging a 250lb moto around is a pretty good workout. Most of the trail ride days are very demanding; you have to pull the bike out of ditches, bushes and over log piles."
To sum it up: Jason rides five days a week. Three moto days — one shorter, one longer and one the same as his events. Two "easy" days on a stationary trainer. Two rest days. That sounds perfect.
Says Jason, "If you can make it to one of our events I promise it will be unlike anything you have ever done. It is like a NORBA National with 2hrs of elbow-banging action. Hollister national is absolute must."
https://www.leelikesbikes.com/wp-content/uploads/2018/08/leelikesbikeslogoheader.jpg
0
0
leelikesbikes
https://www.leelikesbikes.com/wp-content/uploads/2018/08/leelikesbikeslogoheader.jpg
leelikesbikes
2007-01-14 12:35:07
2007-01-15 17:26:33
Masters training: Enduro/hare scrambles