Flat pedals and rim tape (unrelated)
A recent coaching client, an ultra XC racer, just got back from Diablo Mountain Bike Park with his son. He came back with questions:
Hi Lee,
Took my son to Diablo last weekend to race GS. Since we were going to be there all day I decided to ride (07 enduro sl), I was affraid to clip in so I rode flats.
My question is how do you keep your feet on the pedals? If i tried to push off the face of a jump i would come off the pedals and land on the saddle, also trying to pedal through rougher sections my feet would slip on the pedals (kona Jackshit) and have my feet in a wierd position. I can bunny hop on flats, however, that doesn't seem to translate.
Another question: My son got a set of Azonic Outlaws, they came without rim tape, is there anything special that i need to do? Does the tape just need to cover the holes or does it need to go from wall to wall? Is there a special tape that I should use?
Thanks for the help as always,
Jim
---
Jim!
Hey man, glad to hear you're rocking the "big" bike. I ride the same machine for several years. Awesome.
Staying on flat pedals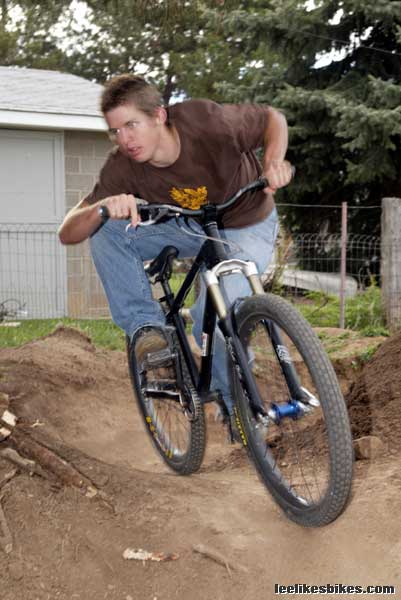 Very few riders are as flowy (or fast) as Elliott Hoover. He always rocks flats.
To stay on flat pedals, your feet have to move with the bike, which means your feet are moving with the terrain. That's a great idea with any pedals, and it's why flat riders tend to be smoother than clipped in riders.
If you lose your feet on jumps, your legs are probably too stiff.
If you lose your feet on rough terrain, your legs are probably too stiff.
Ask yourself: What is the terrain doing? What is my bike doing?
Make sure your feet are doing the same thing.
More on this topic:
Pedals: Flats vs. clips for goofing off
Flat pedals vs. clips: Looking for data
What is this pedaling circles?
Rim tape
Ideally, the tape will go from wall to wall. Any edges, ridges or imperfections could eventually wear through the tube.
Rim tape comes in various widths. This isn't pro, but I typically use a few layers of duct tape, which can be torn in any width.
Have fun out there,
— Lee
---
Know more. Have more fun!
Join the leelikesbikes mailing list:
---
https://www.leelikesbikes.com/wp-content/uploads/2018/08/leelikesbikeslogoheader.jpg
0
0
leelikesbikes
https://www.leelikesbikes.com/wp-content/uploads/2018/08/leelikesbikeslogoheader.jpg
leelikesbikes
2010-08-15 21:02:25
2010-08-15 21:02:25
Flat pedals and rim tape (unrelated)