Hi Lee,
My name is Juscelino, I´m from Brazil. I hide a lot gnarly and steep sections with a lot of rockgardens, I love long rides (4-7h), mainly singletracks more technical betters. 🙂
Well, today I´m riding a stumpy fsr carbom pro 2011, I´ve had a lot of problems with my fork, it went 3 times to warranty and no resolution until now. This year I´ll go to EUA to a meeting, and I´m planning to buy a new bike, I´m thinkin in a Enduro Sworks 2012 or a SJ FSR Sworks 29er, what do you recomend? My riddings are all just for pleasure, I´m not in races.
best regards,
Juscelino
---
Hey Juscelino,
I've been considering the same question.
Ordinarily the distinction between the Enduro and Stumpjumper is pretty clear:
• Enduro is a mini DH bike that can be climbed pretty well.
• Stumpjumper FSR is more of an all-around trail bike that rips both up and down.
A strong, skilled rider can rip on either bike. Your choice comes down to your terrain and style: How gnarly are the trails relative to your skill? How important is efficiency over the long ride? Do you attack or survive climbs? Do you attack or survive descents?
For me, the Stumpy 26 is enough bike for almost any trail ride. I treat my Enduro like a mini DH bike; it only comes out for the gnarliest adventures — usually when the other riders are rocking DH bikes. But I'm an older, somewhat skilled and rather careful rider.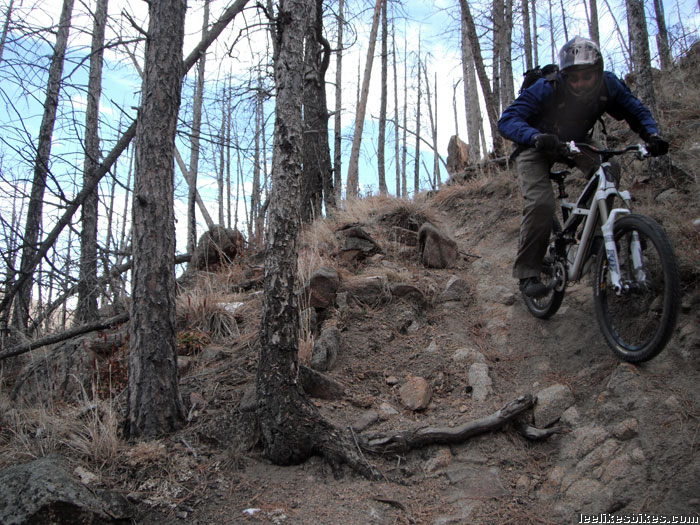 I suppose I could ride this trail on the Stumpy 26, but I was glad to have the Enduro-with-Fox-36's slackness and stiffness. When the snow melts, I'll try the Red Trails on the Stumpy 29.
When you slap 29-inch wheels onto the Stumpy, that changes things. The Stumpy 29 has less travel than the Stumpy 26, but the wheels do a lot of work to smoothen and stabilize the ride. Relative to a Stumpy 26, a Stumpy 29 is going to feel like it has longer travel.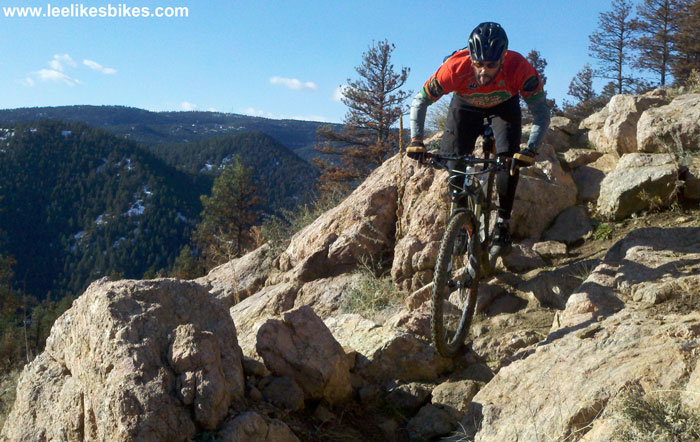 Testing a Stumpy 29 Comp at Brain shocks are incredible.

My Stumpy 29 is going to be all business: carbon frame, carbon wheels, XTR crankset, XTR Shadow Plus rear derailleur, XTR Trail brakes, Fox RP23 shock and a Fox 34 fork (huge thanks to the folks at Specialized, Shimano and Fox!). The resulting bike should be really fun on normal trails — and it should rip the gnar too. I can't wait to find out.

Braaap!

Lee

BTW: At a Specialized dealer in Steamboat Springs, CO, they call the Stumpy 29 "The Enduro Killer."
---
Know more. Have more fun!
Join the leelikesbikes mailing list:
---
https://www.leelikesbikes.com/wp-content/uploads/2018/08/leelikesbikeslogoheader.jpg
0
0
leelikesbikes
https://www.leelikesbikes.com/wp-content/uploads/2018/08/leelikesbikeslogoheader.jpg
leelikesbikes
2012-03-02 16:18:27
2012-03-02 17:15:01
Enduro 26 or Stumpy 29?
29ROCKS! – Cedric Gracia on the big wheels
Sprinting with clips