Hey Lee,
I'd been riding Specialized Chunders and Maxxis Minions on my freeride bike and absolutely love the DH/freeride treads for their cornering and braking/driving strength. However, due to some financial issues, I've recently had to switch back to my hardtail with Specialized Resolution tires. Since the switch, I've been more shaky in the
corners and more prone to skidding while braking. Would it be feasible to mount some beefier tires on a hardtail? Or should I just learn to ride the Resolutions (and save the $$ for the next big bike)?
Thank you,
Matt
P.S. Congrats on the twins!
Hey Matt,
Thoughts:
– A hardtail will always be sketchier than a freeride bike. But it'll also be quicker and more nimble. They are different animals. Celebrate your hardtail's hardtailness!
– Skidding while braking? That sounds like a technique issue that was masked by long-travel suspension and sticky tires. Read: I feel sketchy and want better brakes
– Yes, you can rock some beefier tires. Your hardtail will probably fit 2.3s.
– Burlier tires will make your bike stickier and more forgiving, but: 1) They won't change the fact it's a hardtail and 2) They won't completely mask poor technique.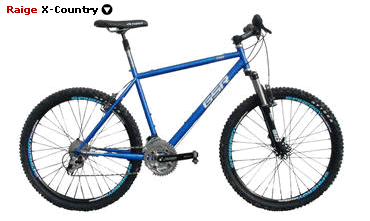 After several years of too-serious DH racing (and a major concussion), my GSR Raige reconnected me with the love of riding. GSR downhill bikes were way ahead of their time. www.gsrbikes.com
– Back in the day, I ran Tioga Factory DH tires on my ultra-light, ultra-sweet 2000 GSR Raige steel hardtail. I was coming off a Foes Weasel (6″ f/r), and the bigger meats helped me ride the hardtail with more confidence. I had no idea back then, but I was a technically awful rider.
– These days, I spend a lot of time on a P.bike, and, while I've experimented with every tire you can imagine, I keep coming back to XC trail tires. Their lightness and quickness match the characteristics of the bike. And, as long as I'm smart and smooth, they provide all the traction I need. The Resolution is a darn good all-around tire.
In summary:
– If burlier tires give you confidence, then I say rock 'em. Rather than going full DH, consider more of an all mountain tire like an Eskar. I rock Eskar 2.3 Controls on my Stumpy, and they have a great combo of speed/traction/durability.
– Whichever tires you rock, get in tune with that hardtail. Appreciate, celebrate and Rock it's sublime hardtailness. When you get your next big bike, you'll be that much better.
Braaap!
— Lee
PS: Thanks re: the Twins. They are making their mom sick! And not sick as in, "dude, that was siiiiiiick!!!" More like, dude my wife is sick. Hopefully it'll pass soon.
---
Know more. Have more fun!
Join the leelikesbikes mailing list:
---
https://www.leelikesbikes.com/wp-content/uploads/2018/08/leelikesbikeslogoheader.jpg
0
0
leelikesbikes
https://www.leelikesbikes.com/wp-content/uploads/2018/08/leelikesbikeslogoheader.jpg
leelikesbikes
2009-03-24 09:14:56
2009-03-24 09:14:56
DH tires on a hardtail?