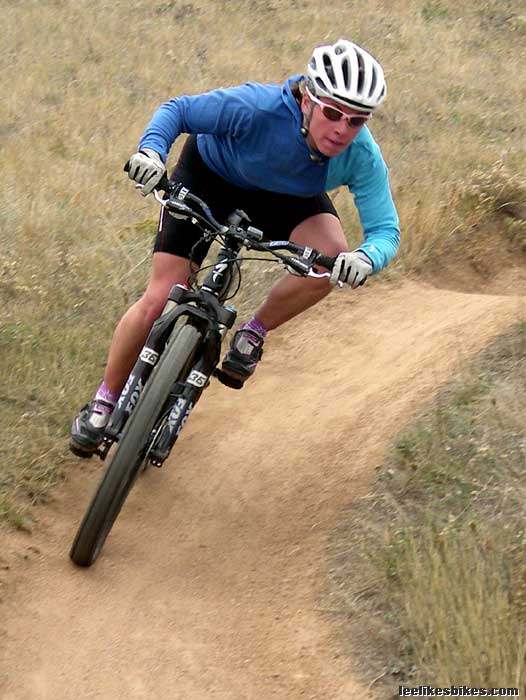 Hi Lee, I'd like to start off by saying that if it wasn't for your book and your website, I'd still be sitting in my saddle pedalling as fast as I can running over every rock in sight. Thanks to you I now understand the concept of pumping and am a better rider for it.
I do have a very basic question that has nothing to do with riding techniques or suspension setup I hope you'd spend the time to answer.
What is the purpose of wearing long sleeved race jerseys when you're riding an XC type trail? I see a bunch of guys riding around in them at the local XC trail and I wonder if there are any benefits over my cotton t-shirt. Is this just an aesthetics thing or is there actually some functional benefit that I'm not aware of?
Dexter
Hey Dexter,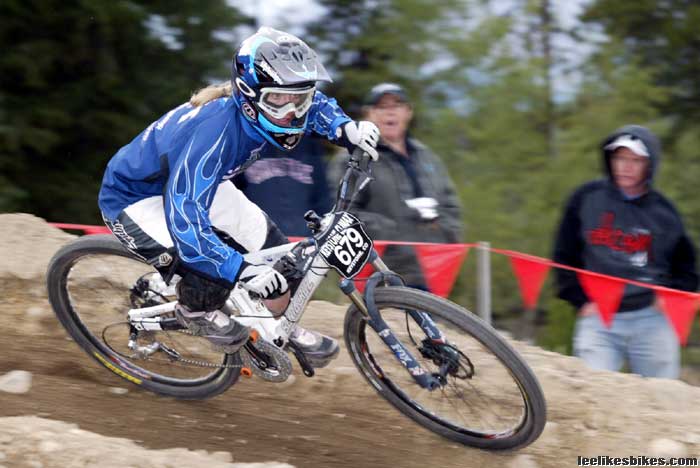 Race kit looks … racy. How racy should you look on a mixed use trail? Bobbi Watt models her race kit in the appropriate place.
Cotton kills
That's the adage, probably created by the synthetic fiber industry. When you sweat, cotton holds the moisture close to your body. In hot weather, this can make you feel yucky. In cold weather, it can make you feel extra cold; in very cold weather, I suppose it could help kill you.
Advantages of synthetic materials
I spend part of each winter writing marketing copy for apparel companies like Pearl Izumi and Descente. Our material keeps you cool and dry. Ours keeps you dry and cool. Ours keeps you not hot, and — at the same time! — not wet.
Basically, the nicer materials pull sweat away from your skin to the outside of the garment, where the moisture evaporates. This is called "wicking." Wicking garments theoretically keep you warmer in winter and cooler in summer.
Synthetic materials also tend to move more easily and chafe less than cotton.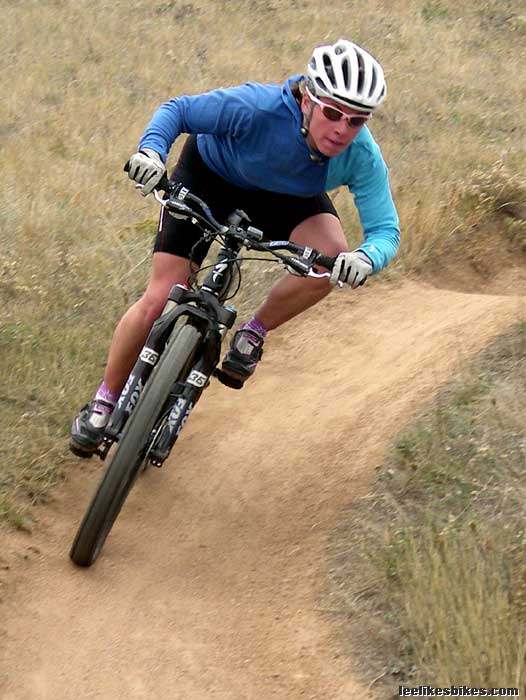 Bobbi showcases the long sleeves, this time for warm, casual style.
As for me
While I do most of my practical riding in cotton t-shirts, I rock XC jerseys for longer rides and when I want the pockets. I also like synthetic t-shirts for long days of coaching. I feel less sweaty and more comfortable.
I very rarely wear long-sleeve DH jerseys. 1) If I'm riding DH I'm wearing armor, and long sleeves are extra hot. 2) I like the pockets in an XC jersey.
Also: For the fast couple years I've been rocking synthetic underwear. It chafes less than cotton, and it dries quickly after I ride. When I run errands on the bike or coach all day, that is key.
Long sleeve DH jerseys for XC riding
I dunno man.
– Quality synthetic materials can make you more comfortable on long/hot/cold rides.
– Long sleeves make sense when it's cold out.
– Sponsor jerseys make your sponsors happy. Your own logos promote your business or team.
– Bold graphics and logos from companies with which you have no relationship — I don't get it.
– Rocking DH kit on an XC ride for no practical purpose — that sounds pretty silly.
If you're comfy in cotton, rock it. Just watch out for blizzards.
— Lee
---
Know more. Have more fun!
Join the leelikesbikes mailing list:
---
https://www.leelikesbikes.com/wp-content/uploads/2018/08/leelikesbikeslogoheader.jpg
0
0
leelikesbikes
https://www.leelikesbikes.com/wp-content/uploads/2018/08/leelikesbikeslogoheader.jpg
leelikesbikes
2009-04-07 13:40:20
2009-04-07 13:42:09
Cotton kills. Right?