A pump track in every basement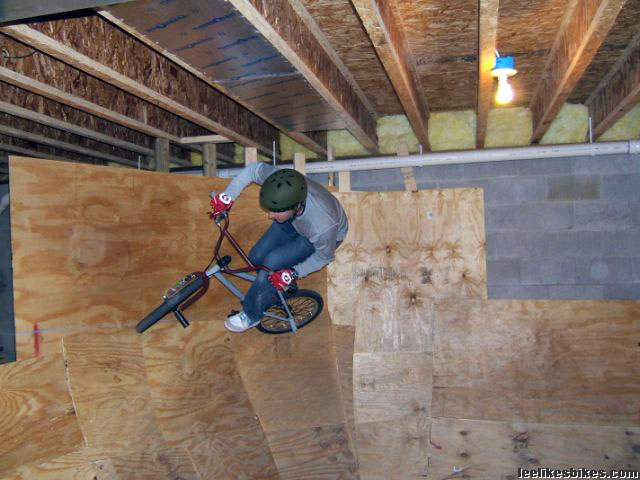 When the snow just won't go away, and you need some pump, what do you do? You go underground!
This just in from Jonathan, a coaching client and a Devout Disciple of Pump.
— — —
Hi Lee,
Congratulations on the twins! I hope your wife gets through the "all day sickness" real soon. I hope you are doing well.
We still have snow in the woods and are expected to get 2-4 inches tonight. Some creative and resourceful friends solved the problem of where to ride when there is snow on the ground – BUILD A PUMP TRACK IN THE BASEMENT!
It is fun and definite proof that you don't need much space. The corners aren't perfect radii, but it still works!
Here's a description: Two rollers lead into a large banked 90 degree left, pump out of that into a big bowled 190+ degree left, head into a tight low 100+ degree right berm, pump one roller and go into a medium bowled 180 degree left, and you are back to the two rollers.
It's tight for sure, and 20″ bikes work best, but I'm more comfortable on my Sovereign and I was holding my own. Low attack position is by necessity so you don't take your head off on the beams. 🙂
Here are a few pics. The creator/owner is Levi Kyser. The rider is Zach Beery.
Regards!
Jonathan
PS: I smile every time I see the picture/vid of you pumping the esses at The Fix. I learned so much in those two days with you. I have dramatically improved my cornering/pumping abilities!
— — —
Hey Jonathan,
Thanks for your note and these awesome photos. Pump Track Nation. Pump Track Basement!
The Wife is sick as we speak. She has a box of Saltines and a 6-pack of ginger ale by the bed. We all hope she feels better soon. I better build my pump track before The Twins arrive.
Publish globally. Ride locally.
— Lee
---
Know more. Have more fun!
Join the leelikesbikes mailing list:
---
https://www.leelikesbikes.com/wp-content/uploads/2018/08/leelikesbikeslogoheader.jpg
0
0
leelikesbikes
https://www.leelikesbikes.com/wp-content/uploads/2018/08/leelikesbikeslogoheader.jpg
leelikesbikes
2009-04-06 19:36:37
2009-04-06 19:36:37
A pump track in every basement