Cornering: Drilling the basics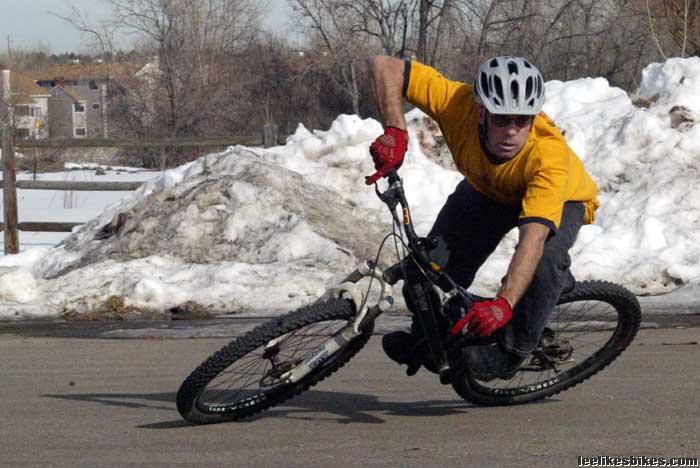 With our trails covered in snow and the 2007 season looming, pro rider Lisa Myklak and I have been working on the essentials.
The more you click, the more I can post. Lee Likes Groceries dot com!
---
Last year Lisa won the U.S. Open, and she was the NORBA's overall top-ranked pro female downhiller. Lisa was already very fast, and I predict she'll be even faster this year. Why? Because she will dramatically improve her basic skills.
You've read this here already, but the cornering essentials are:
1. Low – The lower you are, the farther you can lean your bike.
2. Look – All the way to the next turn.
3. Lean – The more you lean, the tighter and faster you can corner.
4. Turn – Pivot your hips where you want to go.
Most of us — no matter how good we are — don't do these enough. It pays to drill and exaggerate until they become automatic.
Lisa is quite low, and she's leaning her bike a lot. This doesn't feel natural at first — You gotta get used to a wider range of motion. You don't need it for every turn, but if you can't do it in a parking lot you can't do it at DH Worlds.
Inside arm straight. Outside elbow up. Loose grip.
My goal for Lisa: To make her comfortable in a wider range of motion. This will expand her power and precision for MSC, NORBA and World Cup downhills.
My goal for me: This year, to let it roll. To have confidence in my skills and fitness, and rock the way I know I can.
Parking lots drills serve their purpose, but it's time for me to let if flow on dirt.
UPDATE:
Lisa finished 2007 2nd in the National series. Pretty sweet.
https://www.leelikesbikes.com/wp-content/uploads/2018/08/leelikesbikeslogoheader.jpg
0
0
leelikesbikes
https://www.leelikesbikes.com/wp-content/uploads/2018/08/leelikesbikeslogoheader.jpg
leelikesbikes
2007-03-03 00:09:33
2008-11-24 11:14:42
Cornering: Drilling the basics