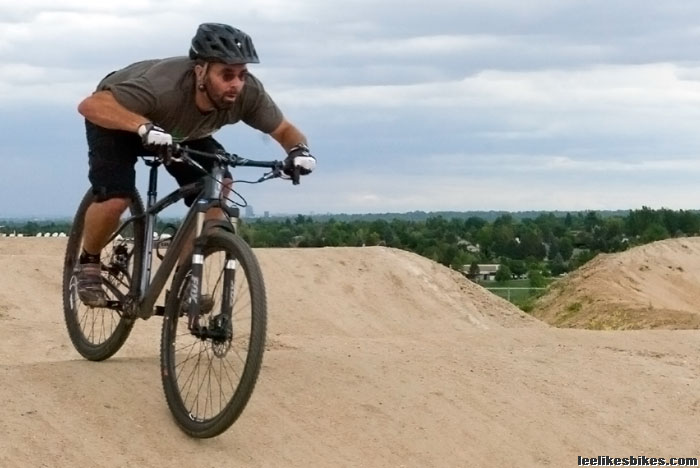 Lee,
Have you given any thought to a 29er version of Captain America? How do you think a do-it-all bike with 29er wheels would go for occasional pump and jump?
Thanks, Ben from Melbourne, Australia
---
Ben!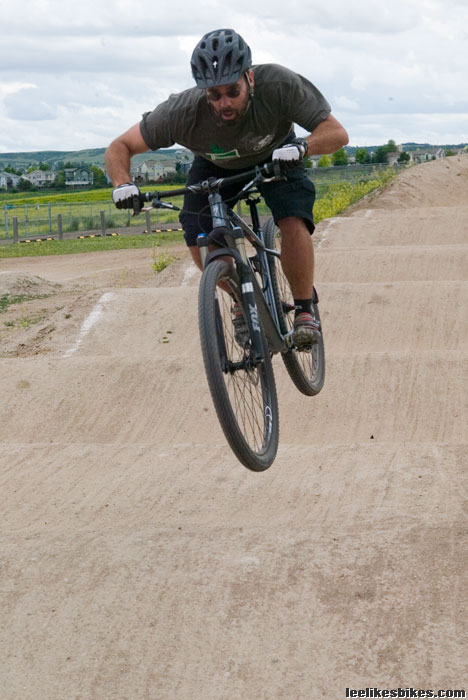 Rallying a bone-stock Stumpjumper 29 SS at a BMX track. The stem and seatpost were awfully long — and the 29s weren't as snappy as 26es, 24s or 20s — but the big wheels erased small mistakes and kept the speed rolling.
Yes, that thought has crossed my mind. Especially now that I've swallowed the 29er red pill. If all goes well, I will soon be riding a Stumpjumper FSR 29 Expert Carbon frame with a Fox 34 fork. I'm seeing a Sea Otter DS win on this bad boy.
OK, back to business:
Captain America has proved to be fun, versatile and a great teaching vehicle. He's a high-end Stumpjumper HT 26 frame built with DJ components: Fox 831 fork, Answer DH stem/bars, Gamut chain guide, Sun Charger Pro wheels, Answer or Point One Racing flat pedals and an adjustable seatpost.
The Captain is optimized for pump/jump/teaching with occasional trail.
If you want a do-it-all bike like Captain America, but you want to optimize for trail with occasional pump/jump, definitely go for 29-inch wheels.
Trail: As we all know, the big wheels make a hardtail way smoother/easier on rough terrain. This is especially noticeable if you're running a stiff pumpy/jumpy fork.
Pump/jump: I'm telling you, 29ers pump and jump just fine. Especially if the rollers and jumps have longer phases, and especially if you're not trying to win pump track worlds.
The Stumpjumper 29 SS I tested in 2010 would be rally-ready with a few tweaks.
Lots of companies make burlier/slacker 29er trail hardtails. As a fine example, check out the Transition TransAm29.
Braaap!
Lee
---
Know more. Have more fun!
Join the leelikesbikes mailing list:
---
https://www.leelikesbikes.com/wp-content/uploads/2018/08/leelikesbikeslogoheader.jpg
0
0
leelikesbikes
https://www.leelikesbikes.com/wp-content/uploads/2018/08/leelikesbikeslogoheader.jpg
leelikesbikes
2012-01-22 10:47:59
2012-01-22 11:07:55
Captain America 29er?