Day 1: Specialized Stumpjumper 29 SS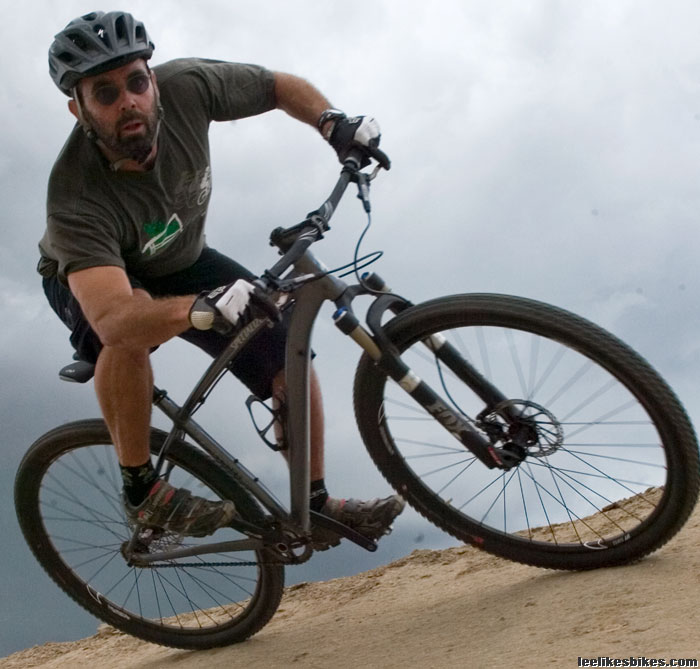 I'm trying a high-end singlespeed 29er hardtail. Today I got a little XC ride and a short BMX session. So far so fun.
Bike: Fully stock 2010 Stumpjumper 29 SS. M5 frame, Fox F29RL 90mm fork, S-Works Fast Trak LK 29×2.0 tires, 90mm adjustable stem at its lowest -16 degrees setting. 22 pounds out of the box. $2400 retail.
Source: This mighty steed was loaned to me by Specialized rep, tough guy and riding bro Jason Emmanuel. He built it up from the box, rolled it around his neighborhood then handed it to me. Heck of a guy. Thanks man.
Why would I be rocking a bike like this? 1) I've been thinking about getting away from the p.bike in favor of a longer, livelier, more versatile XC-oriented machine. 2) I have some clinics coming up with elite XC types, and I like to teach on the same equipment the clients are riding. (It's silly to rail some crazy line on an Enduro or Stumpy then ask a hardtail client to follow.) I asked Jason if he had anything I could borrow, and here she is!
Ride 1: XC
On the way to my Friday meeting I hit the Chimney Gulch trail in Golden.
Climbing was what you'd expect. The bike is light, stiff and responsive. The gear was a bit too much for me in places, but a little oomph kept the train a rollin'. The mellow sections felt super quiet, super tight, super sweet. I can get used to this.
29er note: The bike climbed small logs and rocks very easily. I credit that to the big wheels.
Descending was super fun. I took the rougher lines on purpose, and the bike skimmed like a well thrown stone. Cornering felt good. Pumping felt good. Sprinting felt instantaneous. This trail is so smooth and crowded I rocked the descent in the same time as on the Enduro and Stumpy.
Memorable moment: Pumping and manualing a fast water bar section then trail braking into a blind, off camber corner. Tires sliding on marbles, releasing the brakes, leaning the bike and — braaap — perfect hookup and a new direction.
The adjustable stem feels too low for the high seat. A shorter stem would probably feel awesome.
Ride 2: BMX
After the meeting we did a quick sesh at County Line BMX. I lowered the seat as far as it would go (not very far). Otherwise the bike is in stock XC form.
We've all heard 29ers are excellent trail weapons. How will this monster fare on the BMX track?
Thanks to Robyn Markland for shooting photos.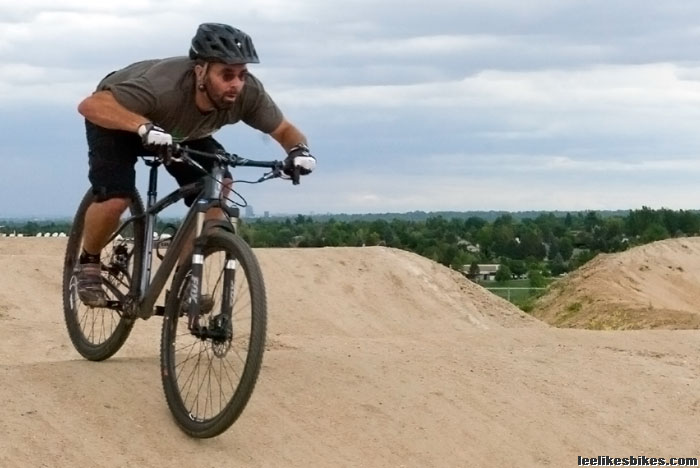 Pumping isn't as snappy as with smaller wheels, but the bigger wheels provide greater error margin. The seat was in the way.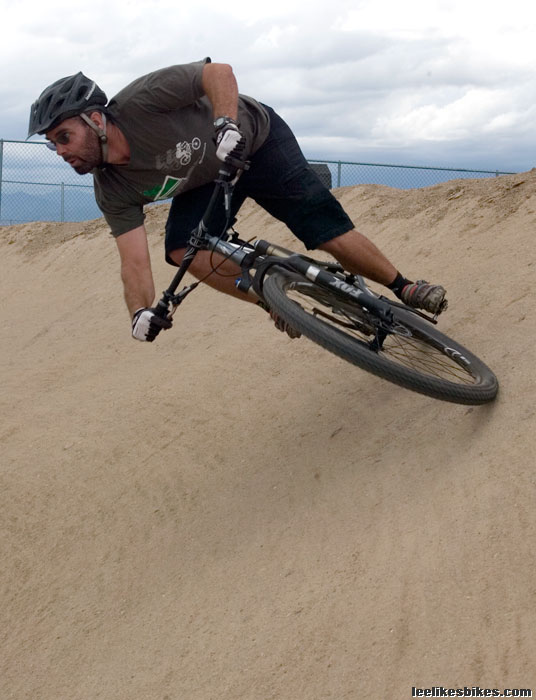 Turning is always fun. I've heard that 29ers won't corner, but I don't know about that.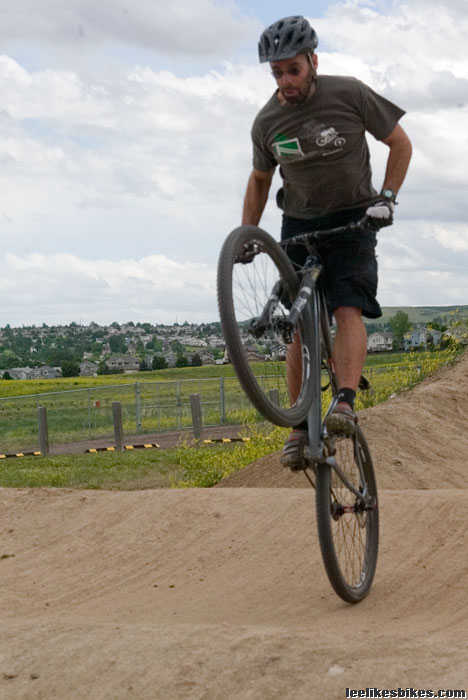 Manuals were surprisingly easy. I don't feel like the bike held me back at all (but check out the full commitment). Hmm, that challenges a bunch of my beliefs about stem and chainstay length.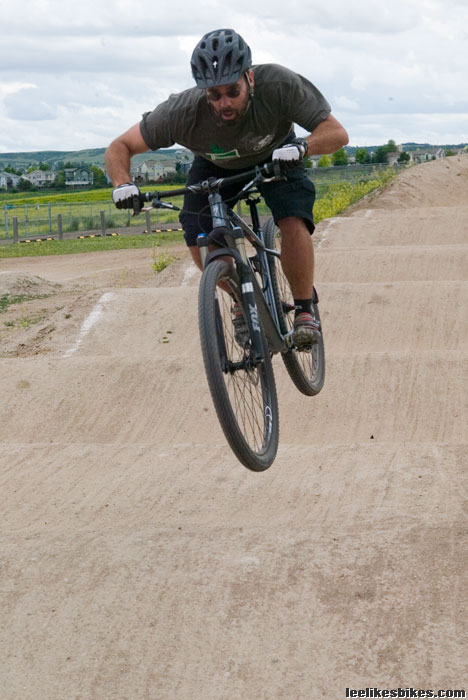 Jumping felt great. I've heard all kinds of hocus pocus about how 29ers don't jump well, but I don't know about that. This bike had a fun springiness on the lips, and it flew just fine.
Tomorrow: If this rain lets up I'll be rocking the P.Stumpy at tomorrow's Lyons Outdoor Games. I might even race it in the pump track comp. I'll try to keep the bike fully stock, but don't be surprised if you see a shorter stem.
Stay tuned.
— Lee
---
Know more. Have more fun!
Join the leelikesbikes mailing list:
---
https://www.leelikesbikes.com/wp-content/uploads/2018/08/leelikesbikeslogoheader.jpg
0
0
leelikesbikes
https://www.leelikesbikes.com/wp-content/uploads/2018/08/leelikesbikeslogoheader.jpg
leelikesbikes
2010-06-11 18:25:08
2012-03-01 09:45:20
Day 1: Specialized Stumpjumper 29 SS