Bottoming out with a Fox DHX 5.0 shock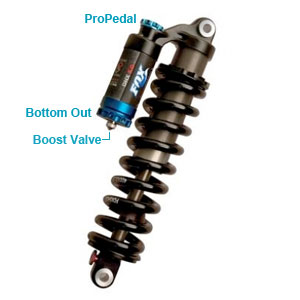 Hello, I have a question for you.
I own an Ironhorse Sunday with a Fox DHX 5.0 shock. It feels right when I'm on the bike, but for example if I'm in the parking lot and I do a bunny hop and then when landing I push down applying some force I can reach the shock bottom out bumper.
I'm running it too soft, hard, or its normal? (My sag is correct.)
Sorry if my english isn't very correct.
Thanks, Manuel
---
¡Hola Manuel!
Your inglés is a lot more correct than my español.
A Fox DHX 5.0 shock is very tunable. So tunable that it's easy for normal people to screw up. In addition to standard preload and rebound adjustments, that shock has adjustments for Boost Valve pressure, Bottom Out and ProPedal. And guess what? Those adjustments are related:
• Changing the Bottom Out changes Boost Valve pressure, which changes ProPedal.
• Changing the Boost Valve pressure changes the Bottom Out and ProPedal.
When you change Bottom Out or Boost Valve, you have to check the other. And you should probably re-check the ProPedal too.
This shock is designed to work very well for all sorts of bikes, riders, riding styles and conditions. This adjustability can be tricky for a normal person to deal with.
The best thing to do, frankly, is follow the setup guide that came with your bike. Or leave it stock. Or get a solid recommendation from someone you trust.* Or send your shock to a qualified tuner then remove all the knobs. Like I said, it's easy for normal people to make this awesome shock ride poorly.
Let's keep this as simple as possible: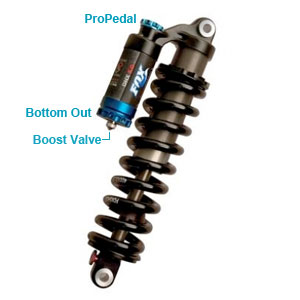 Fox DHX 5.0
I think your shock is too linear and you need to add bottom-out resistance.
• Make sure your sag is correct. You say that's done.
• Check your Boost Valve pressure. Write down the number. Make sure it's within the range printed on the shock.
• Check the position of your Bottom Out. It has three full turns of adjustment. Count how many turns it is in (clockwise) from all the way out (counterclockwise). Write down the number. Let's say it's one turn in.
• Turn the Bottom Out in halfway between your current setting and all the way in. In this case, that would be two turns in. Check and adjust the Boost Valve pressure.
• Ride the bike. Make further adjustments as needed. Remember to check your Boost Valve and ProPedal whenever you change your Bottom Out. It would not hurt to double-check your rebound too.
Try suspension bracketing:
When Mark Fitzsimmons at Fox Racing Shox sets up pros' bikes, he frequently uses a technique called bracketing. It's like getting an eye exam. Start at the extremes and work your way systematically to your ideal setting.
Read all about it: Fox ProPedal and suspension bracketing
I won't even tell you to play with your Boost Valve pressure. That will also affect the progressiveness of your shock. To keep it easy: Leave it where you have it, or put it in the middle of the range printed on the shock.
Good luck!
Lee
*Speaking of recommendations from someone you trust: When I got my 2010 Fox 36 Float RC2, I started messing with the settings: air pressure, low speed compression, high speed compression … You know, I like to think I'm smart. The fork got worse and worse, and I got increasingly lost and frustrated. I finally called my buddy Jim at Fox, and he told me the stock settings. They work great!
---
Know more. Have more fun!
Join the leelikesbikes mailing list:
---
https://www.leelikesbikes.com/wp-content/uploads/2018/08/leelikesbikeslogoheader.jpg
0
0
leelikesbikes
https://www.leelikesbikes.com/wp-content/uploads/2018/08/leelikesbikeslogoheader.jpg
leelikesbikes
2011-10-11 14:18:15
2011-10-11 14:20:36
Bottoming out with a Fox DHX 5.0 shock