First ride: Specialized Butcher 2.3 Control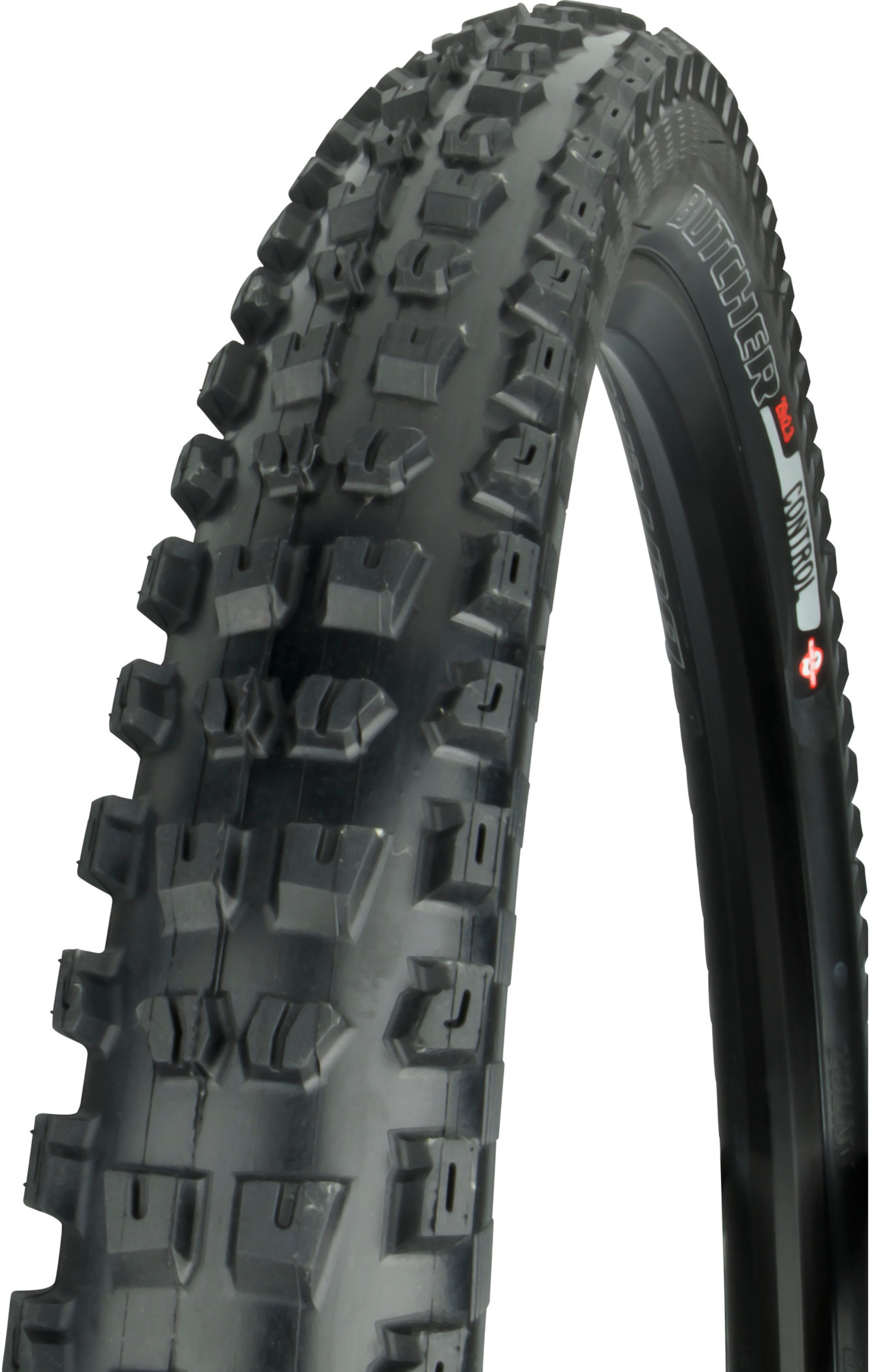 This just in: New 2.3 Butcher Controls tested out on steep Front Range home trails — deliver quick feel, good grip and extra braaap.
---
2.3 Butcher Control specs
• Casing: 420/D1 for 15% improved cut resistance
• Bead: Foldable
• Butyl wrapped bead = 2Bliss Ready
• Compound: 50a
• 26″ x 2.3; psi 35-65; approx. weight 730g
Setup
• Specialized Butcher 2.3 Controls, Specialized 2.3-3.0 trail-thickness inner tubes, 33 psi in front, 35 in back
• Rider weight: 175 lbs (of pure muscle!)
• 2010/11 Specialized Enduro carbon
• 2010 Fox 36 Float, 43 psi, stock high speed compression, low speed compression two clicks out from stock
• Fox Float RP2 shock with 190 psi, ProPedal open
Compared with
For the past year, I've been running mixtures of Butcher 2.3 DHes and SXes. Most recently I ran a 2.3 Butcher SX in front and an 2.3 Eskar Control in back. The Butcher Controls went on yesterday.
Today's ride
Two loops at Left Hand Canyon OHV Area. About 3,800 feet of climbing and descending in only about 11 miles. A variety of little rocks, medium rocks and big rocks. A mix of pretty steep, very steep and extremely steep. LHC is a great test of bike setup, as well as mountain manhood.
I've ridden these trails on Butcher SXes and DHes, as well as all flavors of Chunders, Clutches, Eskars, High Rollers and Minions. I feel I can make an informed comparison.
Before we dig into the 2.3 Butcher Controls, let me tell you the SXes and DHes work as well or possibly better than the other downhill tires I've used. So, when we compare the Butcher Control to the Butcher SX and DH, we're comparing it to proven, well received downhill/big mountain tires.
The 2.3 Butcher Controls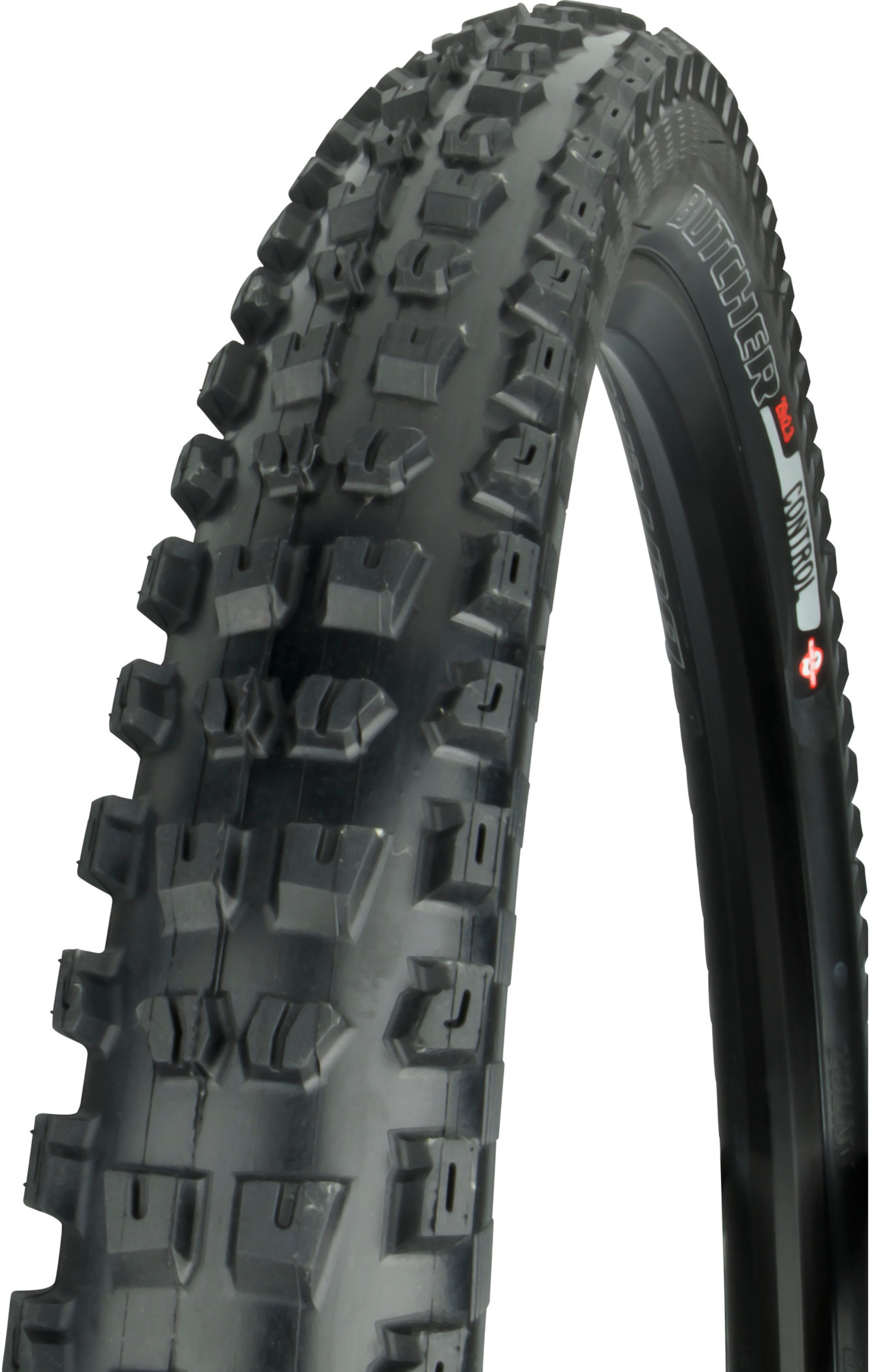 2.3 Butcher Control
• Feel way lighter and quicker than the SXes and DHes. Post-ride stats check: At a claimed 730 grams, the Controls are 220 and 520 grams lighter than the their freeride and downhill cousins. And: They're only 30 grams more than my beloved Eskars. Grams, grams, blah. The Butcher Controls don't feel heavy.
• Roll way faster! I noticed a huge difference on the flatter sections of the climbs and descents. This is compared with the Butcher DHes and SXes, as well as the Butcher SX/Eskar Control combo. Today I found it way easier than normal to carry speed. Speed is fun.
• Climb just fine. They delivered plenty of traction on rocks, muck and even loose over hardpack. The limiting factor today was not equipment; it was the aerobic capacities of my parents.
• Feel really smooth. I assume it's the more pliable casing. These tires feel less "pingy" than the SX and DH. They make my plush Enduro feel even plusher.
• Grip things. Off-angle rocks, no problem. The bike went where I pointed it, with minimal lateral settling or deflection.
• Grab in the corners. Wet, dry, hard, loose, all corners felt great. I was nowhere near the limit.
• Are nothing to worry about. Today, when things got hectic and the world focused into that line and that rock and my heavy feet and light hands, I did not think about my tires.
CAVEAT: At today's moderate "trail" pace, the Butcher Controls worked great. If you pin it harder, you might want the burlier SX or DH models.
That said, Curtis Keene is running a Butcher Control on the front of this Stumpjumper EVO, and it seems to work OK:
FINAL THOUGHT: If the Butcher Controls are lighter and faster than their burlier brothers, and they're grippier and more confidence inspiring than my beloved Eskars, they could be pretty awesome for aggressive trail riding (and winning 2012 Sea Otter Cat 1 dual slalom. Yeah, I said that).
I'll keep you posted as I get to know these tires.
Lee
---
Know more. Have more fun!
Join the leelikesbikes mailing list:
---
https://www.leelikesbikes.com/wp-content/uploads/2018/08/leelikesbikeslogoheader.jpg
0
0
leelikesbikes
https://www.leelikesbikes.com/wp-content/uploads/2018/08/leelikesbikeslogoheader.jpg
leelikesbikes
2011-10-10 14:39:34
2011-10-11 21:49:23
First ride: Specialized Butcher 2.3 Control